I am so excited to announce that our new book appears to now be available through AAPC. This book, like the Setting Up Classrooms book, focuses on lots of real-life examples and pictures of tasks for learners of all different ages. We have tried to give examples of different types of tasks that are chronologically appropriate for learners ages while offering a variety of tasks that are developmentally appropriate for their skills. The tasks are also categorized by skill and examples of curriculum-based assessment items that are appropriate for structured work systems are also provided. Over the next few weeks I will do a series of posts that focus on the elements of the book. There are a variety of resources out there with examples of work system tasks, but this book focuses on the nuts and bolts of how to set up and teach the system as well as how to track progress. For more information about the book see below from an email from AAPC.
Building Independence:
How to Create and Use
Structured Work Systems
by Christine E. Reeve, PhD, BCBA-D, and Susan S. Kabot, EdD, CCC-SLP
Foreword by Gary Mesibov, PhD, and early developer of IWS
(From AAPC Mailer): Authors Christine Reeve, PhD, BCBA-D, and Susan Kabot, EdD, CCC-SLP, draw upon evidence-based research on independent work systems to present the characteristics and benefits of structured work systems in their new, well-illustrated book,
Building Independence: How to Create and Use Structured Work Systems
. Since 1990, studies conducted on preschool-, elementary- and middle school-aged children have suggested that children with autism spectrum and related disorders are visual learners who benefit from a structured work system that allows them to start and complete tasks with a visual schedule, practice skills mastered, generalize skills to new situations and learn to work independently.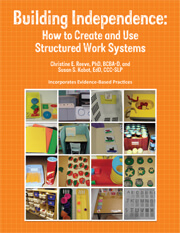 "This book's combination of targeted techniques, evidence-based guidelines and classroom-friendly practices will have students soaring as teachers implement these clearly
defined strategies."
Specifically, effective structured work systems help learners, and later workers, focus on what needs to be completed, how much work is involved, how to know when the work is finished and what has to be done next, and as such, they play a critical role in helping to maintain skills and moving toward independence. Structured work systems have proven to be essential in practicing and mastering skills in the areas of fine-motor, cognition-preacademics, language concepts, constructive play, academics (reading, math and writing) and vocational tasks.
Written to be user-friendly, indeed "walking the talk" of the ideas behind independent work systems, Building Independence: How to Create and Use Structured Work Systems includes activities, charts of commonly used materials, full-color photographs of systems for different age levels and a range of systems, ending with a series of frequently asked questions and answers based on the authors' long history of helping to implement work systems. Finally, the specially designed Structured Work Systems Competency-Based Checklist provides a framework for observation that may be conducted by a teacher, special education administrator, principal or job coach as a first step in planning a work system.
"Structured work systems are critical for many individuals with autism spectrum and related disorders at school, home and in the community. Reeve and Kabot offer a clear description and practical guidelines for implementing structured work systems from assessment through progress monitoring. The structured work systems and specific activity examples provide a starting point for developing and organizing tasks that the reader can then build upon. The text is especially beneficial for beginning teachers and individuals new to working with students with ASD or to implementing structured work systems." – Chris Carnahan, EdD, assistant professor, University of Cincinnati; co-author of Quality Literary Instruction for Students With Autism Spectrum Disorders – Winner of the Textbook Excellence Award "Texty" (2011)

About AAPC Publishing
Established in 1999, the mission of AAPC Publishing is to be the first source for practical solutions related to autism spectrum and related disorders. AAPC Publishing is an independent publisher, targeting professionals and parents alike. AAPC Publishing strives to offer publications at affordable prices so that important resources are available to anyone with an interest in the autism spectrum.
For media inquiries, please contact marketing@aapcpublishing.net.