It's that time again…time for Workbasket Wednesday. So get your posts ready bloggers, and readers grab a cup of your favorite beverage (keeping you warm on your cold and snowy days in the north) and get ready to feed off my addiction to work tasks and the Dollar store (and pick up a freebie).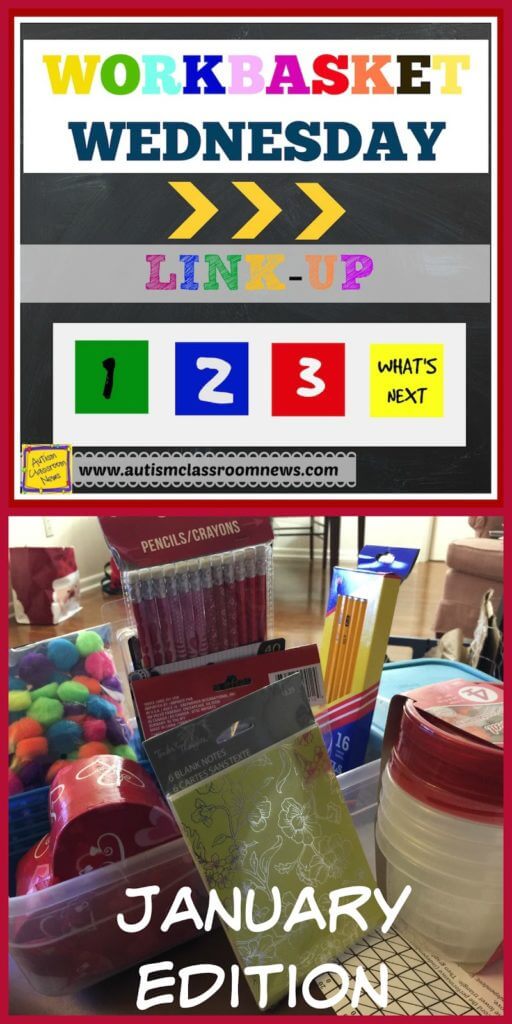 Sorry if that seemed a bit over the top. I think there are fumes in the Dollar store that rub off and stay with me for a few days. I went to the Dollar store and found that we are ready for Valentine's day. So, I grabbed up some stuff to make some new work baskets of all different types.
Above is the stuff I bought for $16 at the store (including a shoe box I needed). Some of the stuff I'm going to save for next month, so I'm not going to use it all. However, I think I have some new and interesting ideas you might like that are really cheap and fast.
Now, I realize it is only January, but this theme only happens once a month so I thought I would jump the gun and share some Valentine's themed activities. Plus, this is the stuff that I found in the store and holiday stuff is usually great and cheap. Plus it is easy to change out with themes to have the same task with some variation.
But don't worry this is not a Valentine themed post–I have some that are not holiday oriented.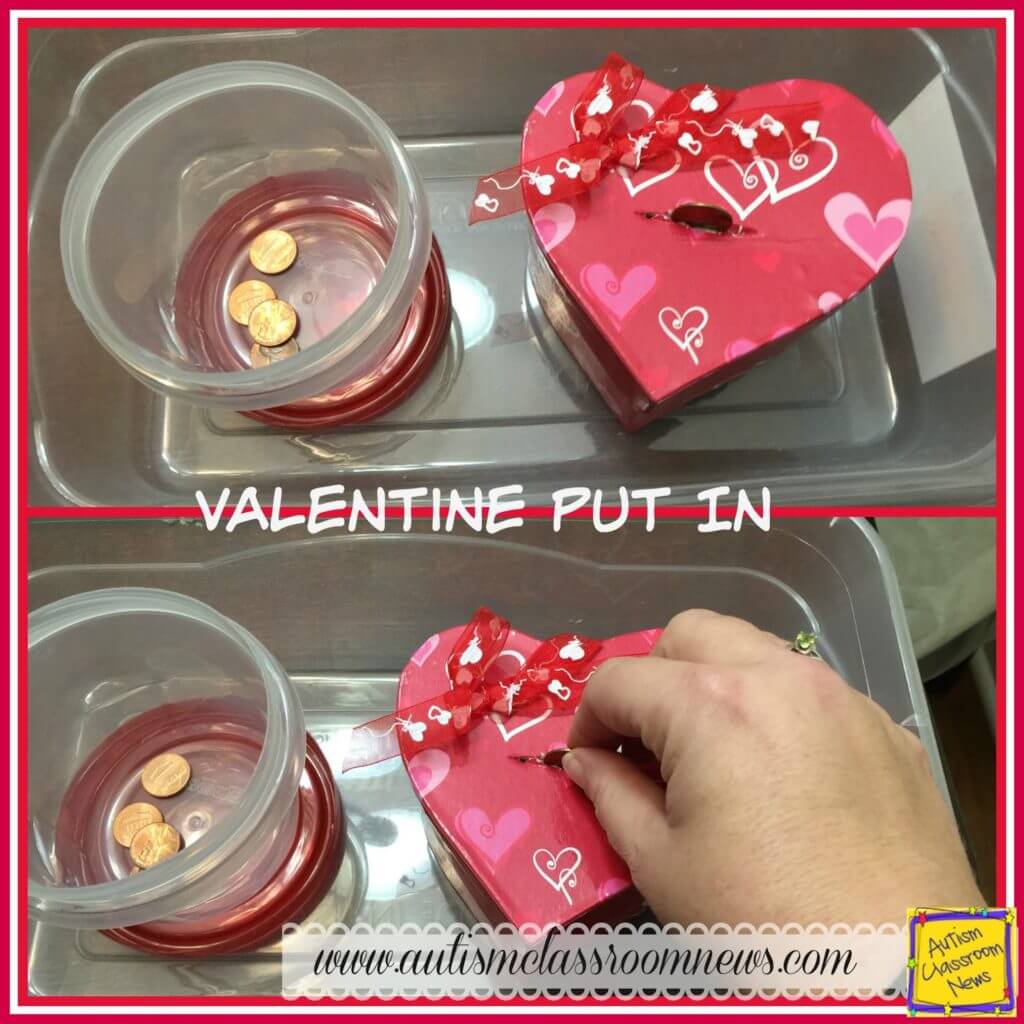 This one is a pretty simple put-in tasks–read more about them and why we use them HERE. It's a cardboard box I got for a dollar, cut a slit in it and you can put coins, poker chips or even heart foam shapes into it.
In this picture, pennies to the left are put through the slot in the top. The box may not last forever, but it will last through the holiday, was cheap and I can replace it later with another holiday type of box for a different theme.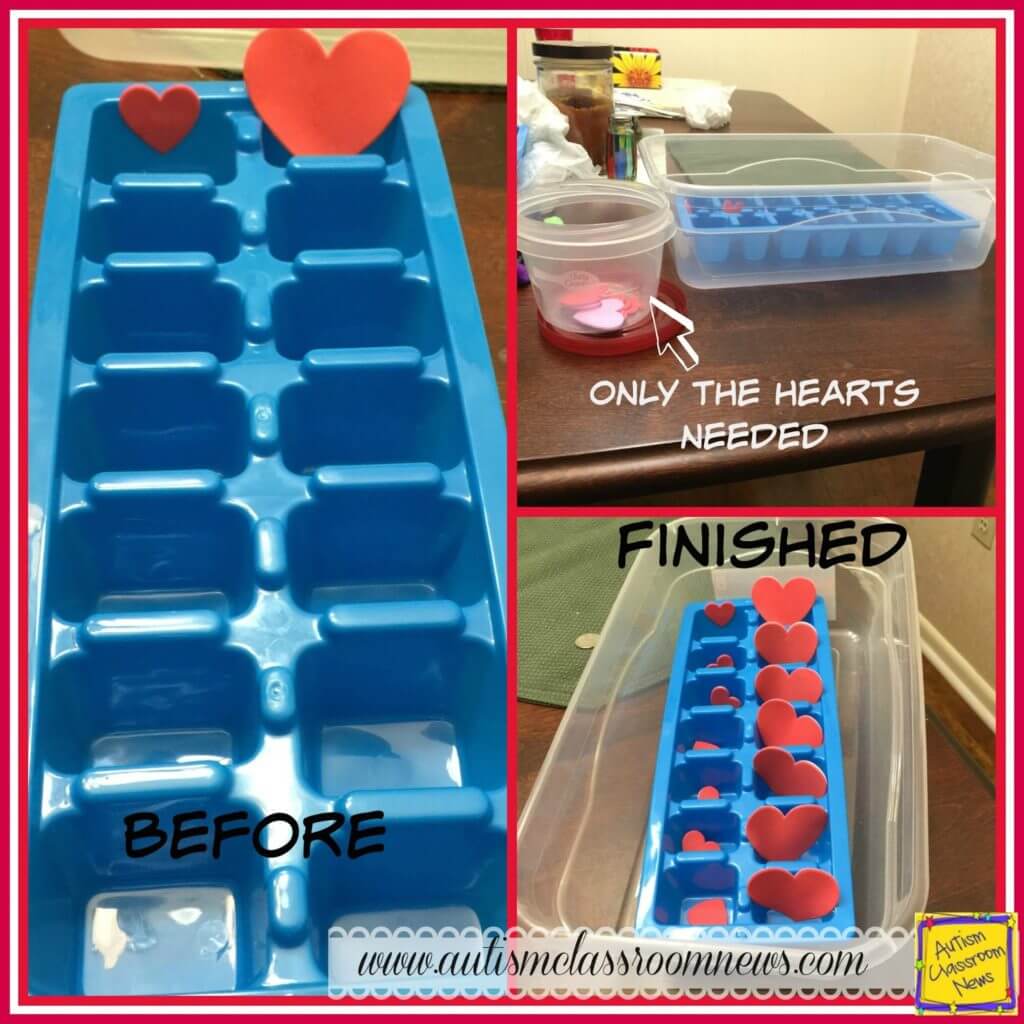 Next up, I bought some ice trays. I love ice trays and muffin tins, but ice trays are cheaper. Great for teaching 1-1 correspondence, patterning, and matching skills. In this case, I took some foam heart stickers (also $1, and again will last through the season) and set up a task in which the students have to put small hearts on one row and large hearts on another. I put just the hearts that will be used in the storage container so that the students know when they are done. I stuck the hearts to the end of the row as samples but I didn't take the backing off the ones the student uses so they can be reused. You could use construction paper or other manipulatives and create a similar task.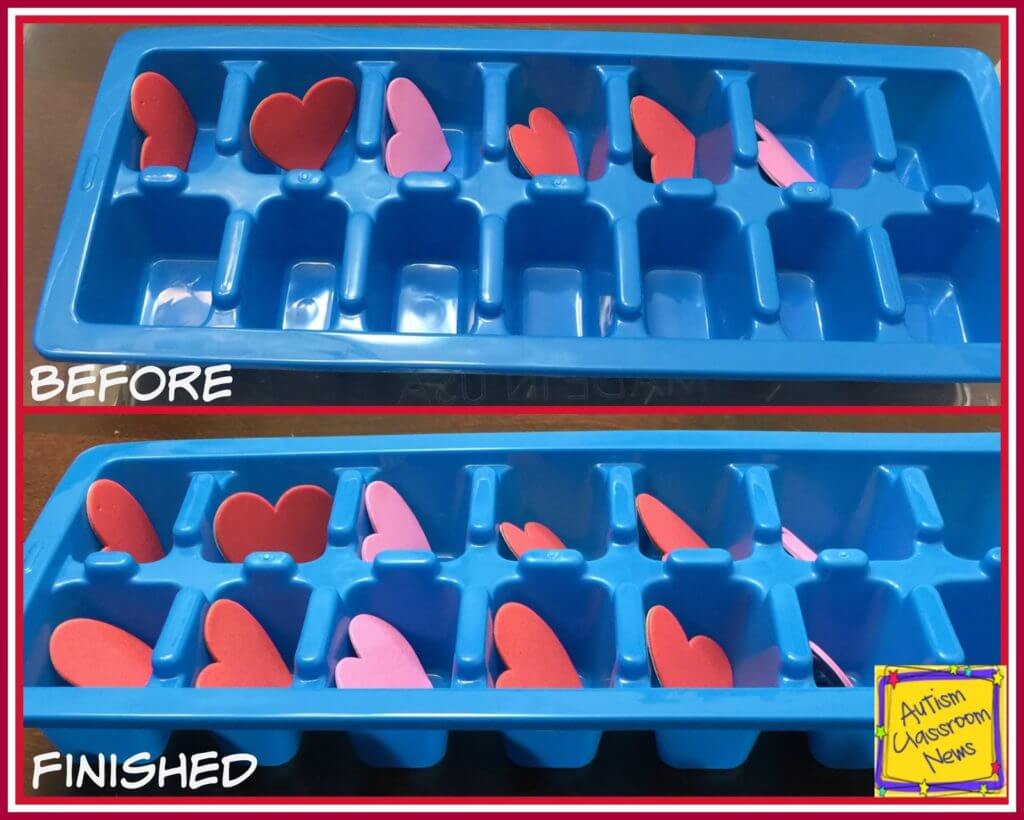 Different verse, same as the first. This one is a matching to the pattern task. In the top picture you see the hearts in the top row of the ice tray and the student puts them in the bottom row to match the ones you laid out. Easy to change them up for the next day so that the pattern is never the same. I do recommend buying at least 2 bags of the hearts though as some of the sizes and colors are limited in one set.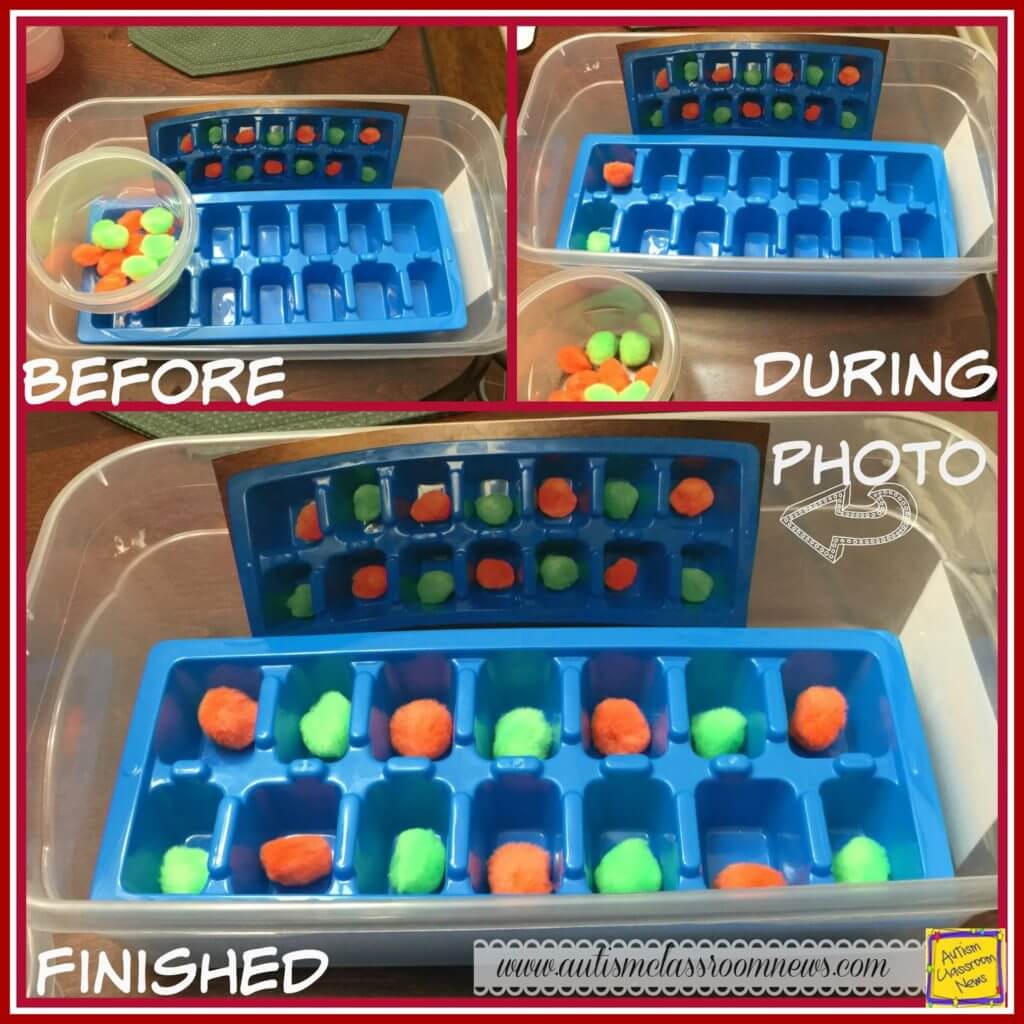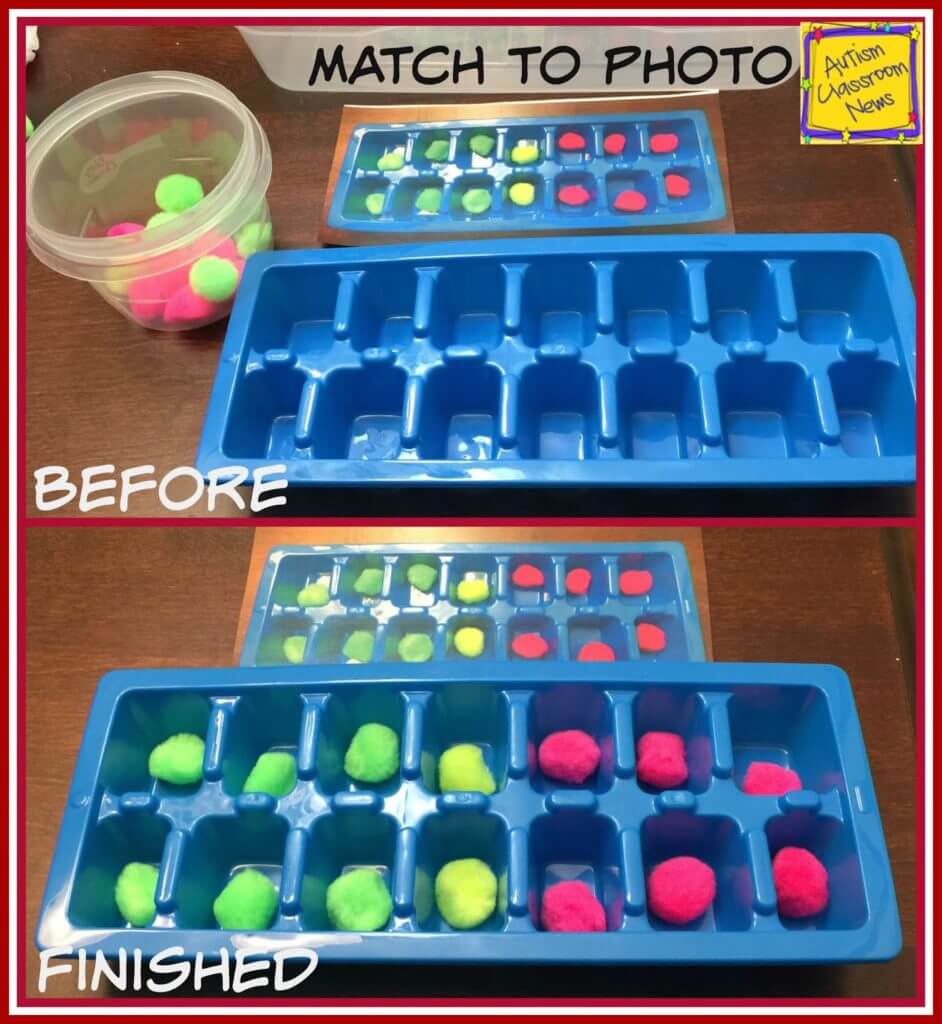 This one is almost as easy to make as the ones above and I've got a freebie to get you started. Just get some ice trays and some pom pom balls (mine are neon because I liked the purple). Put them in a pattern in an ice tray and take a picture. Then print the picture and have the students make their ice trays look like the picture. Quick and easy match to sample. If you want to add an extra fine motor element to it, you can have them use tongs to do it. Obviously if you have kids who will eat the pom poms, you would want to use a different manipulative. There is another example of this below, along with a freebie with 6 photo patterns you can use already made.
Click the picture below for the download of the templates. And check out all the other workbasket linkup in this post.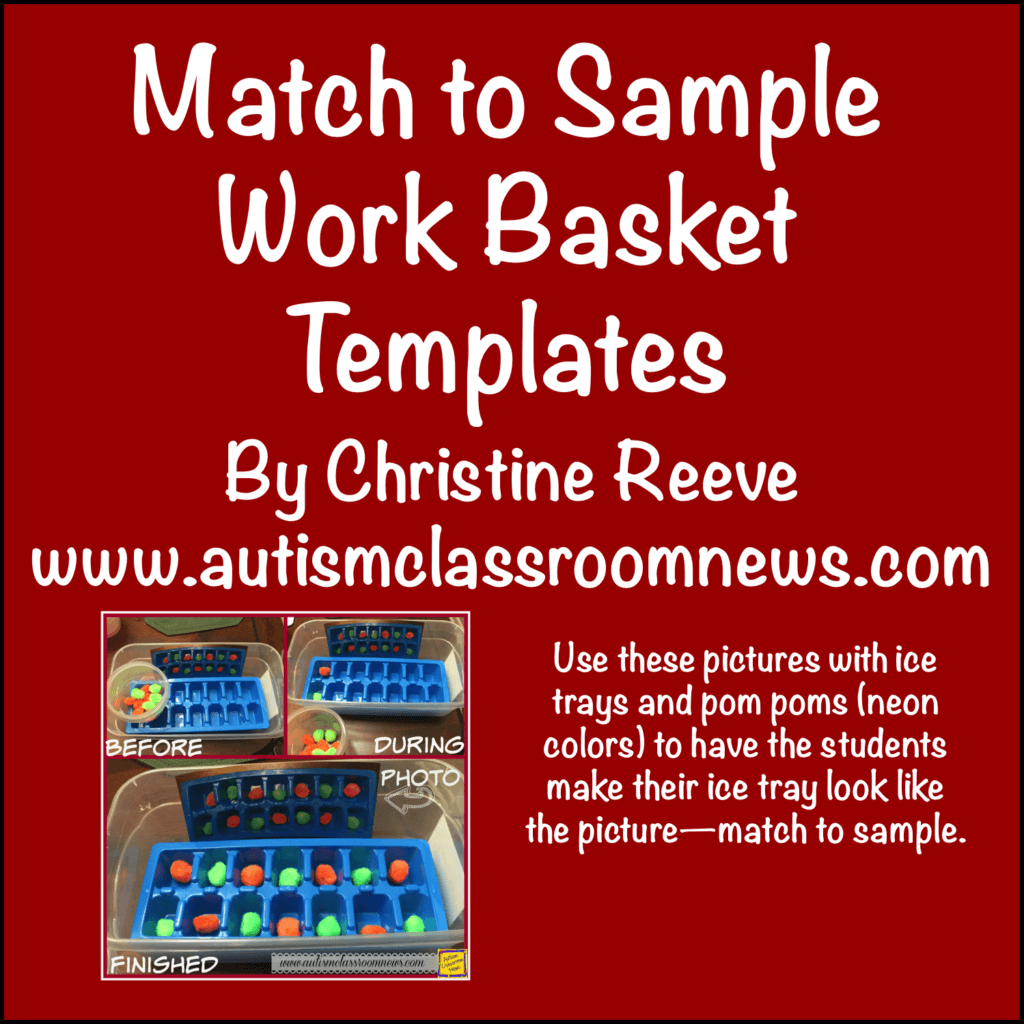 Looking for more ideas for creating independent work systems in your classroom? For FREE??
Until next time,