Many of us work with students who may benefit from using object schedules or objects for communication.  However, making that decision and figuring out how to best use them is not always a simple matter.  There is not nearly as much information out there about how to make object schedules or even decide what objects to use.  So today I want to give you some examples.  I will also talk about how I make the decision to try object schedules.
Types of Object Schedules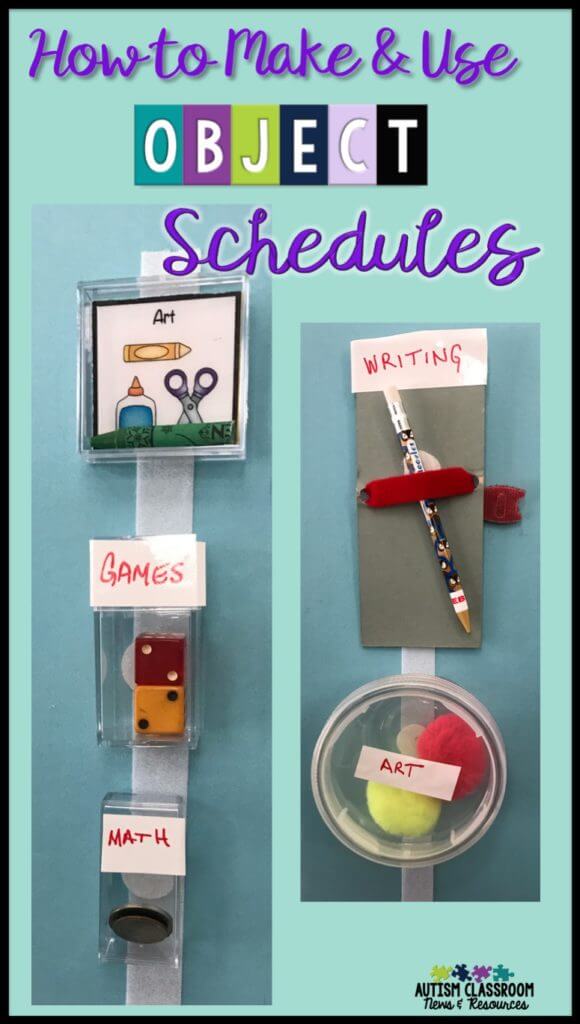 We tend to think of object schedules as being the last stop on the schedule train.  However, believe it or not, there are still different levels of object schedules that can be used.  Essentially there are 3 types of object schedules and which you choose would depend on your student.
1. Representative object schedules:
Some students can match objects to objects and are beginning to understand that objects are representational of things they might see in a picture. For these students we might use miniature objects and pair them with pictures for their schedule (e.g., mini backpack, mini bus for dismissal).  These might also be students who just need something more 3-dimensional to hold on to, but they are starting to have more understanding of representative thought.
2. Tactile object schedules:
These schedules often contain something that the student would feel or touch or use in the next activity.  We use these often for students with visual impairments.  For these students you want to find items that feel like something they would touch.  For instance, rather than using a miniature table to represent work time, you might use a piece of laminate that feels like the top of the table.  This helps the student with VI to be able to experience the tactile world and match the feeling of the surroundings of the next activity.
3. Real-Life Objects:
I'm sure these have a more fancy name but I can't seem to find it.  Essentially this is a schedule made up of items the student is going to use in the next activity.  So for instance, if he rides home in a car, it might be a seatbelt like the one in the car or a toy he only gets to have in the car.  Going to lunch where he always drinks from a cup, it might be an identical cup.  These are helping him to understand that these objects go with these activities and help him understand what the next activity will be.  It's really mportant when using these that you choose objects that are meaningful to the STUDENT and not necessarily the team.  For instance, if the student is in diapers, a toilet paper roll is not going to be meaningful to indicate going to the bathroom.  Instead, a diaper would be a better choice.
Factors in Making Decisions About Object Schedules
As I talked about in an earlier post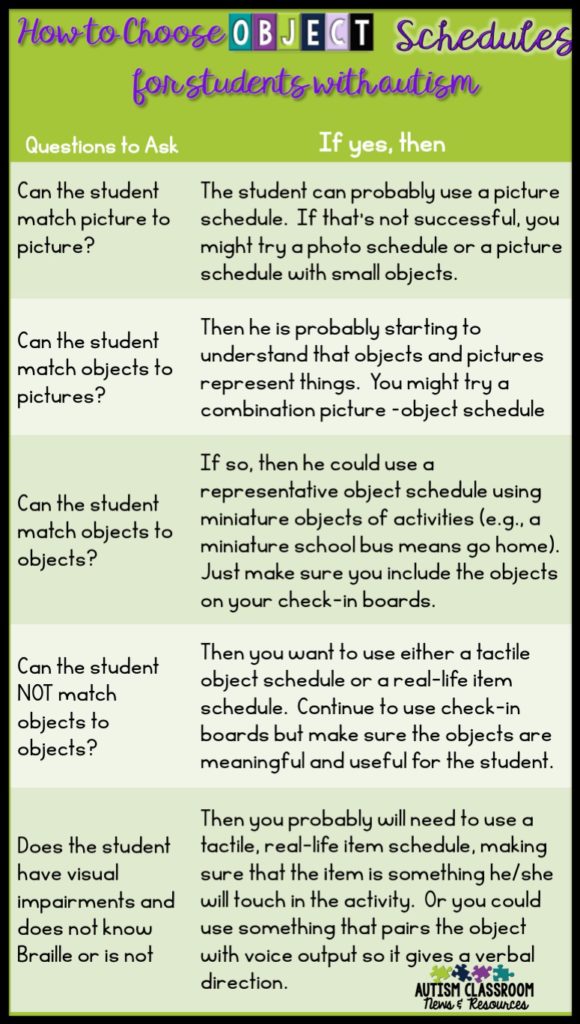 , I tend to default on picture -symbol schedules unless I know the student needs something different.  If I don't know enough about the student, I start with pictures because they are easiest.  However, if a student isn't making progress on a picture schedule and doesn't seem to be able to match picture to picture, then we start thinking about objects.  Here are some elements that you want to think about in making that decision.
Can the student match picture to picture? If it's yes, then a picture schedule of some type should be successful–as long as you use check-in boards with identical pictures.
Can the student match object to pictures? If yes, then a picture schedule will probably still work because the student is starting to make the transfer from concrete understanding to something more symbolic.
Can the student match object to object?  Then miniature objects might be helpful as long as you include them in the check-in boards.
Does the student have visual impairments? Then a different set of rules apply to some degree.  In those cases you are probably going to want to choose a tactile and real-life object schedule so that he or she gets the idea of how the object reflects what is going to happen.  I will defer to a VI specialist on this area because there is a lot more information out there than is relevant just to autism.

How to Make Object Schedules
To see some ideas about ways to make the schedules, check out the Facebook Live video at the end of the post where I will demonstrate some different types.  However, keep the following in mind when you are creating them.
If you are using tactile schedules, you need to make sure the students can manipulate the items to feel them, so containers will not work.  For those you need to put the items on the schedule or in baskets from left to right.  Here's a great article on how to use them and teach them for a student with VI.   Hanging sweater holders like this can be useful!
Make sure you are making decisions about which objects to use in real-life objects by the student's perspective, not the staff.  We may use a pencil in writing but if the student is using crayons, DON'T use a pencil as the object for writing.
If you are using objects and trying to shift to pictures, you might want to try and put the pictures behind or beside the objects so that students start to make that association.
I bought the containers you see the food items and the schedules above at the Container Store.  They are for collectible items and I talk more about them in the video below.
The communication items above are examples of using a real-life object but setting it up so the students can't get to it.  I talk more about this in the video below.
I like to use matte board, like that used for framing.  I typically cover it with contact paper or shipping tape.  Then you can use a glue gun, Velcro or glue to stick the item the background.
If you are using real-life items the students need to feel, Velcro the items to a piece of matte board. You can put the activity name on the matte board.  Then the student takes the item and leaves the card. But the adult can see the activity so you don't have remember as well what each object.
Post a list of which objects go with each activity.  Put the list in the order of the schedule so it's easy to reset the schedule for the next day.
So hopefully this has been useful and given you some ideas of things to try.  If you have other ways to make object schedules, we would love to hear them!  Please share in the comments.
Facebook Live

Until next time,