Autism Appreciation This April: How Do We Get There?
Families and Coping | March 28, 2021
This April, let's do more than be aware of autism-let's focus on Autism Appreciation. Many of you may not know this, but I have a sister with autism. In this episode I'm going to talk about her experiences and why I think we need to move beyond awareness and on to appreciation as a society to #celebratedifferences.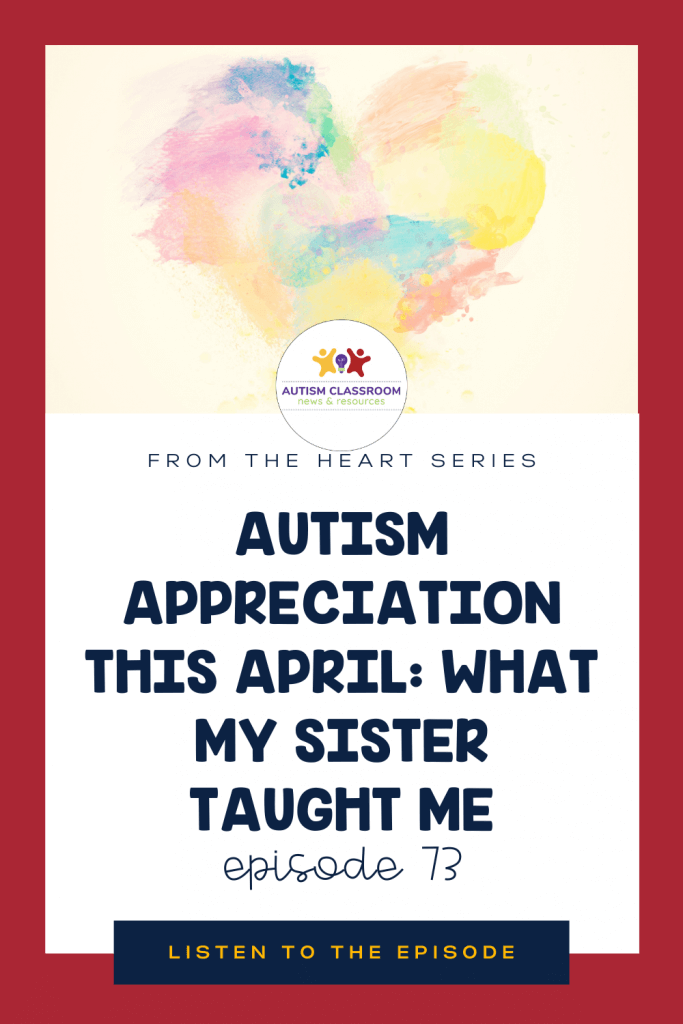 She has a high school diploma and went through school with no assistance. She has been married for 38 years to a man who also has developmental disabilities, and they lived together semi-independently with help from our family, and then additional help the Medicaid Waiver in our state. I'll tell you more about her in this episode.
And let me take a few moments to assure you that she knows that I talk about her when I train and talk and write. Because of her school experience, she supports me in trying to help educators better understand students like her.
Why Am I Telling You About My Sister?
April is traditionally the month that we in the autism community focus on "autism awareness." And I put that in quotes…because that's a concept that made sense 10 or 20 years ago when no one knew what it was. But come on…autism is everywhere now. My family has lived with it for more than 60 years, but I'm thinking we are all pretty much aware of it now.
This April, why don't we try for autism appreciation instead of awareness. Let's #celebratedifferences and appreciate what individuals with #ASD bring to our communities. I'm sharing what my sister taught me in this #ACRpodast
But, there are still some things that people aren't very aware of ABOUT autism. And there are still some things that our society isn't always very good at–like ACCEPTING, understanding, and appreciating autism. So, those are the things I want to focus on as we get ready to kick off April this year. And I've got some ideas of how you can help your school and community to focus on that this year.
Highlights of Episode 73: Autism Appreciation This April
In this episode I am talking about my sister but I'm mostly focusing on how you can build appreciation for autism in your school and community.
Some details about my sister's experiences I think we can all learn from
Why I think autism appreciation and acceptance is so important
4 ways to develop autism appreciation with your school and community this April
Come join our community for training and ideas you can use and connection with other special educators who get it.