Ep. 22: How to Make IEP Data Collection Work
Data Collection and Analysis | January 13, 2020
Highlights of Episode 22 on IEP Data Collection
What should your data look like?
How can you make data collecting easier in your IEP?
How do you make sure you have the data we need?
What do you do with the data once it's been taken?
How much data is enough?
How can you use the data for more than just documenting progress?
IEP data collection is one of the most difficult things that I hear teachers trying to figure out.  Let's face it, everyone tells you to take data, but few people actually walk through how to do it.
So in this episode, I want to walk you through what the 3 things that we need our data collection to be and why those things are important.  But more significantly I'm going to walk you through 5 ways that you can use to improve your data collection over the course of the next few months.  These are 5 ways that you can implement in your classroom without a ton of specialized knowledge.  And I'll point you to some free resources that can help you in that journey as well.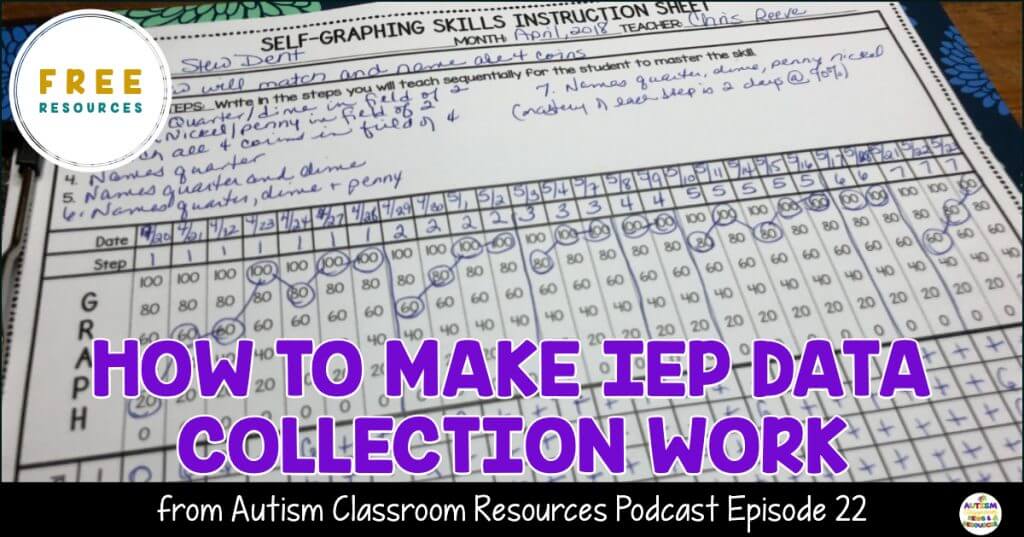 3 Things IEP Data Needs to Be
There are 3 things that we need our data to be: Clear, Measurable, and Useful.  We need it to be clear to ourselves and others who look at it.  we need it to really measure what it says it measures.  And we need it to be useful in that it informs our instruction.
There are 3 things that we need our data to be: Clear, Measurable, and Useful.
Why Take IEP Data?
I am totally not about taking data to just take data.  If it doesn't help us in some way, I don't see the point.  We take data to monitor progress, but we also take data to tell us when progress isn't happening—before we get to the end of year report card.  We need to know quickly if a student is struggling so we can make changes to how we are teaching.
And data collection should also be a source of reinforcement for us.  It should let us know when a student is progressing.  It should give us that feel good feeling in our stomach that something in our classroom is going RIGHT!
And data gives you credit for what you teach.  It shows that you are implementing an instructional program.  and in the days of accountability that can be really helpful.
So how do you make sure that you get data that actually meets these criteria? Listen to this episode for 5 ways that can help you get a handle on your IEP data collection.
This free, on-demand webinar will walk you through the initial steps I talked about in this episode. In an hour I will walk you through how to write data-friendly goals, share how the TIP can help you plan your data, and get you started with some initial steps in setting up a system for your classroom. It also includes free bonus tools at the end as well.