Welcome! Today we are talking about Classroom Zoning Plans.
We are the midst of a 5-part series talking about Building Teaching Teams. We have talked about getting to know your staff as people and building relationships, creating the classroom culture, and developing a classroom vision of values.
In this episode, I talk about setting the expectations in the classroom for the staff using staff zoning plans. Even though things seem obvious to you in the classroom, they aren't obvious to everyone and they may not be obvious to your paraprofessionals.
Part of your job as a teacher is to give direction. But we aren't always used to giving directions to other adults. So, in this episode I talk about why we need class zoning plans, how they can help you, and some tips to help make them more successful.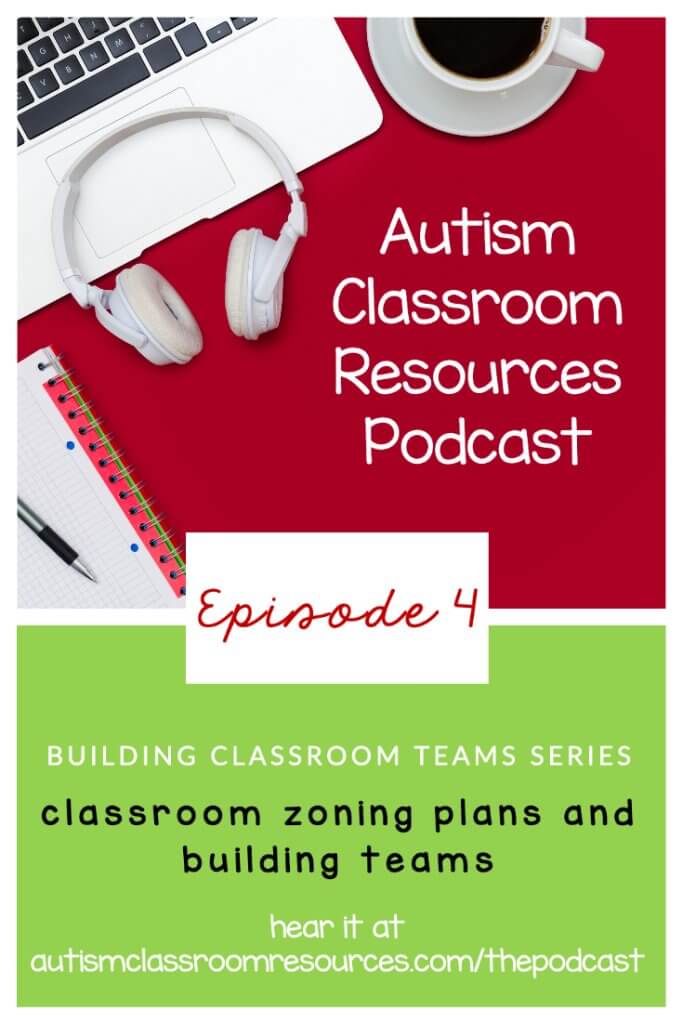 Building Teaching Teams Tip 4
Today we are on Tip 4 in our Building Teaching Teams series. Tip 4 focuses on giving directions and organizing staff.
If you are a teacher, you probably went into teaching in order to change the lives of students by teaching, right? Did you go into it to manage adults? Probably not.
Did you realize that you were going to need to supervise and support other adults who aren't really your employees? Did you plan to spend so much of your time giving directions in working on classroom teams? Probably not.
Yet, especially if you teaching in a special education situation, this is what you spend a good bit of time doing. You are asked to guide, train and direct the parapros who work for you. You need to collaborate with them but also let them know what needs to be done from your plan for the classroom.
What is a Zoning Plan?
So how should you manage this situation, which can get kind of uncomfortable? Start with a zoning plan.
Think of a zoning plan as a schedule for the staff that lets them know what the expectations are for each activity. We do that with our students, and doesn't everyone like to know what is expected? After all, invitations to parties come with dress codes, right? That's an expectation.
In Today's Episode
So in today's episode I'll explain…
What a zoning plan is and where the term comes from
4 ways classroom zoning plans can help you in the classroom team building process
Things to consider in developing you classroom zoning plan
And you can download a free zoning plan and access more resources about where to grab one!
Looking for More Resources for Creating a Zoning Plan?
Grab the Toolkit with Cheat Sheets, Templates and Videos on TpT or Grab the Free copy in the Resource Library to Get Started.