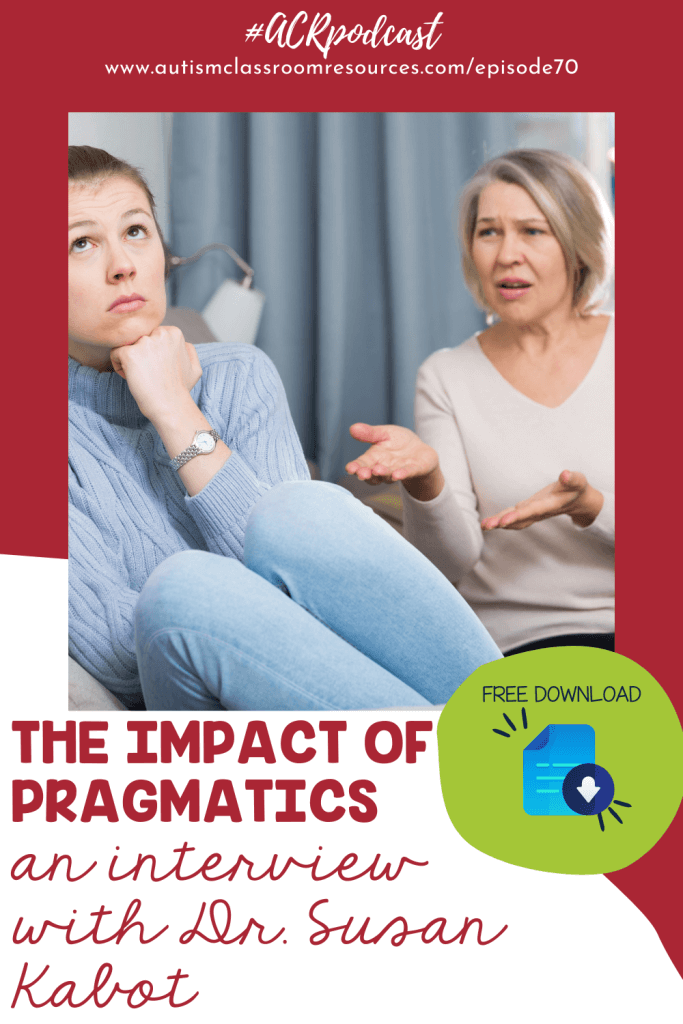 Before I started working with Dr. Susan Kabot, I had never heard of pragmatics. And I certainly didn't realize what a big impact they could have on the behavior of an individual with autism. So, when I started to think about episodes on how social skills impacts behavior, Sue was my first call. Because trust me, she can explain the intricacies of pragmatics in language than I can.
We had such a great discussion, that I decided to cut the interview into two. In this episode we talk about what pragmatics are and how they impact student with high functioning autism. And I have a free download at the bottom of this post related to one of the characteristics she notes. In the next episode, we will talk about how to teach pragmatics and things educators should think about when addressing behavior.
Who is Dr. Kabot?
Dr. Kabot is an adjunct faculty member at Nova Southeastern University where she worked in a wide variety of capacities for more than 34 years. I was fortunate to work with her for 14 of those years when I was there. She and I co-authored our 3 books on Setting Up Classroom Spaces, Building Independence, and Taming the Data Monster. She has a doctorate in education and a masters in speech and language pathology.
In addition, she is a certified and licensed SLP. Sue also has an adult son with autism who is the King of pragmatics. He can make you think he is having a full conversation with someone on the phone because he has all the voice inflection, pauses and all the small elements that make it sound like he's in the midst of conversation. Until you find out the phone doesn't have a battery and there is no one on the other end.
Highlights of How Pragmatics Impacts Behavior
Sue answers the biggest question of What Are Pragmatics? Because I had never heard of them before I met her.
We talk about how pragmatics and social language impact individuals with autism with average or above cognitive skills (spoiler alert–some of it relates to our expectations).
She talks about how educators' expectations students impacts the behaviors and has a great story about this happening.
And we talk about the role of pragmatics as a setting event in challenging behavior, among other impacts.
[socialpug_tweet tweet="While cognitive skills are important, pragmatics and behavior make it clear that smart is not enough as Dr. Kabot says in this episode of the #ACRpoodcast. #asd" display_tweet="While cognitive skills are important, pragmatics and behavior make it clear that smart is not enough as Dr. Kabot says in this episode of the #ACRpoodcast. " style="2″]
Free Group Role Assignment Cards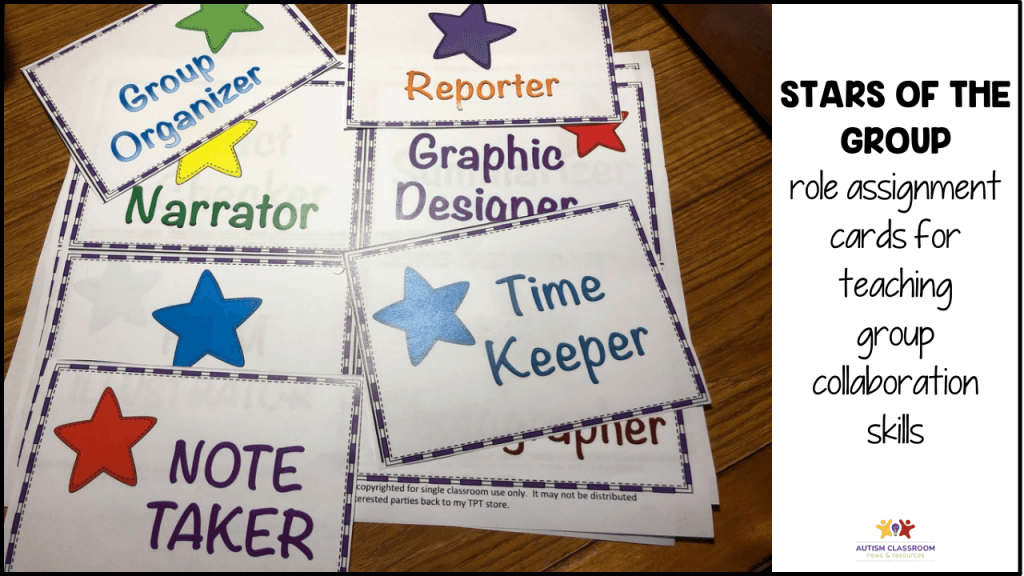 One of the characteristics that Sue notes in this episode is that because of deficits pragmatics, students have difficulty with group work. I alluded to that in episode 69 as well. These group role assignment cards are designed to help students by structuring their roles. They can be used for all the students to give them assigned roles of leaders, recorder, time keeper, etc. Then students who think they should always be the leader, for instance, learn to play different roles. You can grab them for free in my TpT store.