5 Reasons You Need to Talk Less to Promote Language in Special Ed (Ep 55)
Curriculum and Instructional Activities | October 25, 2020
Have you been trying to figure out how to promote language in your special education classroom? There are some simple steps that can help with this to get started. My next few podcasts are going to focus on some of them, starting with this episode.
Have you ever thought about the importance of being quiet in your classroom? In this episode I have a challenge for you. Have you ever stopped and just listened to what's happening in your classroom? We often don't do this just because we are focused on moving everything in the room forward. But there is true value in stopping periodically to listen to what's going on.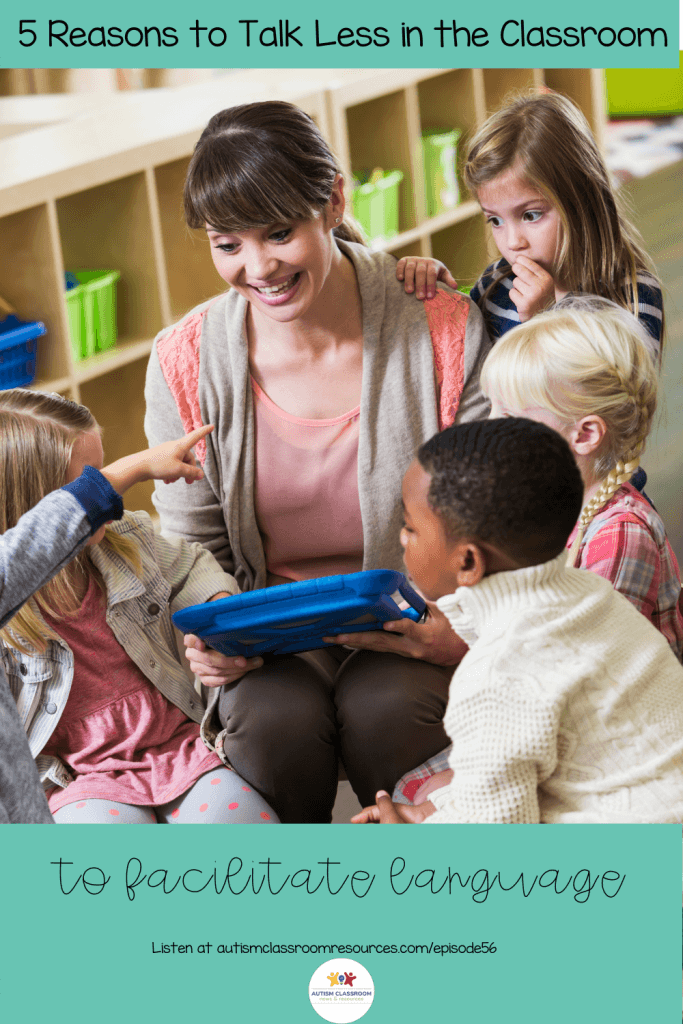 If you stop and listen to your special education classroom, what do you hear? What you hear may impact how successful language facilitation is for your students. Find out more on the #ACRpodcast
Whose Language Do You Hear?
Do you hear children talking to adults and to each other? Or do you hear lots of adults talking? What are they saying? Is most of the language you hear from adults to students? Is it primarily focused on what the adults want the students to do? If the answer is yes, is that the language we want to model for our students? If most of what you hear is adults talking and directing students, you may be undermining your opportunities for developing the language of your students.
We all know the importance of modeling language for learners with language disorders and this often makes us think that we need to be talking all the time in our classrooms. Couple that with the need to provide reminders and prompts and often times we find ourselves talking throughout the day.
One of the easiest ways to promote language in your classroom is to be quiet. I know that sounds counterintuitive but it's true. And in today's episode, I have 5 reasons WHY it's so important to listen to (and modify) your language in the classroom.
Highlights of Episode 56
5 reasons why talking may not always the right language facilitation model
Differences between modeling and directing
Ways to use language modeling effectively to effectively facilitate language
The importance of expectant waiting and how it can be impacted in distance learning
The role of language and talking in facilitating independence for our students
Come join our community for training and ideas you can use and connection with other special educators who get it.