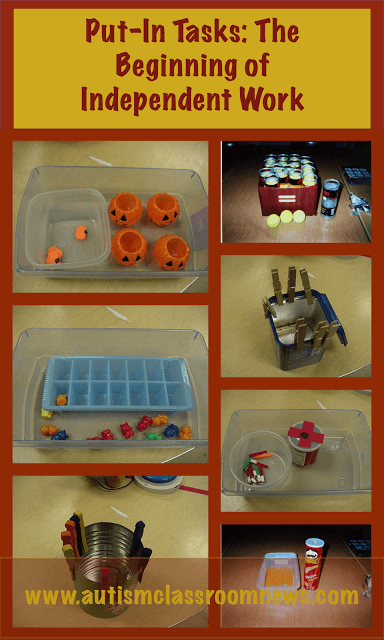 I was observing a little guy in preschool who had just entered school the other day. He was still working on basic skills like following directions and had limited things that he could do to engage himself independently. The teacher was working on having him do a simple put-in task of putting cards in a coffee can, but because his skills were so limited, he was completing this task repeatedly throughout his day. This wasn't the only thing he was doing and there was time in the day when he was working on discrete trials for learning readiness skills, learning to wait his turn, and working on communication through a number of activities in his day. However, one way that he was working on communicating was to use the coffee can task, that he seemed to enjoy, to have him request the cards to put in from other students. That got me thinking about one of my pet subjects over the years–creating put-in tasks that are age-appropriate and have some variety for learners who are just starting to gain other skills. These are typically the types of tasks that we start work systems with because they are easy for students to do independently. You can see from the picture a variety of types of tasks and materials you can use. I particularly like the seasonal tasks like the jack-o-lanterns that the students is putting in for 1-1 correspondence (a little more advance than just putting in).
The classic put-in task is the clothespins on the coffee can. There are 2 examples above. One uses regular clothespins that require fine motor strength to open. The other one (on the bottom) has peg clothespins for students who have less motor dexterity.
Ice cube trays, muffin tins and egg cartons make great materials for teaching students to put 1 item in each slot. They are also good for expanding to matching tasks later as the student gains those skills.
Save your trash: The original recycling. Who needs to recycle when you can use cans and bottles for the benefit of kids! Pringles cans, coffee cans, baby food containers, margarine tubs, egg cartons and loads of other materials are great to create these types of tasks.
Look for age-appropriate materials. The tennis ball packaging activity is really just a put-in task that uses great materials for an older student. Putting dirt in peat pots is another good example.
Change tasks with themes. The jack-o-lanterns were developed for a classroom in the fall. The toothbrush erasers (with the mini Pringles can) was developed to go with a hygiene unit the class was doing. Anything that can be put in a container will make a good put-in tasks.
Beginning learners frequently can do this skill independently if they are at the fill and dump stage of development. Finding enough variety to keep the task interesting sometimes becomes our challenge. To help with that, I have started a new Pinterest board on put-in tasks.

Also, check out our book on work systems for examples of tasks broken down by skill and younger and older workers. (Affiliate link for your convenience).
So, if you have a pin of a great put-in task, send it to me and I'll pin it (either post the link in the comments or you can send it from pinterest to my Pinterest id–drchrisreeve). How do you use put-in tasks in your classroom?
Until next time,