I have a special place in my heart for secondary life skills classrooms or middle and high school special education classrooms. And it's kind of funny because I've met people who think that I only work with younger students. I've also met people who tell me that they know I don't work with preschool. These are both really amusing to me for a variety of reasons.
First, it's amusing because I have worked with 2 year olds to geriatric ages. I started in preschool and that's where my first jobs were as a behavior specialist and researcher. However, I worked in a research group whose mentor was adamant that you could NOT just work with one age group. He did not just accept students who only worked with little kids. He expected us all to work across the age spans. Because it changes how you teach, how you interact and how you plan when you do.
So, that's my long way of saying that I've set up tons of classrooms for all ages, and they are really ALL my favorites for different reasons. The blog has been lacking the post on the secondary life skills class for a while because it used to be on a blog that has since been unpublished. So I'm finally getting that fixed and sharing it here.
Get to Know the Students Through the TIP
The first step for me is getting to know the students who will be in the class. Everything about the class is going to be developed based on the needs of the students. Because of this, every year the classroom may look different–different schedule, different furniture, etc. To get to know the students, the team reviews the IEP and the educational records. I then find it helpful to develop a Teaching Implementation Plan (TIP) for each student based on his or her IEP.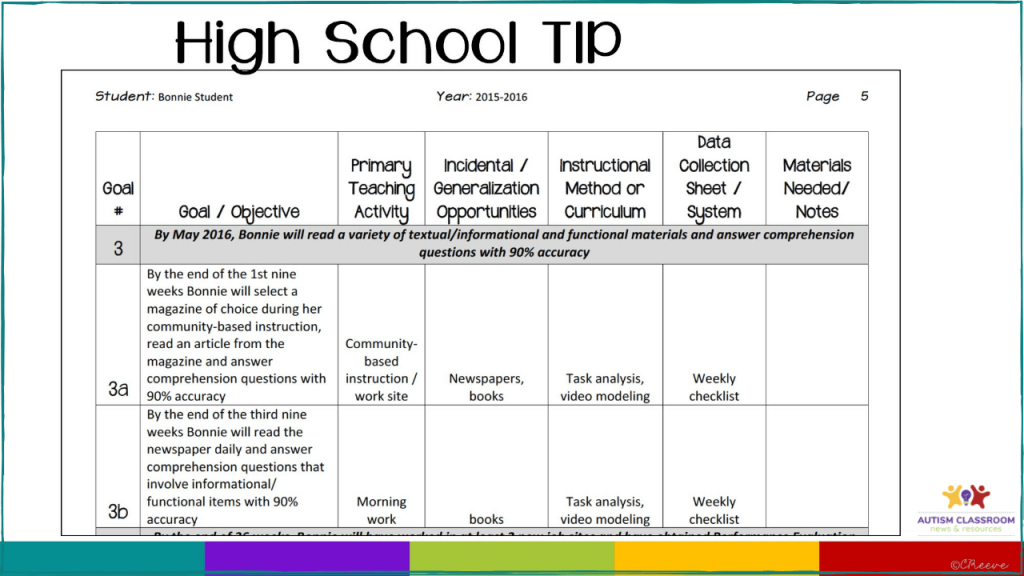 The TIP gives you a good overview of the IEP goals and objectives. It also makes you think through where and how you are going to teach the skill. And you identify the data collection strategy for each goals/objective as well. This means that when you go to put the classroom schedule together, you know what activities you need to meet your IEP needs. And when you go to gather materials and data sheets together, you can go back to the TIP, you'll know what you need. Check the link above for more info about it.
The Secondary Life Skills Classroom Schedule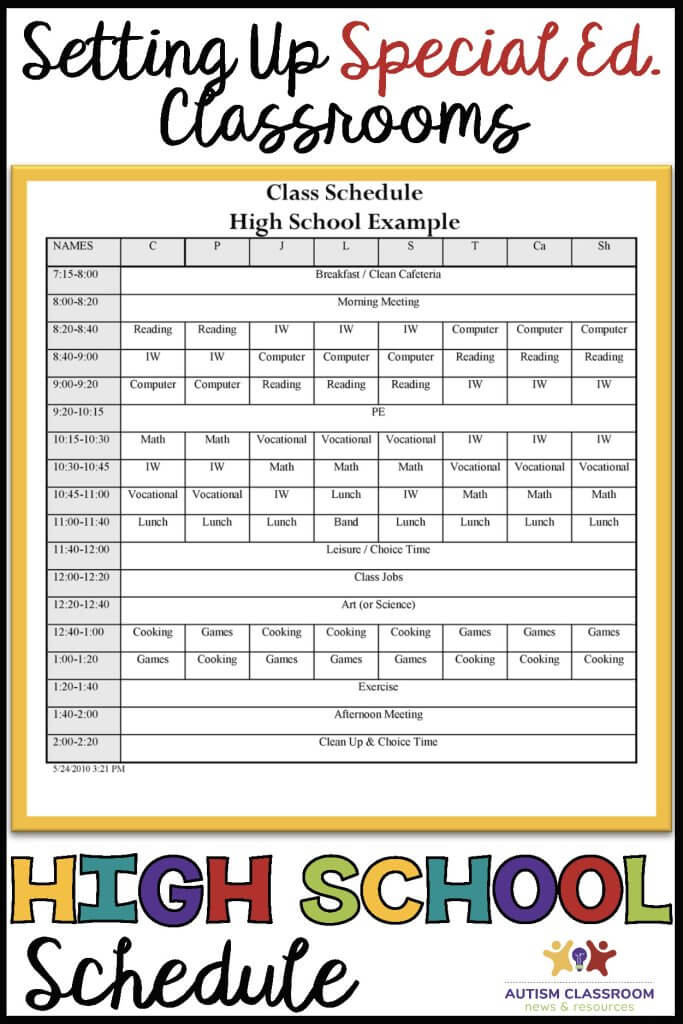 Decisions Made Within the Class Schedule
Clearly the schedule has to be developed keeping in mind how many staff there are in the classroom and the physical space. However, for me, the length of time for the activities and the types of activities have to be based on the students' needs. Some classes can have a 30-minute calendar or morning meeting time, while others will only be able to manage a 10-minute group. Some will have most students leaving the room to go out to jobs while others won't have that.
Designing the Life Skills Classroom Physical Environment
The types of activities on the schedule will give you an idea of what we work on in this type of class. This class was set up in 2 portables so we had an academic portable and a life skills portable. We did academics and vocational skills in the morning and life skills and leisure skills in the afternoon. You can see the layout below.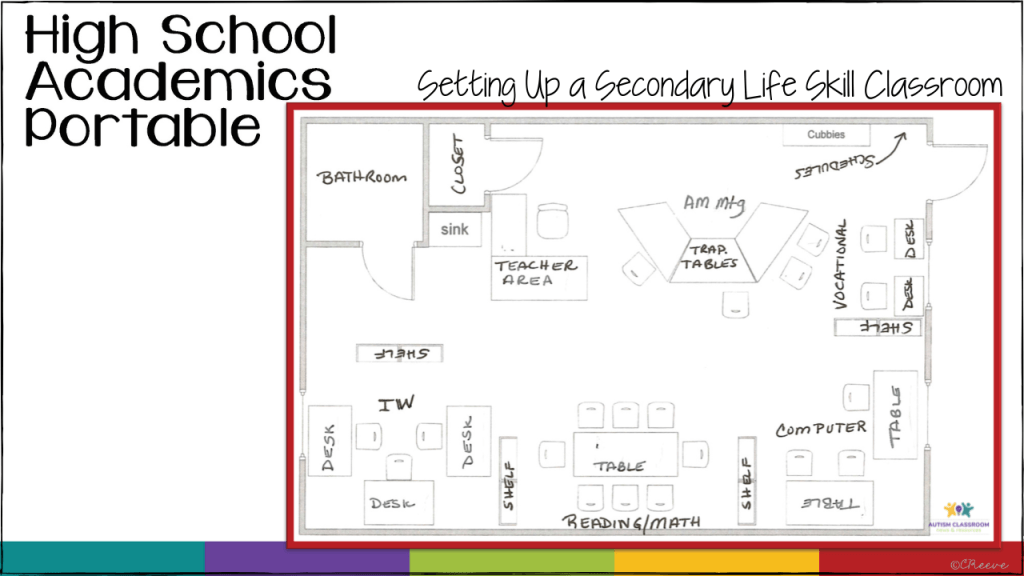 We spent the morning in the academics portable. The students had morning meeting. And then they rotated between independent work (IW), reading, and computer. And another center rotation (after PE) of Math, Computer, and Vocational. The vocational center where we taught basic vocational skills that would carry over to jobs. These were also tasks that would carry over into the independent work systems as well as to job sites.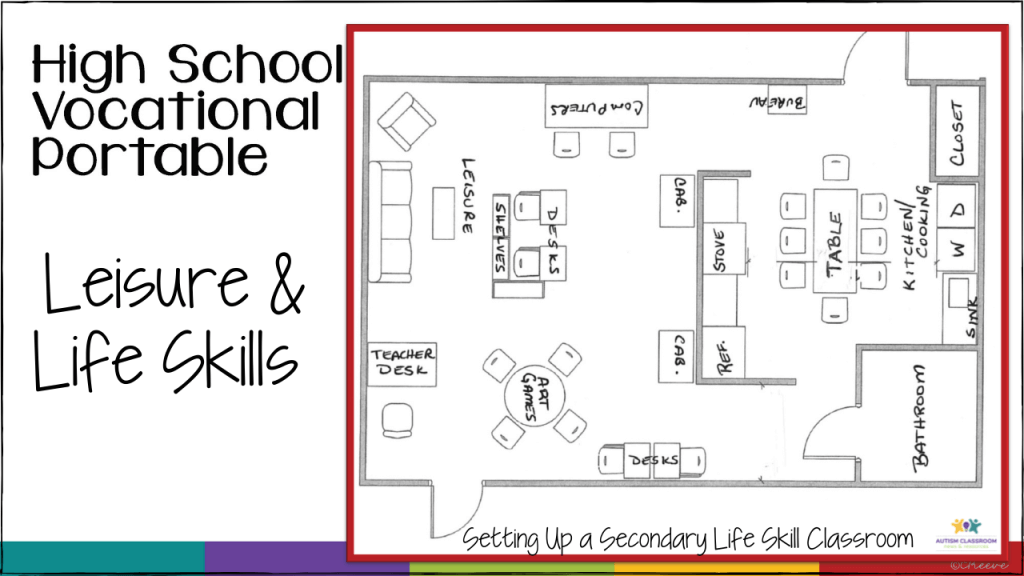 In the vocational / leisure portable we had laundry and a kitchen to work on cooking skills, cleaning and household chores, and laundry and putting away clean clothes. We also had a leisure area that allowed the students to play games, read magazines and work on computers for fun. Leisure skills and learning how to occupy their free time productively are very important to teach at this age.
Life Skills Classroom Staff Zoning Plan (Schedule)
So, once you have the physical environment established and the schedule set up, you have to schedule your staff. We do that with what is known as a staff zoning plan (like a zone defense in basketball). It is simply a schedule that establishes who is working with what students in which activities. Having it in writing really helps the classroom to run on its own. This classroom had a teacher and 2 aides for 8 students so generally staff was working with either a group 2 or 3 depending on the group. The goal in setting this up is that you want to avoid having to provide lots of directions to staff as much as possible. You can read more about how to zone classrooms and why you want to do it here.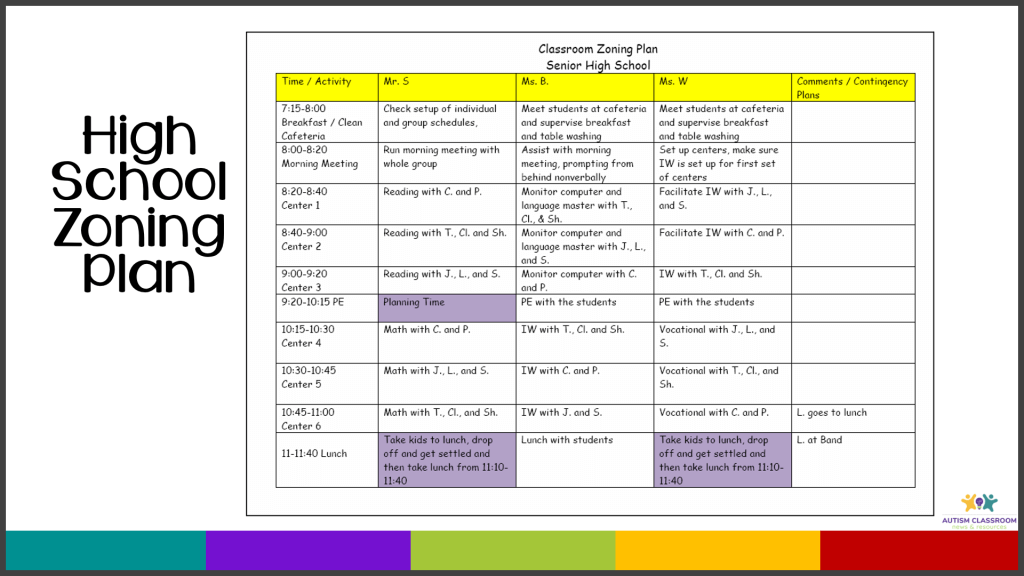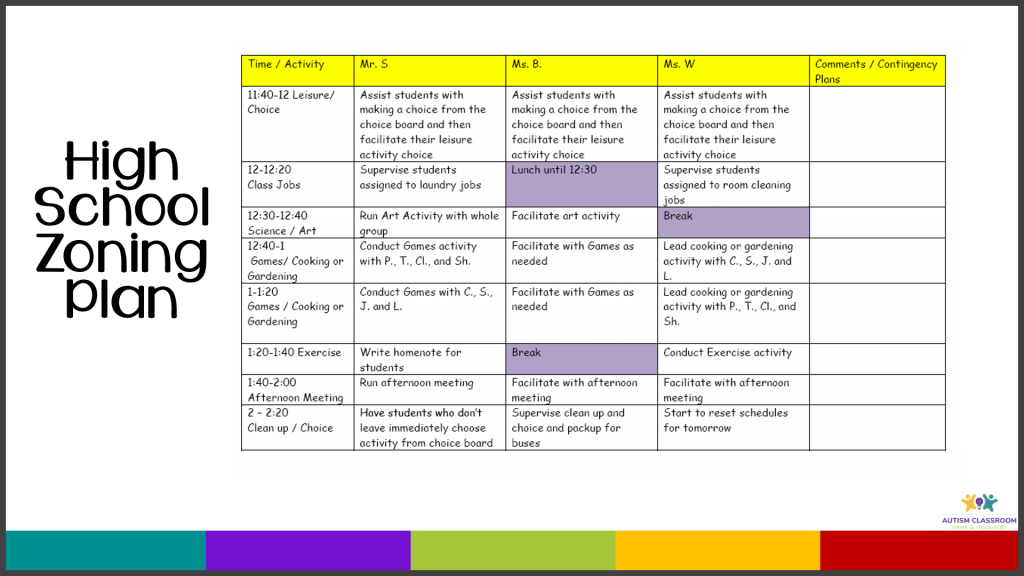 So that gives you the structure of the classroom. Unfortunately we never took pictures of the classroom once we got furniture in it, so I don't have those pictures. However, in my next post I will share examples of other middle and high school classrooms with the supports set up with schedules, materials and visual supports so you can see what it can look like.
In the meantime, if you are looking for more assistance in setting up a classroom with this type of structure, check out the Teaching Plan and Scheduling Toolkit in my TpT store below or come join us in the Special Educators Academy for our whole course on Setting Up Classrooms to Maximize Engagement for more hands-on assistance and tons more content and ideas.
Looking for More Classroom Setup Help?