Many of you have asked questions recently about how to set up Independent Work Systems in special education classrooms. So, I thought I would take this month's Workbasket Wednesday to show some examples of the way I've done it in the past. Later in July and in August I will talk about it again when I go into some detail about how I set up classrooms at the beginning of the year.
Independent Work System Basics
If you are unfamiliar with work systems, check out this post on What are Structured Work Systems for a full explanation. It also includes benefits of using them in the classroom. For important elements to remember in deciding how to set up a work system, check out the 10 Commandments of Structured Work Systems. The most relevant of these, as a refresher for all of us, is that workbaskets require tasks that the student has ALREADY mastered–they don't teach new skills. The skill they teach is learning to work independently. Remember that by definition, you can't do something independently if you don't know how to do it.
[Tweet "Independent work systems must only include mastered tasks."]
Also, tasks in work systems have to have a clear beginning and end–students have to know what they are expected to do and when they have finished. This means that tasks in work systems must be things that don't require someone else reading directions, a teacher asking a question or anything that the student cannot do by himself (unless you are deliberately breaking that rule to teach an advanced skill).
[Tweet "Work tasks must have a clear beginning and end."]
Models of Setting Up a Independent Work System
So, with that out of the way, let's talk about some of the different ways that work systems might be set up.
Individual Work Stations
In many traditional Structured Teaching (TEACCH) classrooms, the teacher sets up a work system for each individual student. The teacher generally travels around to each student to provide direct instruction and they are working on work systems the other parts of the time. I've worked in classrooms set up this way but ran into a couple of issues with it.
Most classes have 8-12 students or more and there often isn't room for each student to have a whole work station of his/her own.
Storing the work baskets becomes difficult for multiple students to access them if they are not at the stage of independently retrieving the tasks on their own.
Students don't move much during the day and their environment doesn't change.
And my most critical concern is that students are being asked to work independently in the same place that they are working with an adult, which can be confusing. I like to keep teacher-directed instruction and independent work separate so students understand the different expectations.
[Tweet "I like to keep teacher-directed instruction and independent work separate so students understand the different expectations."]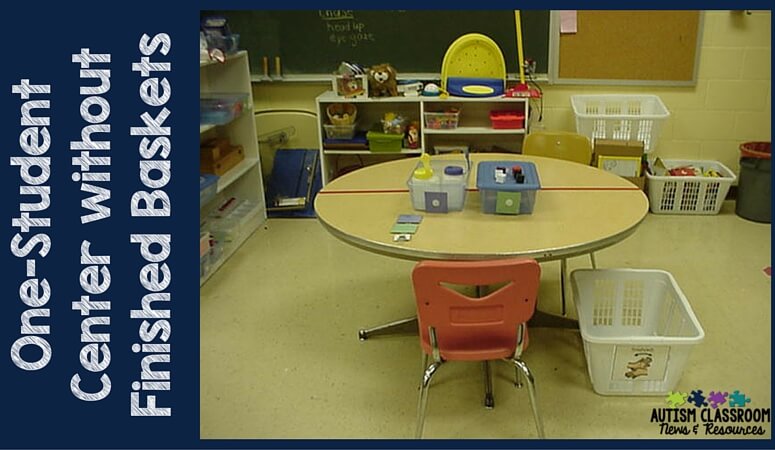 Work Station Lab
In some schools I've worked in, the teacher had an extra classroom and was able to set up that classroom as a work system lab. This has worked out particularly well for students working on vocational skills. Essentially there was a vocational lab that included work systems as part of the rotations or that had only mastered vocational skills for students to practice on their own.
Individual Student Desks
Some teachers have tried to combine work systems with the students' own personal desk area. This kills two birds with one stone when setting up the room. However, I have some of the same concerns with it as I do with the individual work station.
First, I often put student desks in a group area where they are seated next to each other and we can hold group meetings. This means that there is little visual separation for work systems.
Student desks often don't provide enough space for housing the baskets and materials needed for work systems. Again this is particularly difficult if the students aren't able to independently retrieve and put away their own tasks.
There is no room for a finished basket.
Often the desk has more than one function so the cues for working independently are sometimes not as clear.
Independent Work Systems as Centers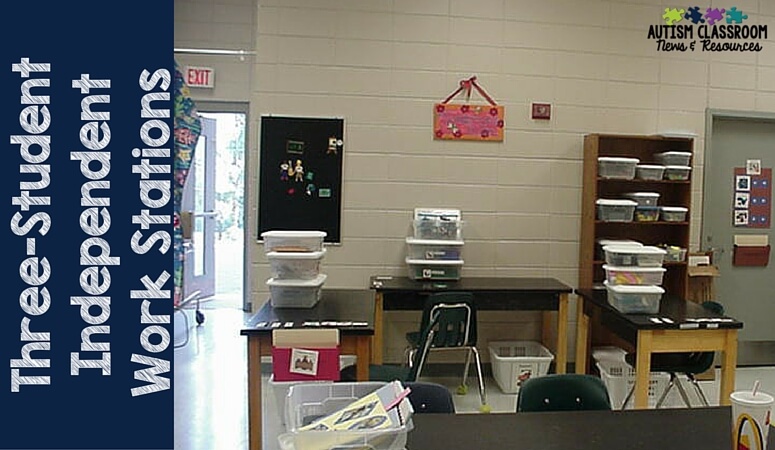 At the beginning of the year when I'm getting to know the students, it is easier to set up work systems as a center in the classroom. The students might rotate through the centers once or twice during the day depending on their needs. Sometimes I will have an academic center of work systems and a vocational or leisure set of work systems. Depending on the space in the room, these might be two separate areas of the room with different tasks, or they might be the same area with different in the areas.
Within the center I set up 2 to 6 stations depending on how many I need for the number of students rotating through. I might use individual desks or tables that I divide with masking tape to section off spaces. You can see some examples below.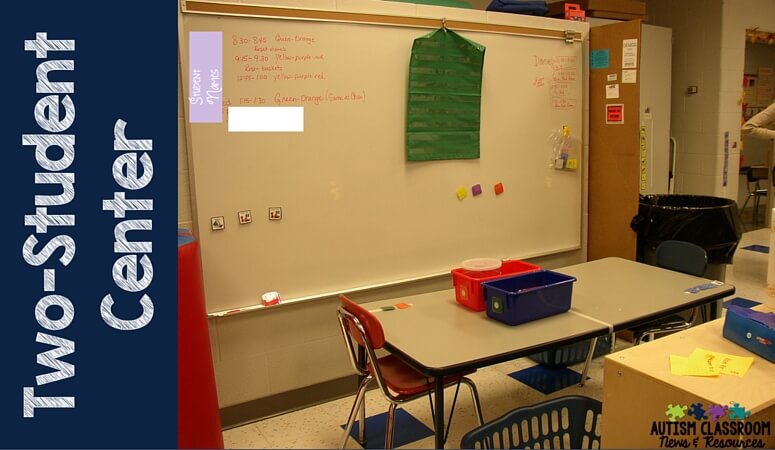 Starting Out the Year with Centers
Typically at the beginning of the year, as we get to know the students, we set up the systems with a high system and a low system or designated high, medium and low systems. Academic tasks or tasks that require more advanced skill, like packaging tasks, are put in the higher. Low systems typically include simple put-in tasks with few pieces for students who are still working on independence. As the year goes on, we individualize the systems and keep track of the tasks the students can do independently. Then we can pull from that list to create the lesson plan and tell the staff member setting up the systems which tasks to pull for each system.
This system allows us to…
Differentiate centers with space and visual cues for working with the teacher or staff on new material versus the expectation to work independently.
Store the task materials in the area in which they are being used for easy access.
Easily post visuals for staff and students designating which student is at which station and which tasks go in which station.
Work with a variety of different types of furniture.
Easily start out general and then become more specific as you get to know the students.
Free up a staff member as students become more independent. These staff members can then help in another center or even add another center to the rotation (i.e., fewer kids in each place!).
Hopefully this gives you some ideas to get started. As I wrote this I realized it really needed more detail than I had room for here. So I will be back on Sunday with an overview of how I set up center-based work systems step-by-step.
Link Up for Workbasket Wednesday

Have some workbasket tasks you want to share (they don't have to be assembly tasks)? Link up below or share them on social media with #workbasketwednesday and copy me (@reeveautism on Twitter and @autismclassroomnews on Instagram).
Looking for more ideas on work systems and how they can be used? Check out the links below for more posts. And, I wrote about a book about them! Click on the book to the left for an Amazon Affiliate link (see my disclosure policy for more information about affiliate links).
Looking to set up work systems in your classroom but not sure where to start? Check out my Structured Work Starter Kits and Bundles in my store.
[inlinkz_linkup id=646642 mode=1]
Until next time,