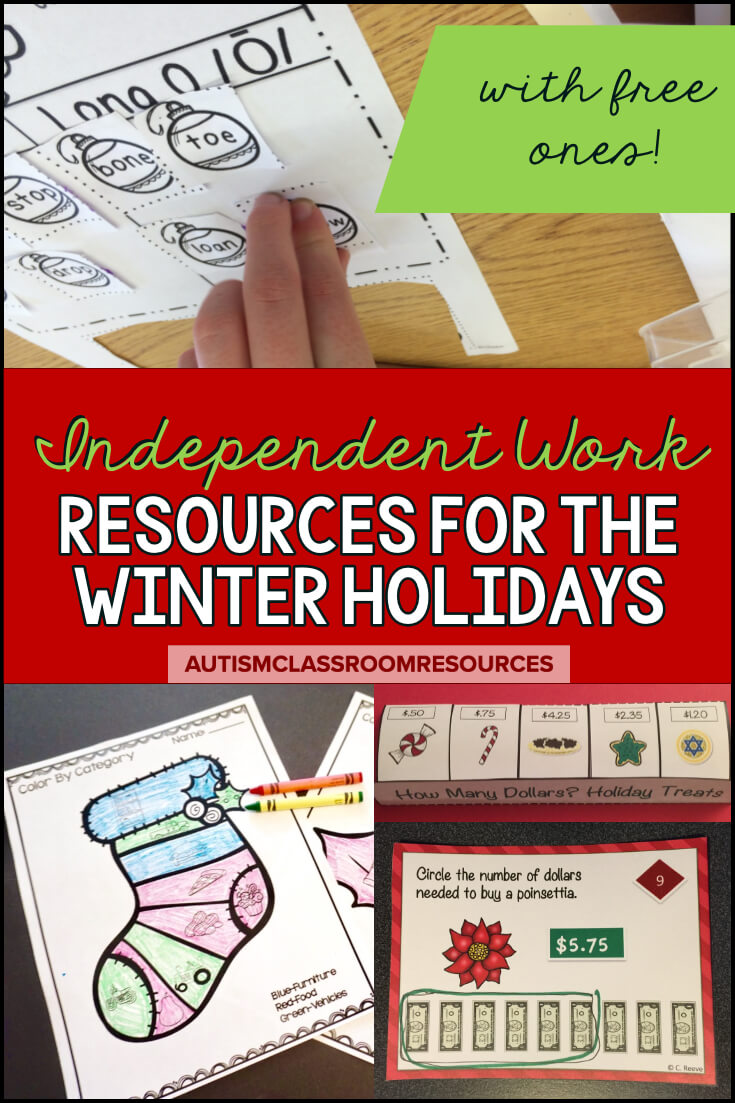 I wanted to continue on from my last post about winter holiday resources for the classroom. This post will focus on holiday independent work tasks that can help to keep your students attention on their work. So, grab a hot beverage of your choice and I've got some resources for work systems, language skills and more. And there are some free ones in here too that you don't want to miss!
Christmas Receptive Vocabulary Tasks
This is the Christmas themed set of tasks designed to help students receptively identify and practice vocabulary words. But they take it beyond just labeling to include identifying the item when told its function, a characteristic or feature, or it's category. They focus on teaching students to understand common vocabulary words and use them in a variety of different ways. In behavior analysis, we sometimes call these types of skills receptive, feature, function, class or RFFC tasks. (there are IEP goal samples at that link too!).
How I Use These Tasks:
To teach receptive vocabulary and feature, functions and categorization. I use them in direct instruction as a way to make it more engaging than just showing them photos.
To practice the receptive vocabulary they have learned during independent work. This allows the students to maintain the skills and generalize them to new materials.
What's Included:
This set includes a variety of activities you can just print and use. This makes it perfect for the holiday time of year when the schedule is completely off and you need to pull things to keep the kiddos busy.
Reusable Tasks:
The set includes some items you can laminate and use repeatedly.
These include a file folder activity for matching associated items (e.g., nail to hammer).
It also has 2 sorting activities for students to sort by category. I made them sorting mats so that you can adjust the number of categories the student has to sort based on their skill level. There are 7 possible categories. One activity has a model and one does not have a model.
Print-and-Go Tasks
There are 5 sheets that students color parts of the picture by identifying the associated item it holds. So they color the part of the picture blue that has the item that matches a nail (the one with a picture of a hammer in it). Essentially it's like read and color activities but with associated item pictures instead.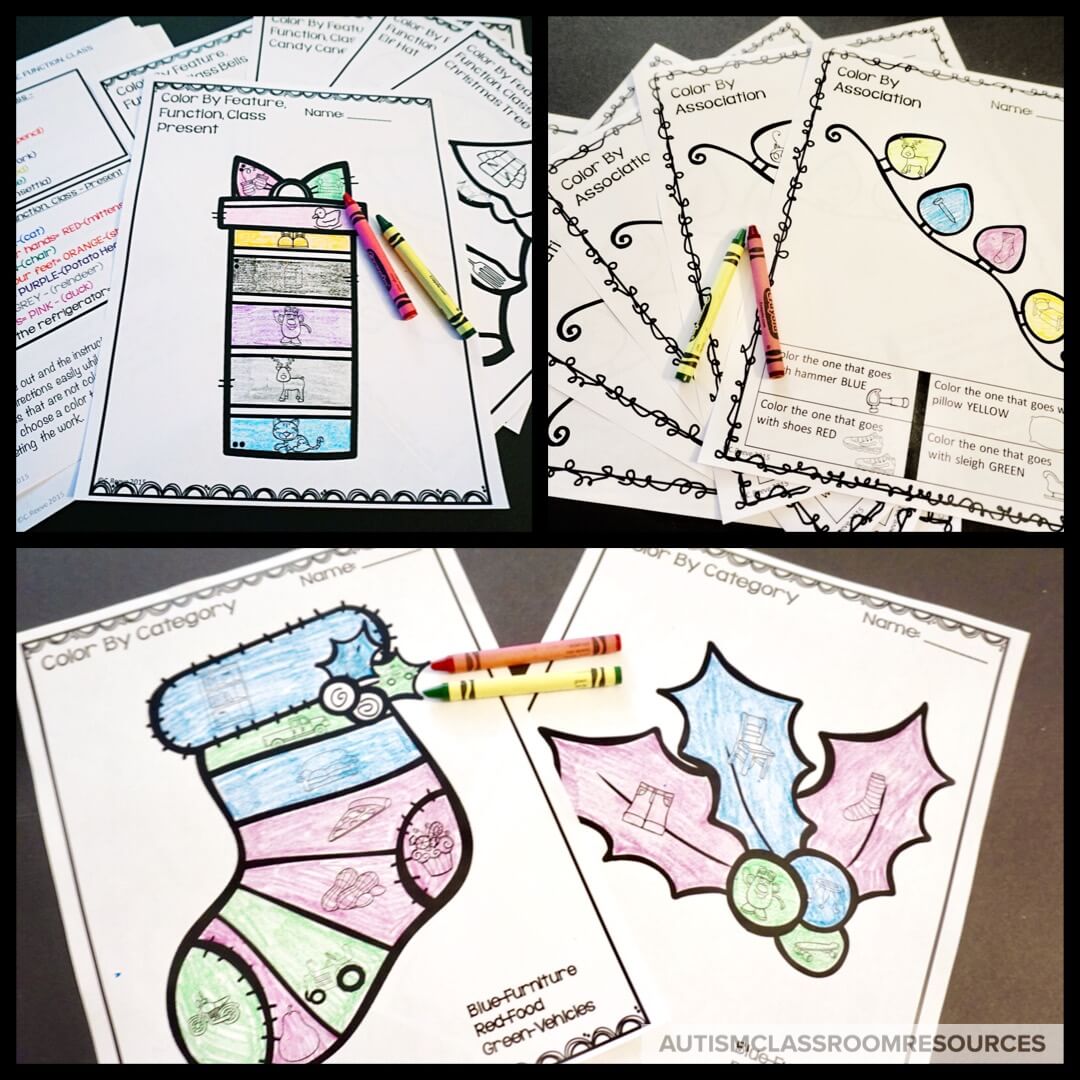 There are 5 sheets the students color by category. On these sheets, they color the parts of the picture a specific color if they have an item of a specific color. So color all the parts with tool pictures blue.
Finally there are 10 black-and-white sheets that can be used with a bingo marker or stickers like a roll and cover activity. However, in this activity, the students find the item that has a specific feature or function or belong to a specific class. So on sheet, they find and mark or cover all the pictures of tools or all the pictures that have a tail.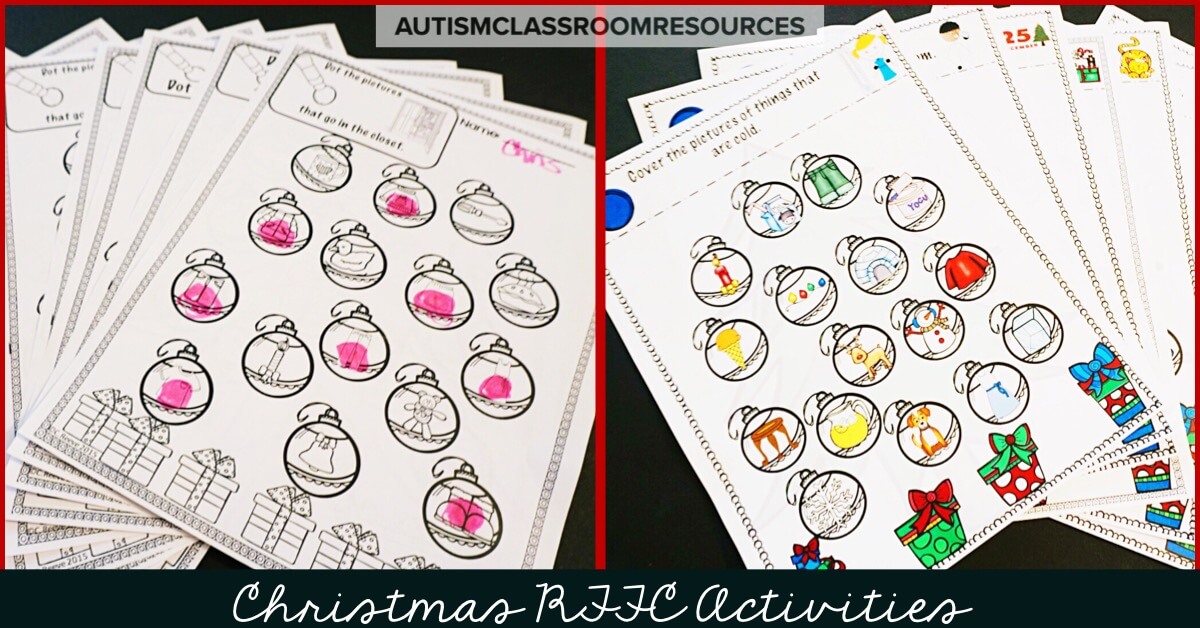 Christmas and Hanukkah Literacy and Math MegaPack
Designed specifically for independent work systems, these common-core aligned activities use art from Christmas and Hanukkah to help students practice letter and number skills. They are designed for preschool and elementary-aged students working on basic letter and number identification.
How I Use These Tasks:
I use this set of holiday materials primarily in independent work for students to practice and generalize their early literacy and math skills. It helps to shake up the materials and build more generalization but keep the skills basic to ones they have mastered in direct instruction.
What's Included:
This set has some print and go worksheets as well as file folders, task cards and sorting mats. The file folders and task cards are designed to be reusable each year so, once made, they are an easy holiday resource to pull out for the kids. I've divided up the literacy activities and the math activities. In the parentheses at the end of each item, you'll see which holiday it is geared toward.
LITERACY ACTIVITIES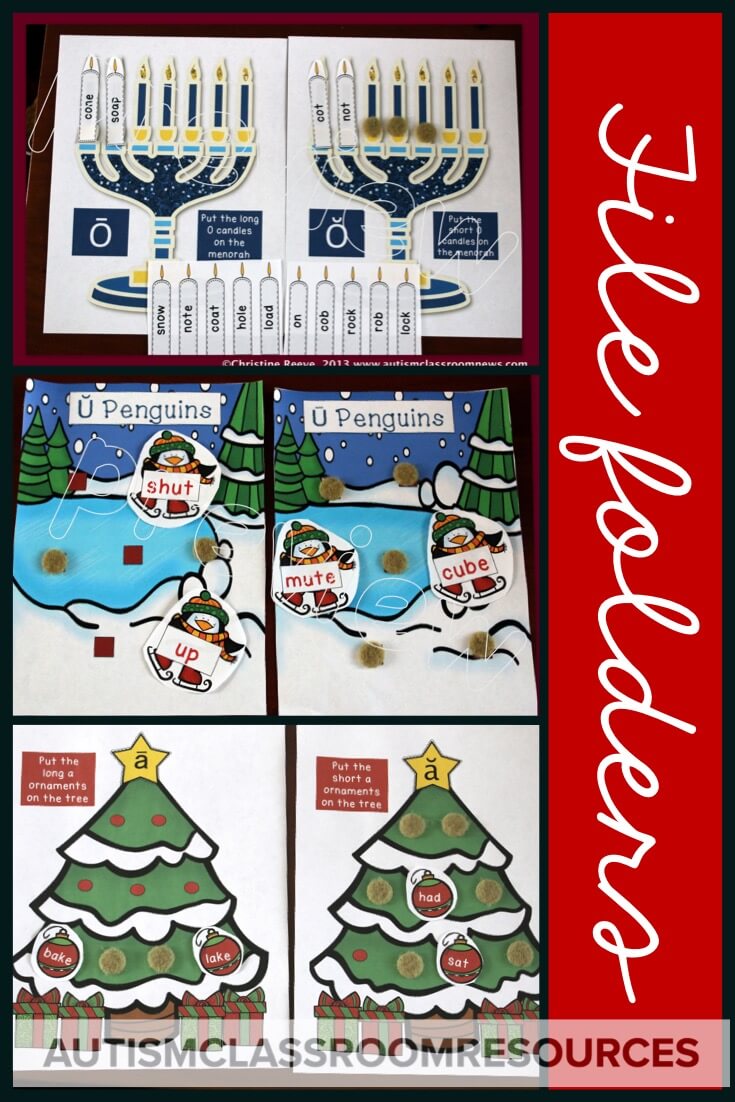 1 file folder matching capital letters to capital letters (CHRISTMAS)5 full color activities for reuse in learning to sort words with long and short vowels. These can be laminated and reused in binders or to create file folder activities. (2 CHRISTMAS, 2 HANUKKAH, 1 WINTER)
1 set of sorting mats for putting items into categories of animals, clothing and food that can be laminated and used in a binder or as a file folder activity (HOLIDAY)
15 print and go worksheets (black and white). You can use them as worksheets that students cut and paste or you can laminate them and cut the words out, using Velcro to make them reusable. There are 3 for each vowel (a, e, i, o, and u). Of the 3 two use the words that are used in the reusable laminated activities and 1 presents new words. The first two require sorting 8 words and the third requires sorting 10 words. (MIX OF HANUKKAH, WINTER AND CHRISTMAS)
MATH ACTIVITIES
TASK CARDS: 55 full-color task cards with single-digit addition problems providing visuals. Students add the numbers and count the corresponding items to determine the total. Lines are provided for writing in the answers. Students can add the numbers and use the visuals to count the total. (CHRISTMAS)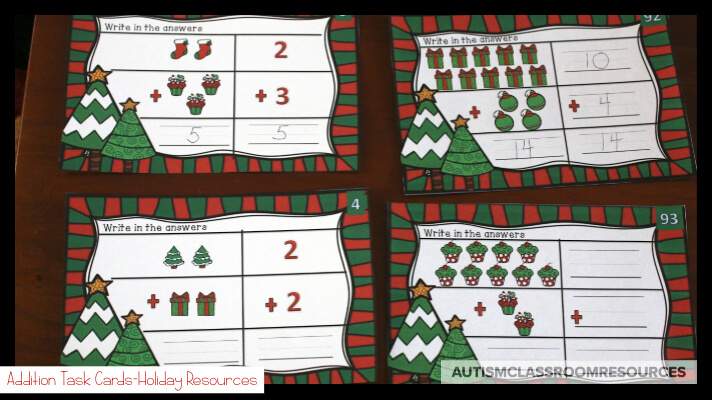 55 of the same task cards with the number of items on the card to use for counting. Students then write the number of items on each line and add the problems. (CHRISTMAS)
Answer sheet and key for task cards
PATTERNS
3 sets of grids and color visuals for setting up patterns for students to complete with laminated, re-usable pieces. These can be either in a file folder or laminated pages to keep in a binder. The patterns can be changed each time the students work with it to keep them from memorizing them. (HANUKKAH, CHRISTMAS AND WINTER)
6 black and white cut-and-paste sheets for students to complete 1 type of pattern per sheet (AB, ABC, ABBA, AABB, ABB, ABCD). These can be done by the students as cut and paste activities or you could laminate them and reuse them with Velcro. (HANUKAH, CHRISTMAS AND WINTER)
1 black and white cut and paste sheet with 3 different patterns (ABC, AABB, ABB). This can also be used as cut and paste activities or laminated and reused with Velcro. (HANUKKAH)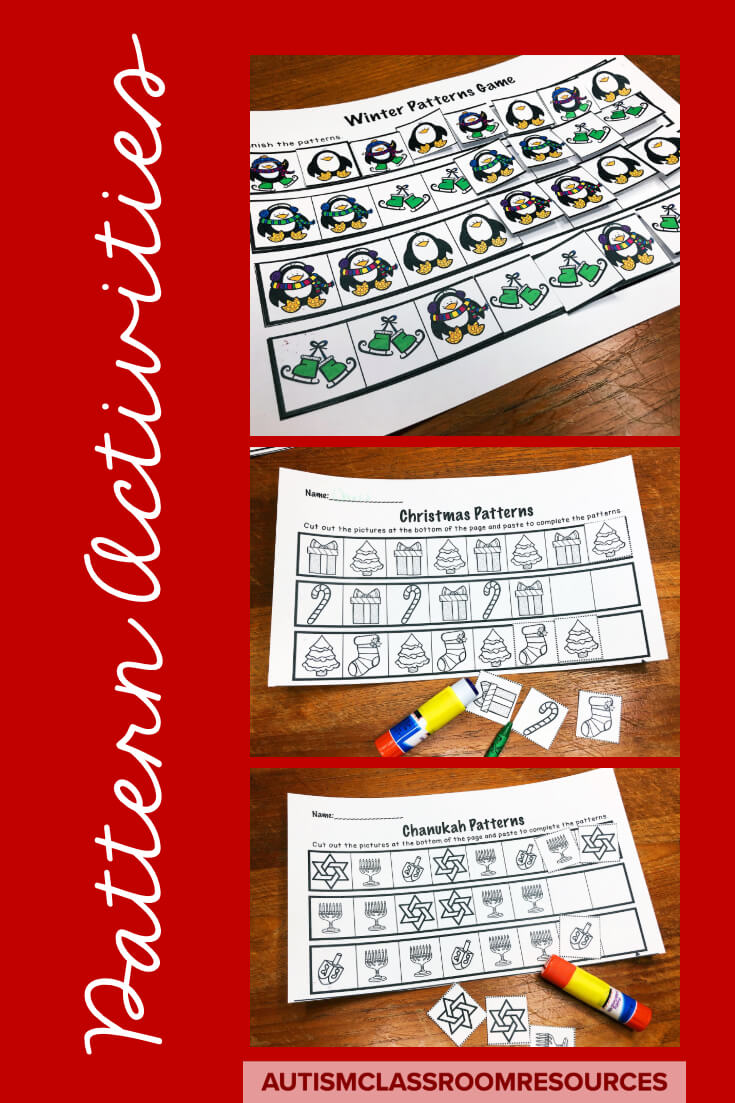 3 sets of materials for sorting items (color) by size (large, medium, small). Each set has 3 sets of items to sort and can be sorted onto a grid of either large-medium-small or small-medium-large. These can be laminated in a file folder for reuse or could be used as a cut-and-paste for the students. (CHRISTMAS)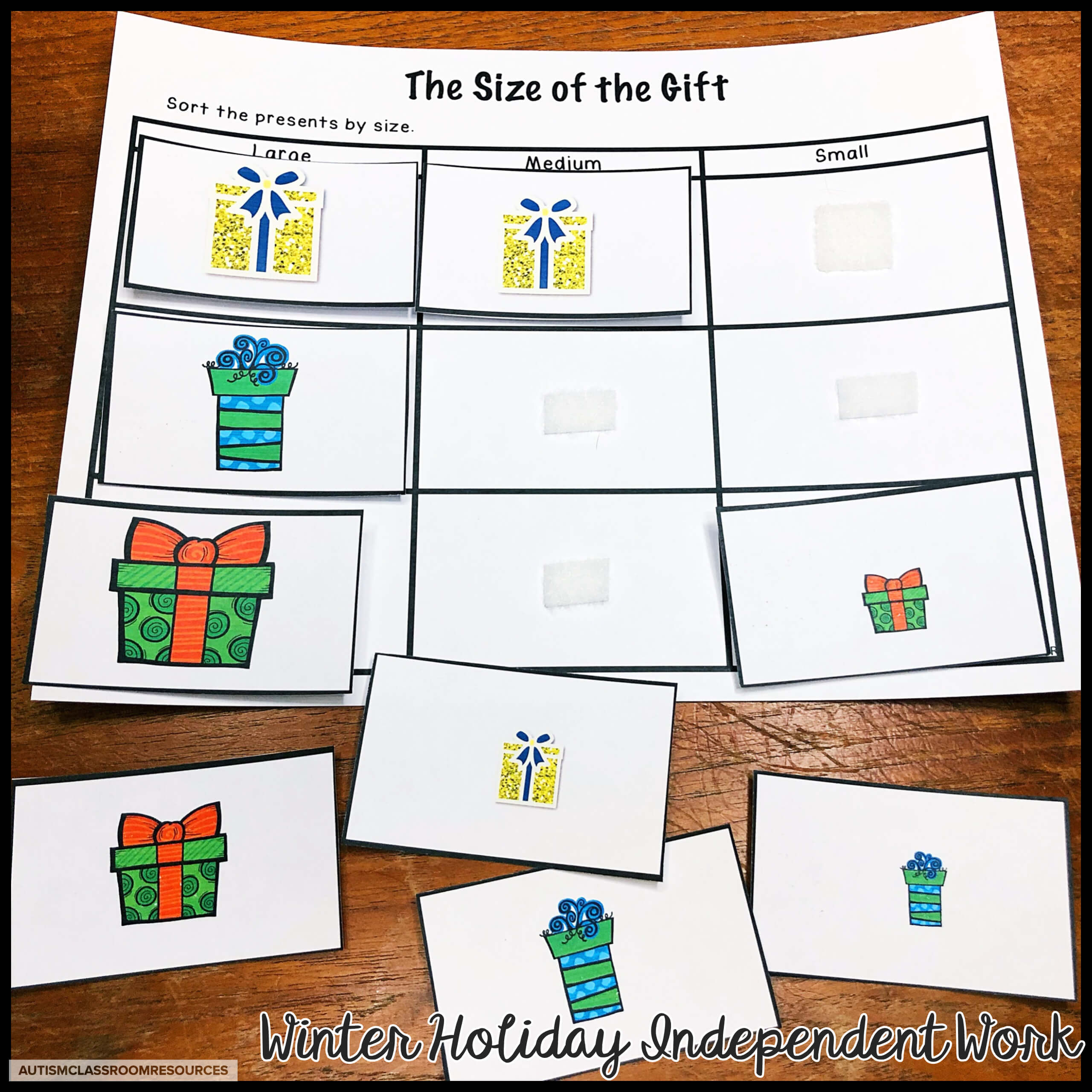 1 file folder (color) for matching patterned Christmas trees. These can be laminated for reuse and used as a simple matching activity. (CHRISTMAS)
Christmas Next Dollar Task Cards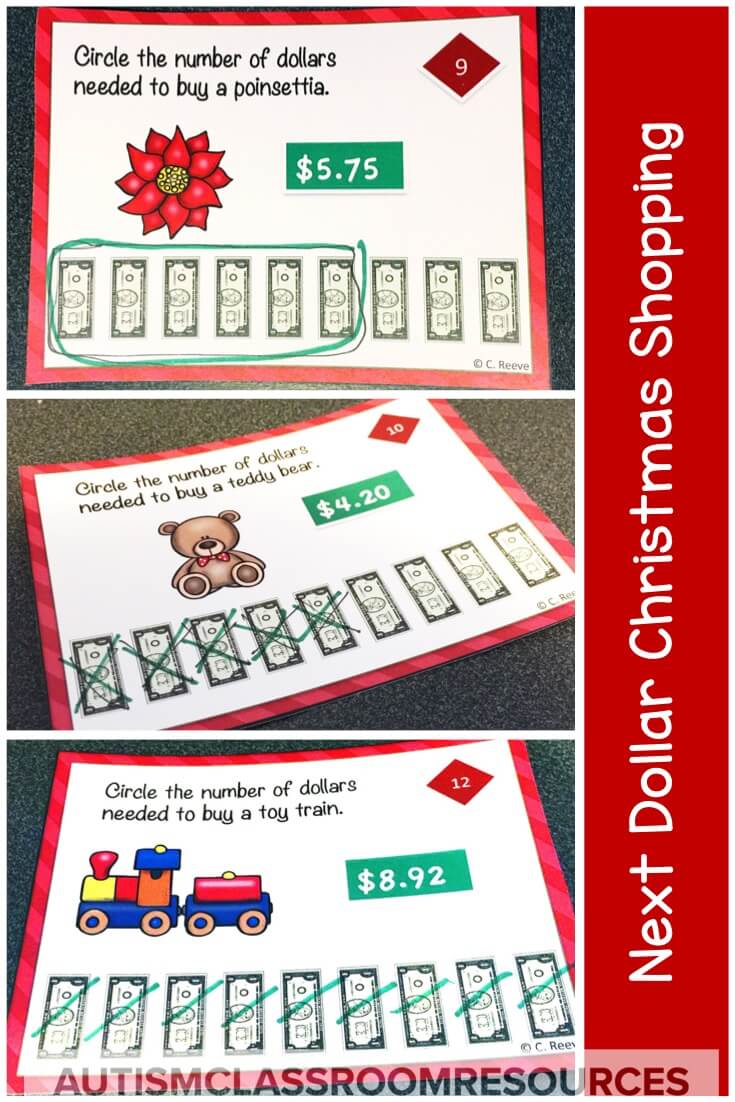 If you use the Next Dollar Up strategies with your students to work on money skills, this small fun resource can put holiday spirit in their practicing.
How I Use These Tasks:
As a group you can put them on a document camera and have the students use dry erase boards (or laminated sheet of paper) to select their answers, write them down and show them as response cards. The teacher can then check the work of all the students to see who has the right answer and who does not.
2. You can choose the task cards you want the students to complete based on their level of difficulty and give them a set to complete during small group or independent work.
3. You can include them in a student's structured work system and can mix them up across the sessions so the students are always completing a different set of cards.
What's Included:
There are 24 task cards with prices and 24 identical car​ds without prices for using the next dollar up strategy. The cards have Christmas items with prices between $1 and $9. The answer key is included.
The cards without prices are useful if you have students who tend to memorize answers. You can change the prices on the items regularly so the students cannot memorize them.
FREE Interactive Next Dollar Foldables
You can find these on the blog for free. They are great for quick and easy activities using next dollar.
How I Use These Tasks:
They are designed to have students practice using the next dollar up strategy to determine how much money they need to make a purchase. For each item they round up to the next dollar. For instance, if the item costs $3.21 they would need (and write) $4. This strategy allows students to determine if they have enough money to make a purchase they want and to use money functionally even if they can't make change.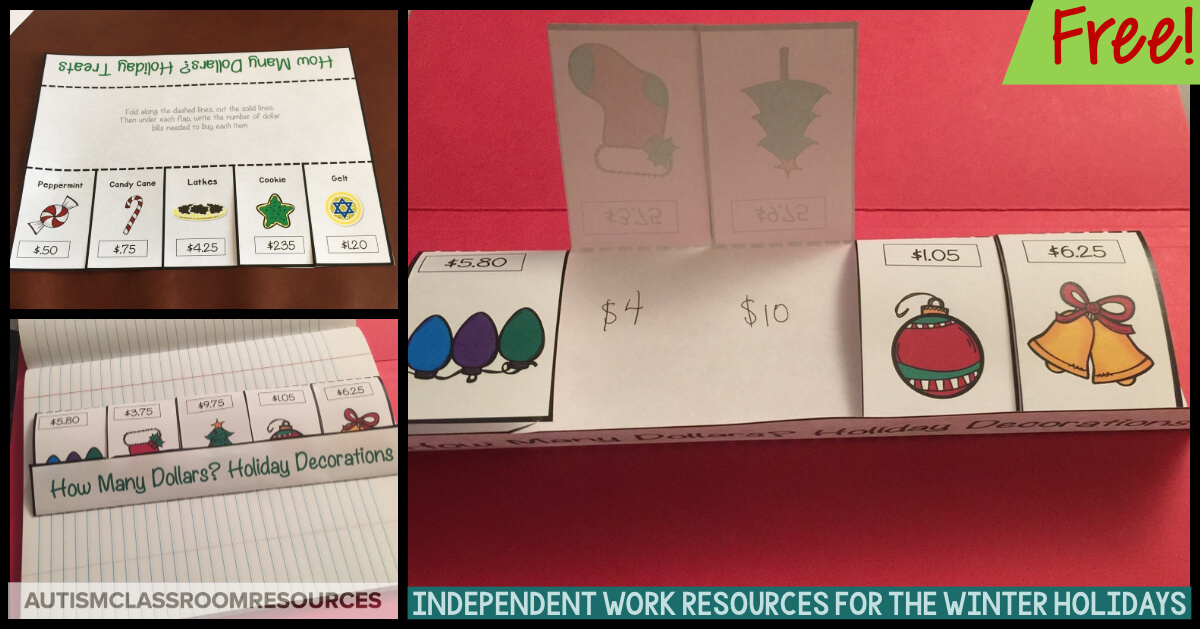 Students can construct the foldables. The black and white can be colored. They cut them out. Then they fold the flaps down and the top over to make a matchbook (see picture below). Then under each flap students write the number of dollars needed to buy the item pictured.
These can be used alone or as part of interactive notebooks. To use them in interactive notebooks, simply have them glue the bottom of the matchbook (over the text) to put it horizontally in the notebook.
What's Included:
Included are 3 foldables for practicing next dollar skills with a holiday theme. I included color and black and white versions depending on whether you are saving ink and want the students to color them. It would also allow you to quickly make a teacher model without having to color yourself. J One has prices below $5, one up to $10 and one has 2 items above $10.
Holiday Shopping Decorations (FREE)
​This free set of activities are similar to my Economics in Shopping products on TpT. It is designed to help students read sales flyers functionally. The activities also provide practice on determining money needed to make purchases. The stores are differentiated to address the needs of a variety of skill sets.ext here…
How I Use These Tasks:
Use them in independent work systems for students who have mastered these skills already. They can practice with different stores to generalize their skills.
Project a store on the projector or interactive whiteboard. Have the students refer to it to complete the worksheet and/or the task cards.
Review the store as a group activity with the class. Then have the students complete them at their own level at their desks.
What's Included: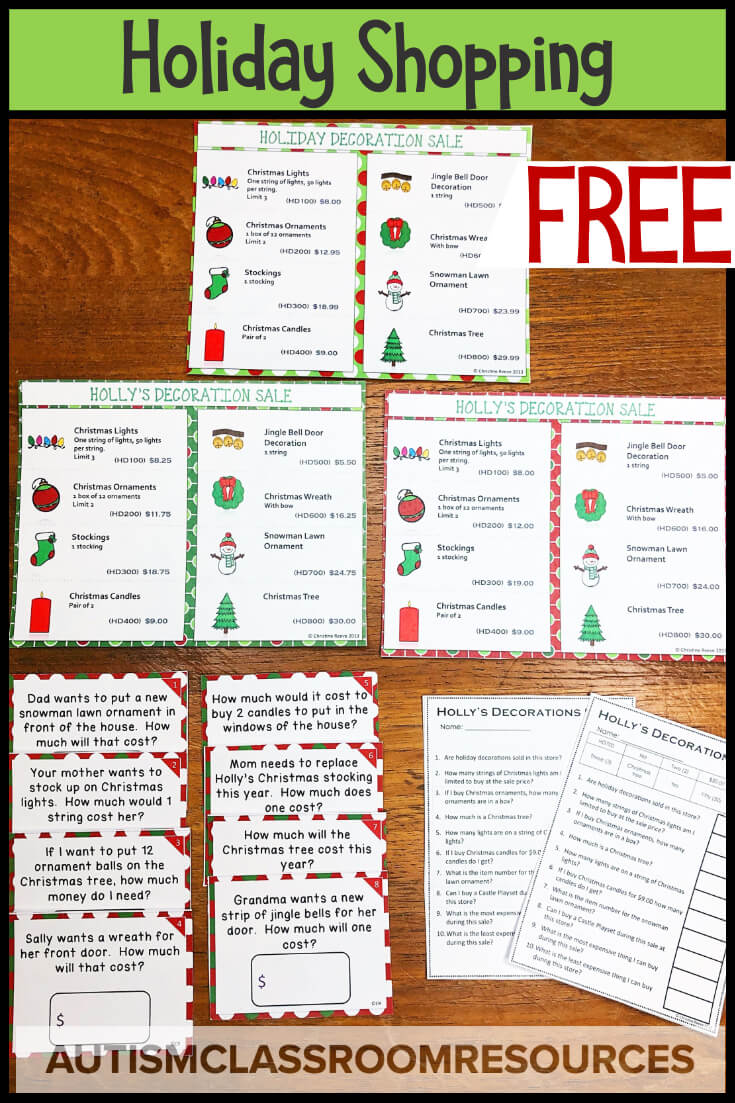 This free activity consists of three sales flyers for holiday decorations, 8 task cards for writing in prices of individual products, and 2 print and go worksheets to answer questions about the flyer.
The sales flyers are the same with 3 different levels of pricing. The worksheets are the same and one has a word bank to assist students. The worksheet with the word bank will only work with the stores called "Holly's Decorations Sale." It will not work for the third sheet because the Christmas tree price is different.
These are some fun ways to jazz up your instruction and independent work with holiday resources.
Until next time,