I recently had someone ask me if the independent work area needs to be a separate area of the classroom. In short the answer is that no, they don't have to be in a separate area. But there are some advantages that I thought I would share.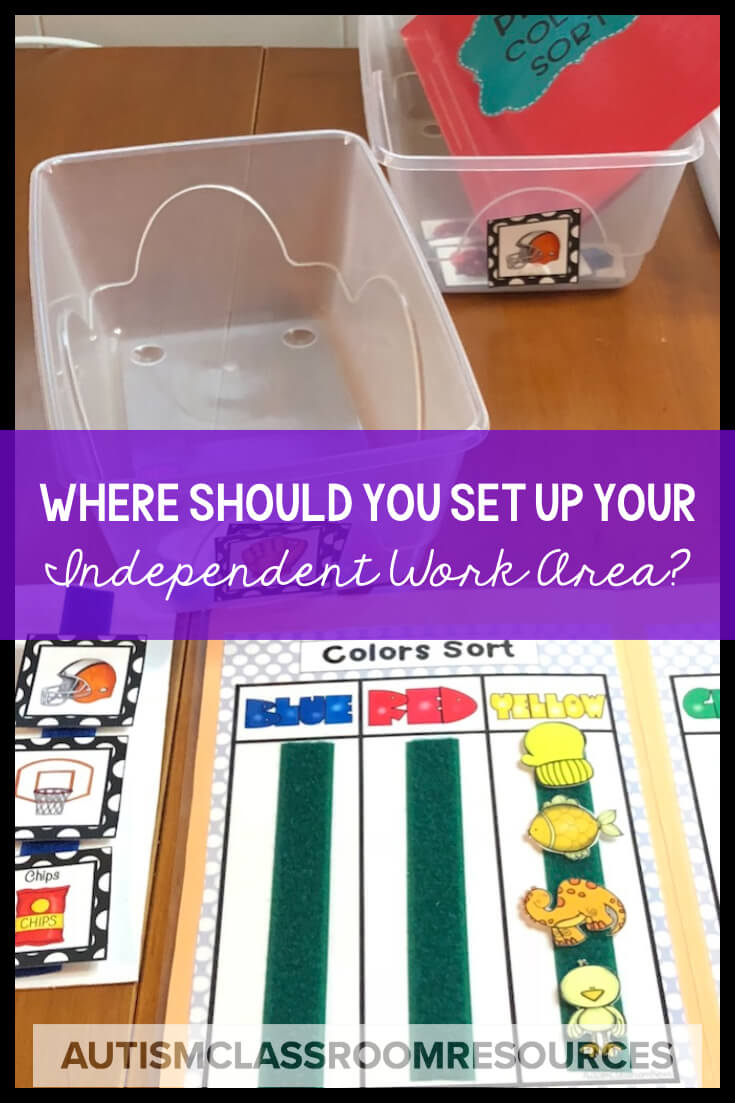 Advantages of a Separate Independent Work Area
SPACE
I like to set up my work systems as centers that the students rotate through. I do this because most classrooms don't have enough space for everyone to have their own work system, Using centers allows me to set up 2 to 4 systems that all the students use.
CLEAR CUES
Setting up separate areas from other instructional areas also assures that students know this is where they work on their own without help. If I set up independent work in an area where students are also learning new information from instructors, sometimes they get mixed signals about whether the adult can help them or not. This may be an issue for your students or it may not be a concern.
FADING PROMPTS
A separate area also allows you to make sure that you can set it up with enough space for staff to stand behind the students as they work. That makes it easier for them to ​fade themselves out as the students become more independent. For some students just the presence of the adult is a cue to work so I like to fade out the adults completely. Otherwise, if their supervisor left on a job site, they might stop working.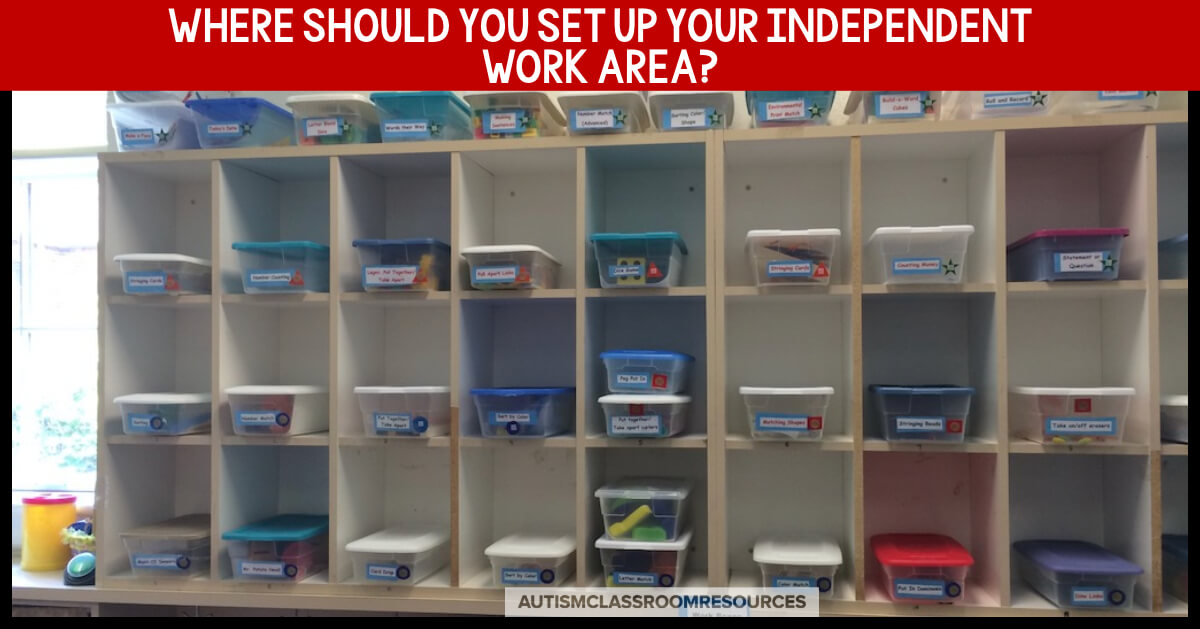 CENTRAL STORAGE
Finally, having independent work set up in a separate area allows you to store all your tasks and materials in that area. You can keep a central list of tasks that each student can complete independently. Tasks in the area can be used for multiple students easily.
So, again, there are times when having independent work at the student's desk makes more sense. If you have some students using a system that requires it be set up with baskets but everyone else has a system that they travel to get the tasks. Then the students who need stationary systems may have theirs at their desk.
As with most things, it depends on your situation and your students. But if you are just getting started with systems with your students, then a separate independent work area might work best for you.
GET ALL THE VISUALS AND ORGANIZATIONAL TOOLS YOU NEED to start independent work in your classroom.
These kits include an e-book with directions on setting up independent work systems and using the materials included, data sheets for tracking progress, visuals for the special education work boxes and schedules, what's next visuals, and mastery sheets to keep track of which students have mastered which task. 
And if you want more information about how to start your independent work systems right, try our free webinar on independent work. It's directly from the workshops offered in the Special Educator Academy.