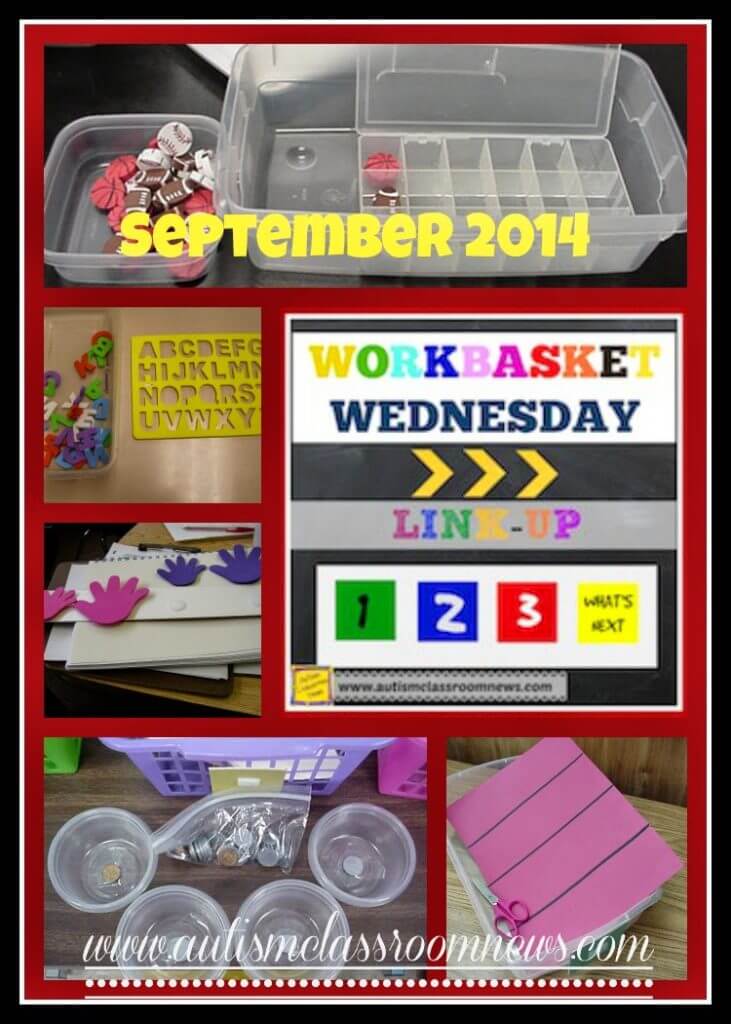 Welcome to Workbasket Wednesday! This is a time for us to all indulge our love for work tasks that work in independent structured work systems and capitalize on the visual strengths of many of our students to address their need to learn to work independently, maintain learned skills and generalize their skills across different materials. If you want to link up, see the end of the post for directions and the link up. If you don't have a blog, you can link up as well by leaving photos in the comments or messaging them to me on Facebook and I'll share them.
Since we just started September, many of you have just started back to school while others have been back in the classroom long enough to get to know your students. So, I thought today, I would focus on tasks that are fast and easy to set up so you can expand your work tasks quickly.
One of the biggest challenges of work systems is having enough tasks to keep the students busy with different tasks. I generally change them once a week, but if we schedule independent work more than once a day, which makes sense for many of our students, we need more tasks. As one of my middle school students once said to me when we didn't have enough tasks to give him new ones for the afternoon session, "I've. Already. Done. This." This was punctuated by slamming the baskets. So, lesson learned–more tasks is always good. But at this time of year, whose got time to create a bunch of new tasks. Here are 5 tasks that you can make with materials you have lying around (read: Free) and don't require laminating and lots of prep. I set up classes in 2-3 days in one of our training models, so I've become pretty good at the quick and easy types of tasks.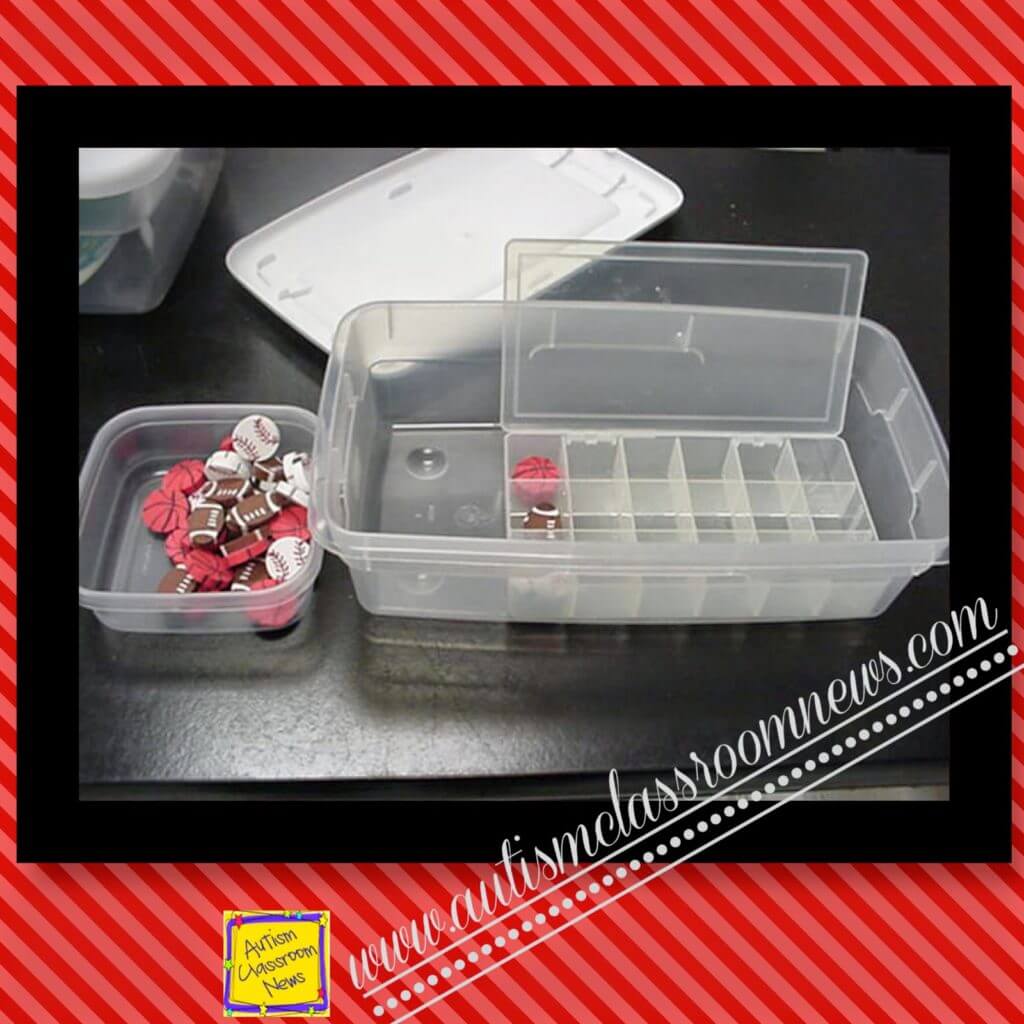 Do you have a bunch of fun erasers or foam shapes hanging around your classroom left over from art projects? Have an egg carton? Or a craft tray (like the one shown here)? Have them sort the erasers by color or type.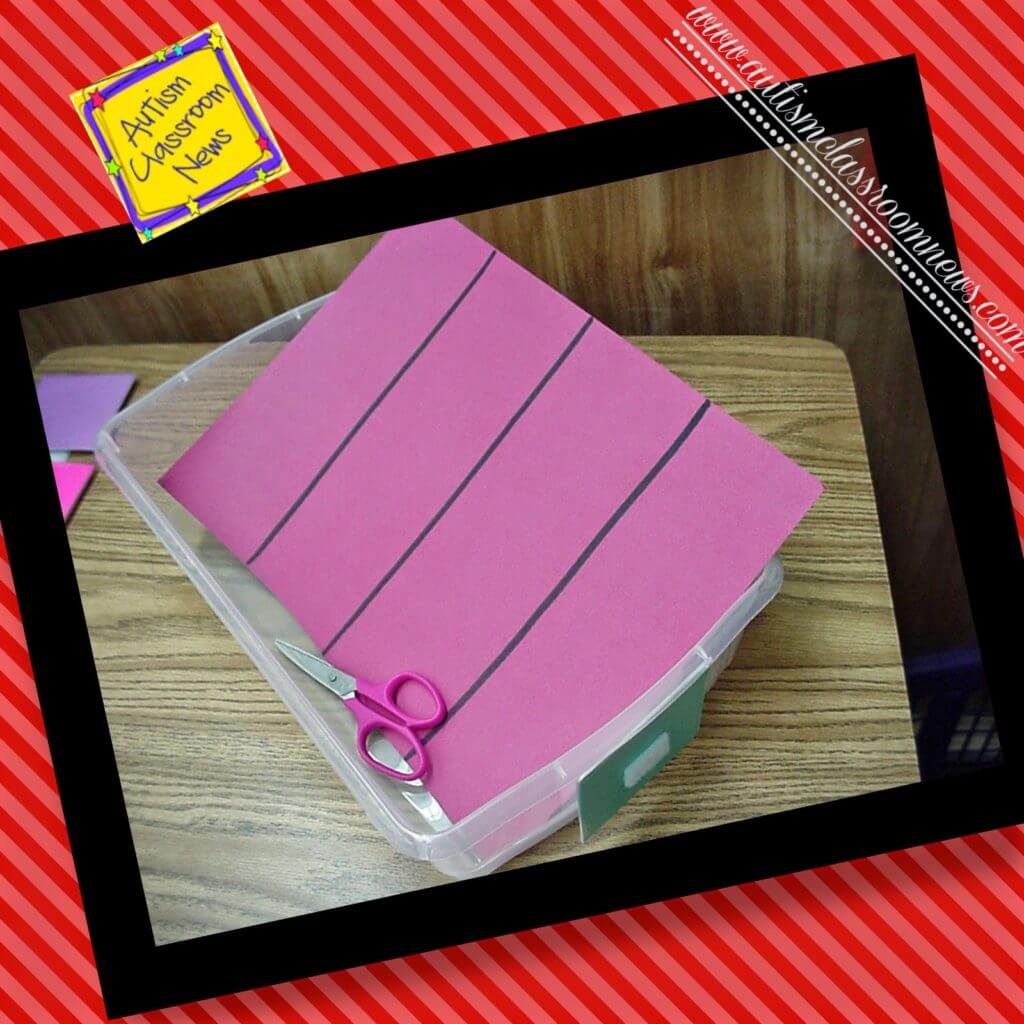 Young kids need to work on fine motor and cutting skills. Make quick templates with lines for them to cut and throw in some scissors. Ba Bam! Work task!
Working with older students–have them cut coupons out of flyers rather than lines on paper. Same skill, more age-appropriate materials.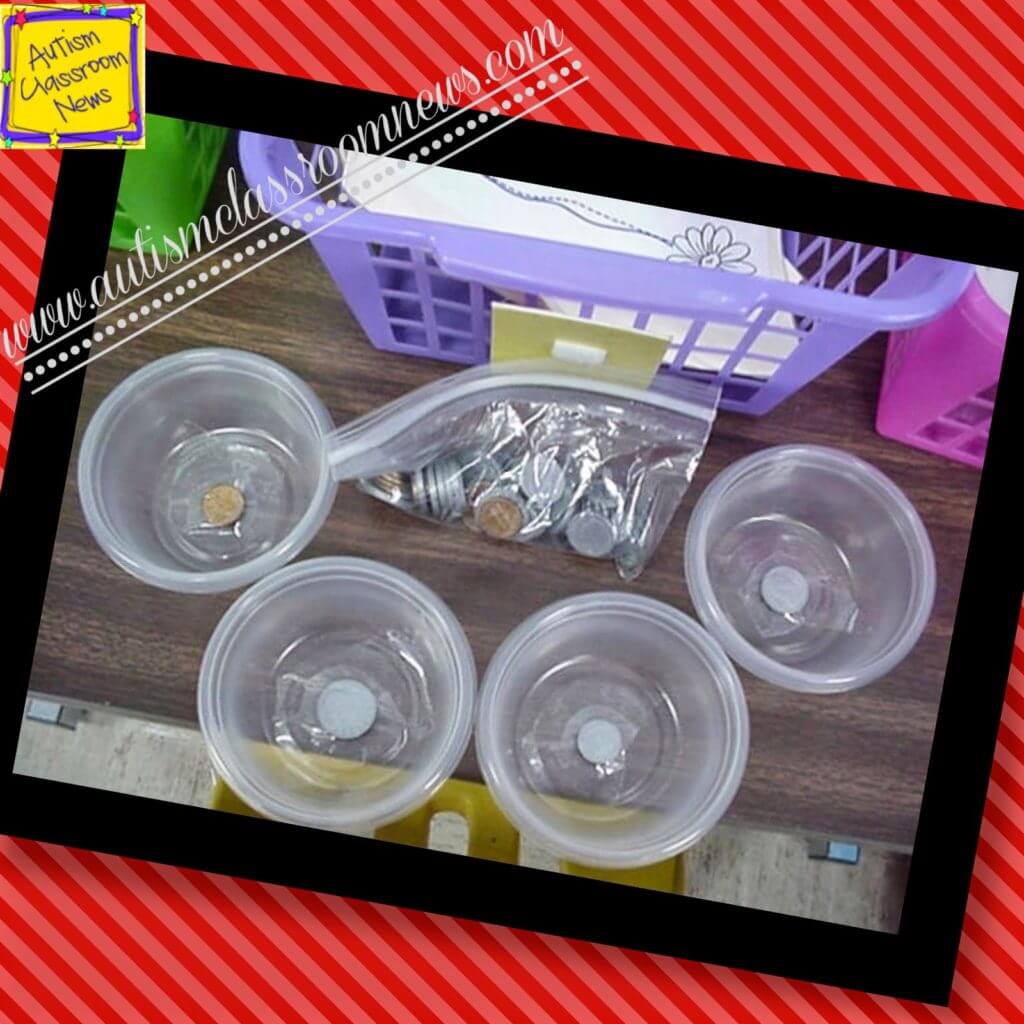 Do you have some extra change in your purse? I always seem to donate mine at the beginning of the year to classrooms because I really love for the kids to have real coins. They just feel different. Have 4 margarine or baby food containers hanging out? You don't?–here's a tip–SAVE your trash! There are so many things that can be repurposed into work tasks from containers to styrofoam trays. Sorting coins is a classic task–individualize by how many you ask them to sort and whether you tape down examples (like the picture) or don't give examples so they sort on their own.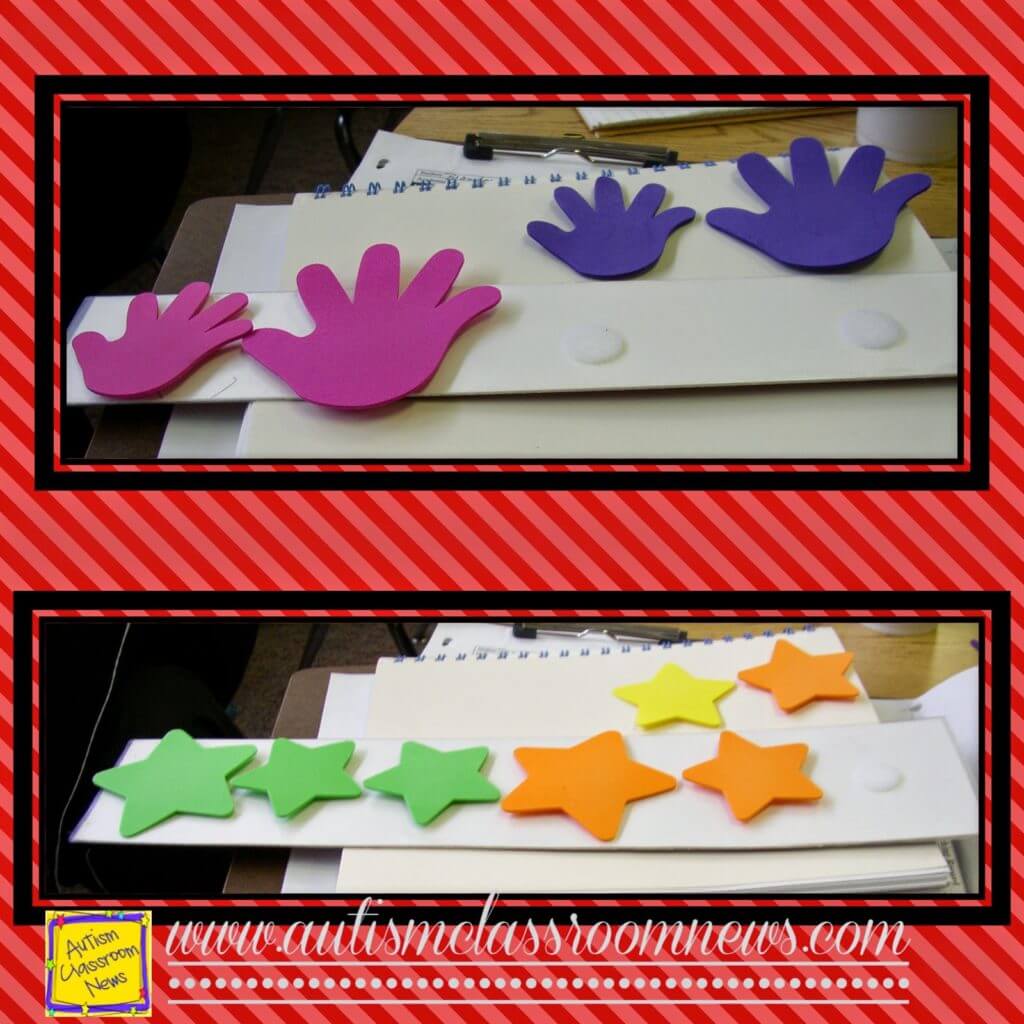 Those foam pieces you have left over from that craft or art project–or the ones you "borrowed" from the art room? Make patterning tasks with them. In this one the preschoolers have to extend the pattern and all it took was some foam shapes, some cardboard or matte board and a little Velcro. Boom!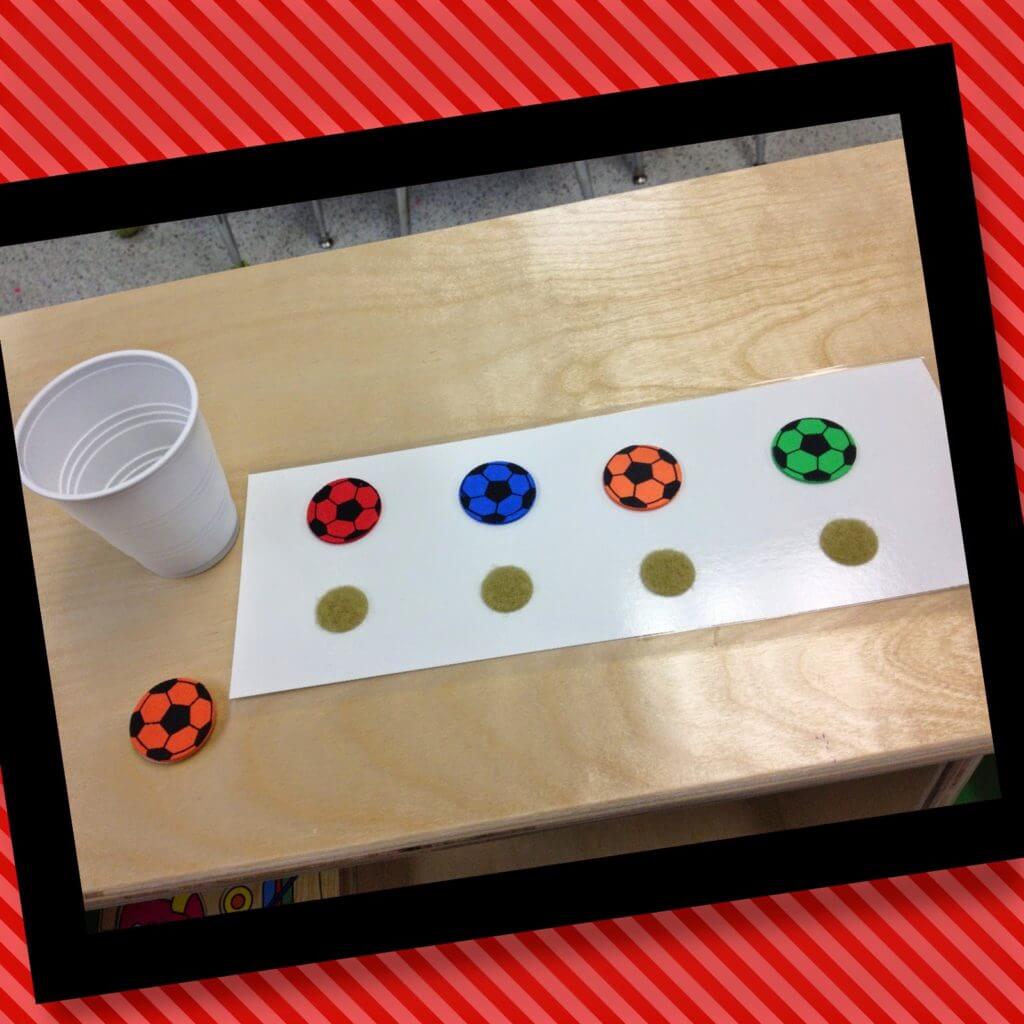 Your students are not at a point where they are able to extend patterns? Make a matching task. Again, those left over foam shapes can be repurposed to a color (or shape) matching task. We ran out of containers so we used plastic cups to hold the pieces for the students.
So, want to link up and share your work tasks? Please share them by following the directions below and I will share them on all my social media to get those ideas out there!





So, do you have workbaskets to share? Just write a blog post with the guidelines below and link up below.
1. Write a blog post with pictures of workbaskets (no store links)
2. Grab the button above and put it in your post to link back to this post
3. Add your post to the linky below.
4. Check out the other posts linked up and leave comments if you like them.
If you aren't a blogger, share your pictures by emailing them to me, pinning them to Pinterest and including the link in the comments below, or sharing them on my Facebook page.
Until next time,