Clothespin Task for Math: Independent Work Inspiration
Structured Work Systems | March 3, 2021
This week I have another clothespin task. It is a great task for those students working on all different types of math facts. Just like last week's task for students working on basic matching with clothespins, this task also uses practicing fine motor skills. But it also combines them with academics this time. And it's also an easy task to make with no Velcro and can be made on the fly as needed. I also really like it because it makes it easy to mix it up and prevent students from memorizing the task.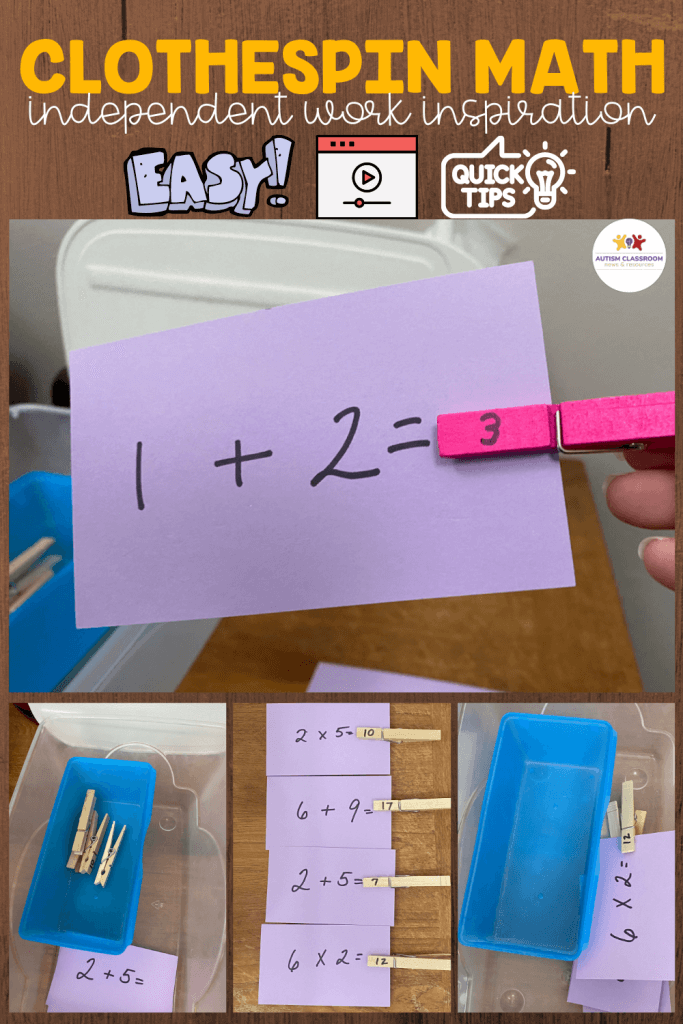 Clothespin Task for Math: Who is it For?
This clothespin task is great for any student working on any type of math fact or math problems. You could use simple math facts, like addition or multiplication facts. Or you could use more extensive problems that the student works out on the card and puts the answer with the clothespins. Although at that point, one would expect they could just write the answer on the card, unless you really wanted them to have the fine motor practice.
Independent Work Inspiration Easy Work Task Video
Tips for This Easy Work Task
This clothespin task is easy to put together. Just make sure that you put the answer numbers on the clothespins at the bottom of the clothespin (as seen below). That allows the number to show up as the solution to the problem.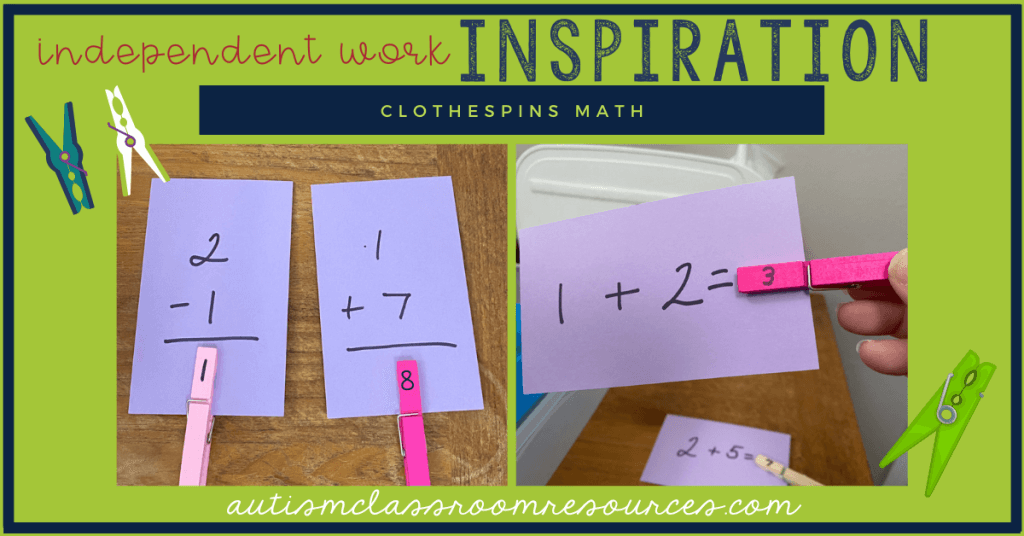 Also, you can put the problems horizontal (on the right above). Or put them vertical (on the left above) depending on which way works for your students. Just make sure you turn the numbers on the clothespins the right way to match the cards.
Finally, you might want to put the numbers on both sides of the clothespins. If you want your students to pay attention to details, then put them on one side. But, putting them on both sides will avoid the frustration of not finding the right clothespin.
Need more ideas for independent work inspiration? Check out the resources below.
More Workbasket Resources
GET ALL THE VISUALS AND ORGANIZATIONAL TOOLS YOU NEED to start independent work in your classroom.
These kits include an e-book with directions on setting up independent work systems and using the materials included, data sheets for tracking progress, visuals for the bins and schedules, what's next visuals, and mastery sheets to keep track of which students have mastered which task.
Looking for more ideas for creating independent work systems in your classroom?
Check out the FREE webinar below...click the image to find out more and watch as soon as you register!