Plastic Egg Put-In Task: Independent Work Inspiration
Structured Work Systems | March 10, 2021
It's spring…or almost, so let's start with the easiest of egg tasks: The Plastic Egg Put-In Task. There are so many tasks you can make with those plastic eggs that are abound in springtime. You can find them in the dollar store. And you can find slightly better quality ones in other stores. Wherever you buy them, you want to buy a lot. And don't forget the after-Easter sales to stock up. The next few posts will have tons of tasks you can make at different levels with plastic eggs. And you can find more in this post and this one as well.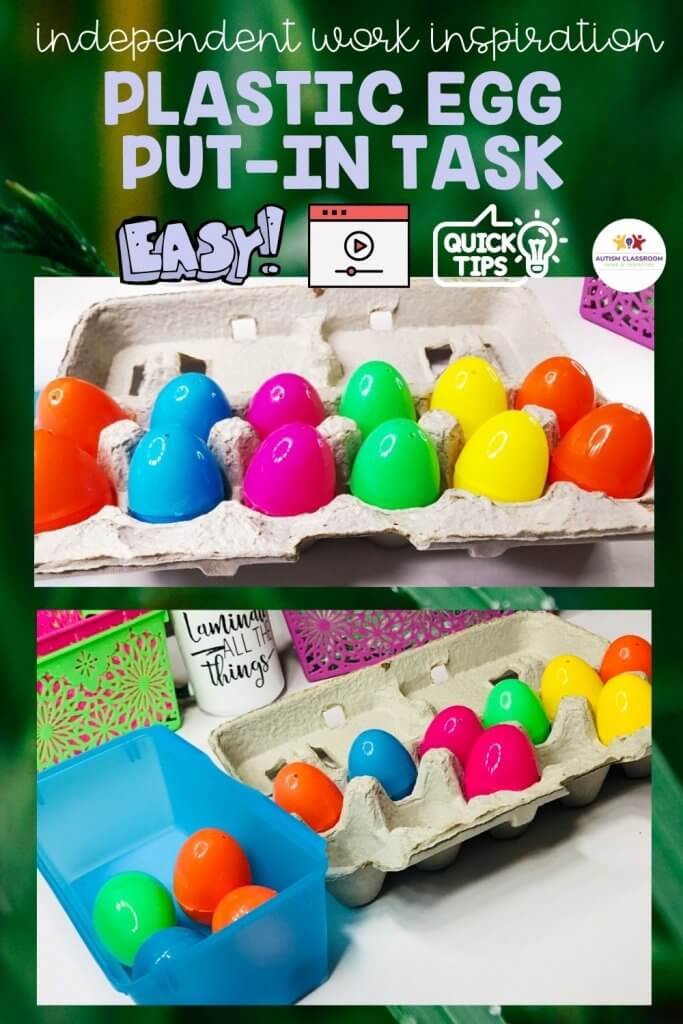 Plastic Egg Put-In Task: Who is it For?
This plastic egg put-in task is great for preschool and elementary ages who are just learning how to work independently. Put-in tasks are good tasks to start independent work systems with. This task is just one step up because students have to put 1 egg in each slot. You could do this task with older students with the thought that it parallels putting eggs away in the refrigerator. But, to be age-respectful, I might choose more neutral looking eggs if you can find them.
Plastic Egg Put-In Task Video
Tips for Plastic Egg Put-In Task
This plastic egg put-in task is one of the easiest to put together. Just put the eggs in a container and the empty egg carton in the basket and you are done.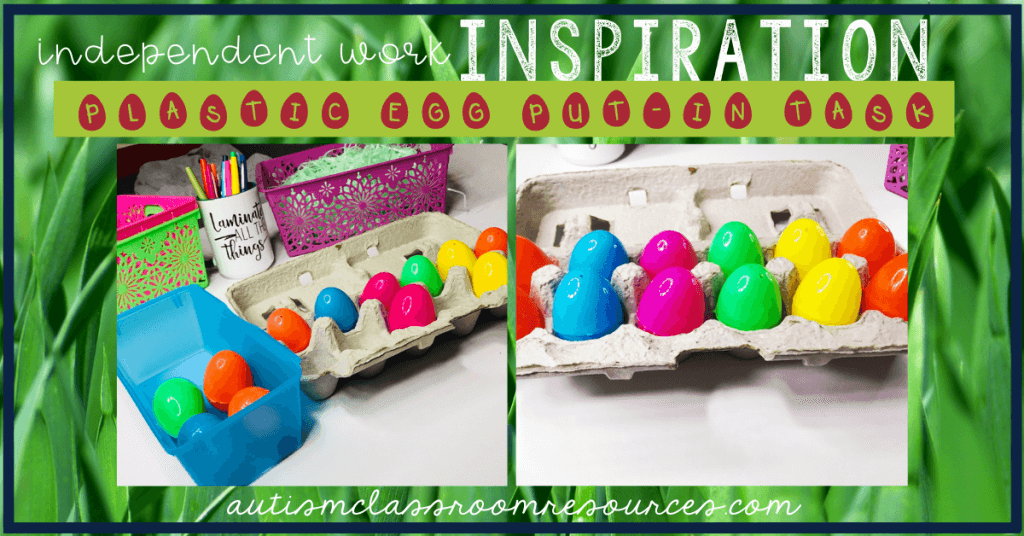 You can also have them put the eggs in by a patten. Or you could match one row to another. And finally, you could cut the egg carton in half (or even with 4 cells) and reduce the number of eggs you give. This strategy would be great for students just starting out. There are so may things you can do with plastic eggs, so stay tuned for more egg independent work inspiration in the next few posts.
Need more ideas for independent work inspiration? Check out the resources below.
More Workbasket Resources
GET ALL THE VISUALS AND ORGANIZATIONAL TOOLS YOU NEED to start independent work in your classroom.
These kits include an e-book with directions on setting up independent work systems and using the materials included, data sheets for tracking progress, visuals for the bins and schedules, what's next visuals, and mastery sheets to keep track of which students have mastered which task.
Looking for more ideas for creating independent work systems in your classroom?
Check out the FREE webinar below...click the image to find out more and watch as soon as you register!