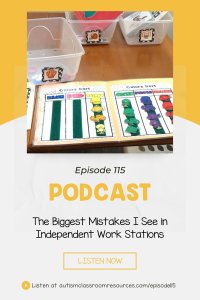 When implemented correctly, independent work systems are amazing! It drives me crazy when people reduce them to busy work, because every single element within an independent work system exists for a reason. In this episode, I talk about the most common mistakes I see with these systems in classrooms and how you can avoid them so that your students can develop independence as quickly as possible.
3:21​ – Why "program slippage" happens to both new and highly experienced classroom staff
5:29 – The students who still needed a place to finish
9:05 – The importance of a clear start and end to independent work tasks
9:56 – A certain kind of task I often see included that shouldn't be
11:53 – Don't make this mistake, especially with young kids
14:19 – A smart student who still needed this motivator to complete his work
17:26 – A useful tip to help you catch program slippage quickly
Join us inside the Special Educators Academy for your 7 day free trial.
More Workbasket Resources
GET ALL THE VISUALS AND ORGANIZATIONAL TOOLS YOU NEED to start independent work in your classroom.
These kits include an e-book with directions on setting up independent work systems and using the materials included, data sheets for tracking progress, visuals for the bins and schedules, what's next visuals, and mastery sheets to keep track of which students have mastered which task.