This simple DIY task box is easy to put together and perfect for practicing basic assembly skills. Students put cap erasers on pencils, so they also get some fine motor skills at the same time. It's also a great task to get up and running quickly, so it's perfect for just getting started with your independent work systems in the classroom.
DIY Task Box in Special Education: Material List
Pencils Any pencils will do and you could have them sort or match them if you have more than 1 kind.
Cap erasers simple cap erasers
Simple Assembly Task Box: Who Is It For?
This DIY task box works well for almost any age. As long as the students have the fine motor dexterity to put the erasers on this task will work for them.
It's an ideal task for students beginning to work on clerical / vocational tasks because it can be built into more complex tasks. This task can easily lead build into packaging tasks for the school store by adding more materials.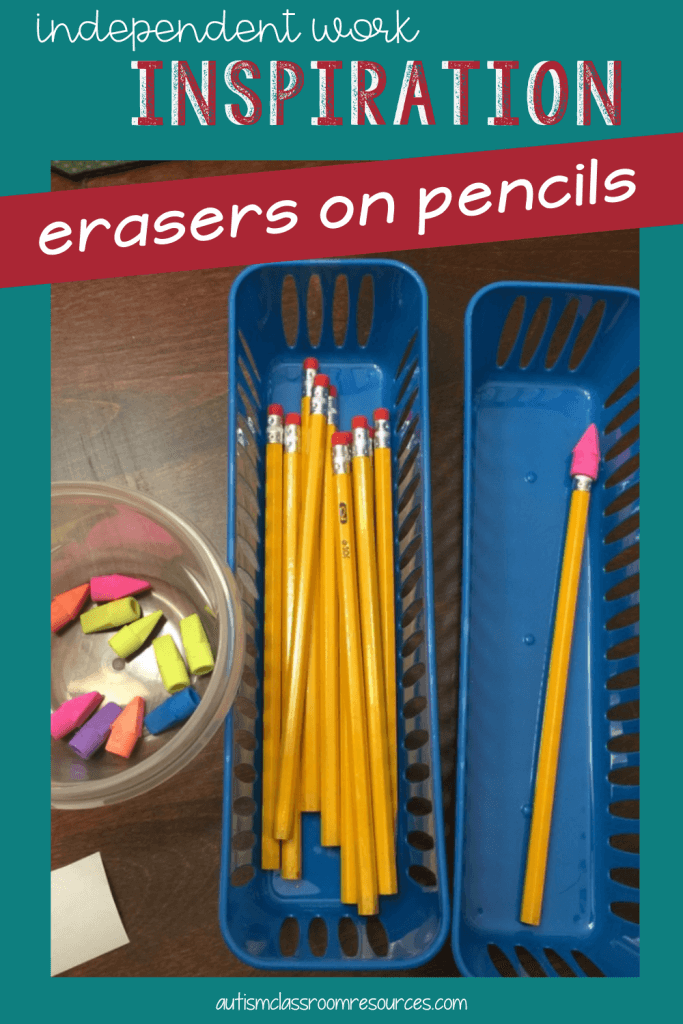 Simple DIY Task Box Video Tutorial
Tips for the Assembly Task Box With Pencils and Erasers
This DIY task box is great because you just need to put the pencils and erasers in containers. No material production needed. Just make sure that you use the same number of erasers as pencils so that it's not confusing for the students. I usually put each in their own container, as you see in the video.
You can also expand the difficulty of the task box easily. As students become more independent, you could have this be one step in a task for packaging items for a school store or pencil case. For instance, they could put the eraser on a pencil, add it to a pen and ruler and put it in a pencil case or ziplock bag.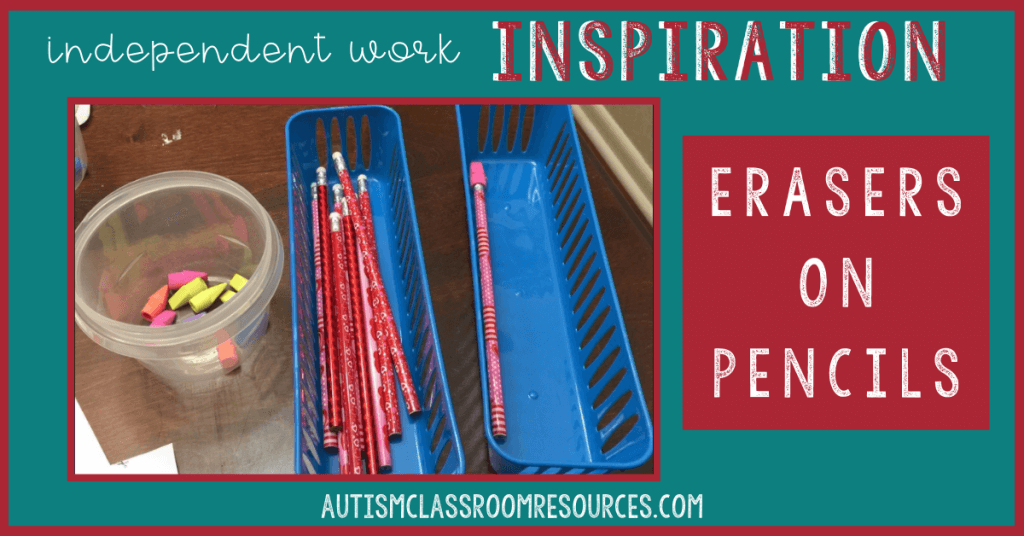 Need more ideas for task boxes? Check out the resources below.
More Workbasket Wednesday Resources
Looking for more ideas on special education work boxes or work systems and how they can be used? Check out the links in Resources below for more posts. And, I wrote about a book about them! Click on the book to the left for an Amazon Affiliate link (see my disclosure policy for more information about affiliate links).
GET ALL THE VISUALS AND ORGANIZATIONAL TOOLS YOU NEED to start independent work in your classroom.
These kits include an e-book with directions on setting up independent work systems and using the materials included, data sheets for tracking progress, visuals for the special education work boxes and schedules, what's next visuals, and mastery sheets to keep track of which students have mastered which task.