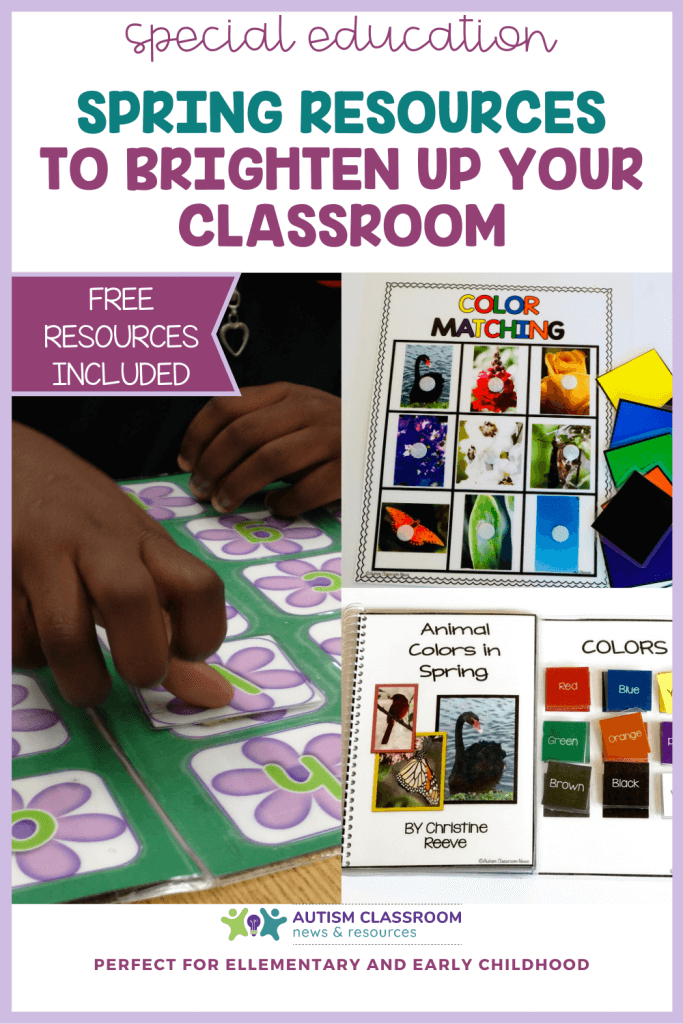 I designed these spring special education activities to capture the fun and color of the season. And by being colorful and interesting, they capture the interest and engagement of your special needs students while fostering language development in early childhood. I'm sharing a variety of activities today that can be used for early learner instruction, ABA instruction, generalization activities, standards-based practice, and are even perfect for independent work (once mastered, of course) and language development in early childhood.
Who Are These Spring Special Education Activities For?
The activities I'm outlining in this post are great for preschool, kindergarten and early elementary special education learners. If you are looking for activities for older students, I reviewed some more spring activities in this post. And I have some science activities perfect for learners of any age working on the plant life cycle or the butterfly life cycle.
#1 Spring Colors Generalization Kit for Early Childhood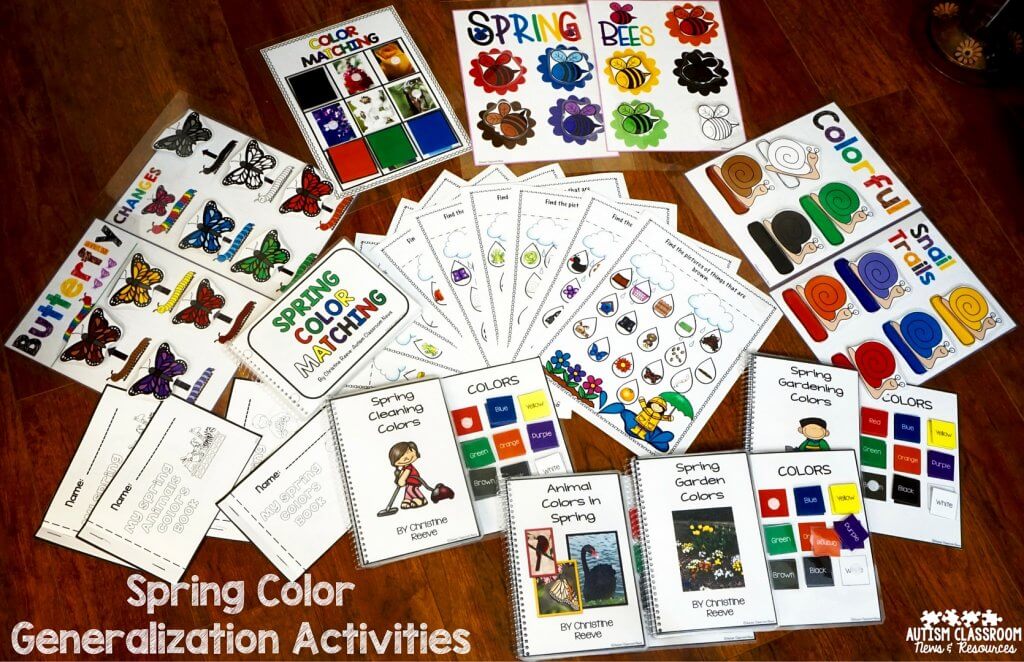 Early childhood learners practice matching and identifying colors with a variety of materials. The materials focus on 9 colors: red, blue, yellow, orange, green, purple, black, white, and brown. I chose the colors specifically to match up to my Colors Discrete Trial Kit [there's a free sample of that kit linked in my store here].
And for every one of these resources, you can add it to the students' independent work or task box system when they have mastered the skill. Each one has a clear beginning and end that would easily be a good task to use.
What's Included in the Spring Special Education Colors Generalization Activities?
4 Interactive Books
The early childhood interactive books are designed for students to match pictures to the pages about items of specific colors. Each one has a spring theme including gardens, spring cleaning, and spring animals. Two books are illustrated with photos. More simple clip art illustrate the other 2 books.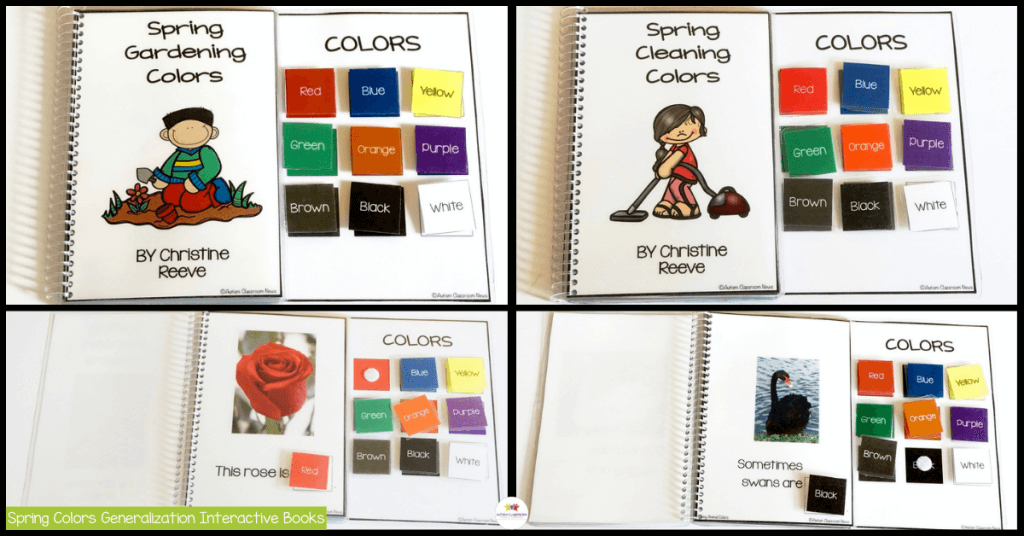 In each book, the students match the color square to the sentence to complete the color matching the picture on the page. I designed the clip art versions to provide an easier option to the students. They typically have no background to the picture to confuse them. The photo books have backgrounds to the identified picture, making discrimination a bit more complex.
Secret Pro Tip. For students who aren't quite ready to match to more complex items, they work great to have them match them from the pages to the holding page. That way they are matching directly on the colored square.
2 Mini Coloring Books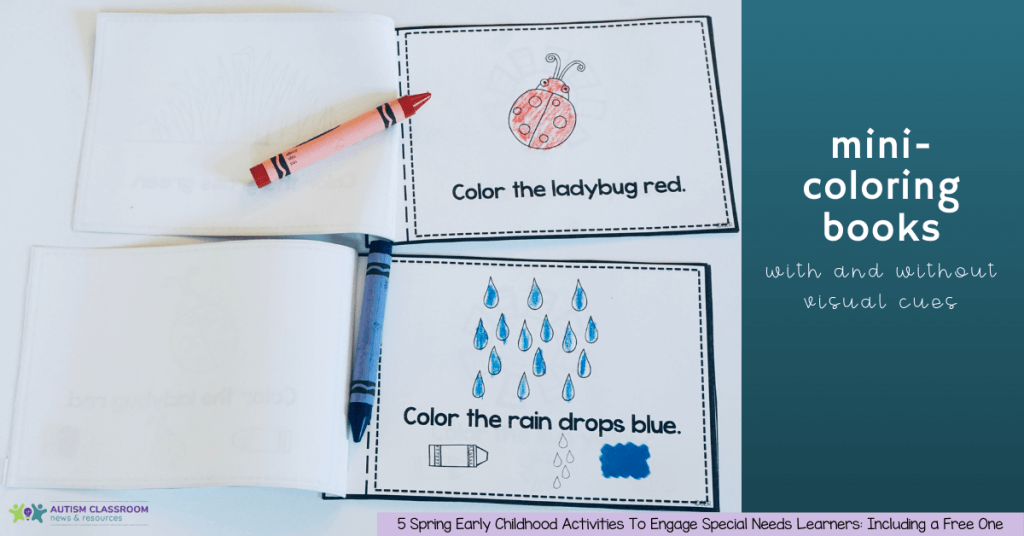 The students cut and paste the early childhood activity books with the template. Then they color the items with the identified colors. There are 2 versions of each mini-book. One has a picture and color cues for the directions. The second book has no picture and color cues. That one is designed for either students who can read or understand what to do. Or it could be for students who the teacher is giving verbal directions. These are fun and engaging for students to use with markers or crayons and help with language development in early childhood. Early childhood teachers can target the colors, obviously. But you could also target requesting the colors with the markers or crayons during the activity.
9 Find the Color Sheets
I love to laminate these sheets in early childhood classrooms and give the students BINGO markers to dot the items with the designated color. You could also use page protectors and use coins or tokens to put on top of them. Or use them during your teacher time and have them point to the pictures by color. There are always so many ways to use them. And, once the student knows the color, drop them into their independent work systems. Great for working on generalization and language development in early childhood.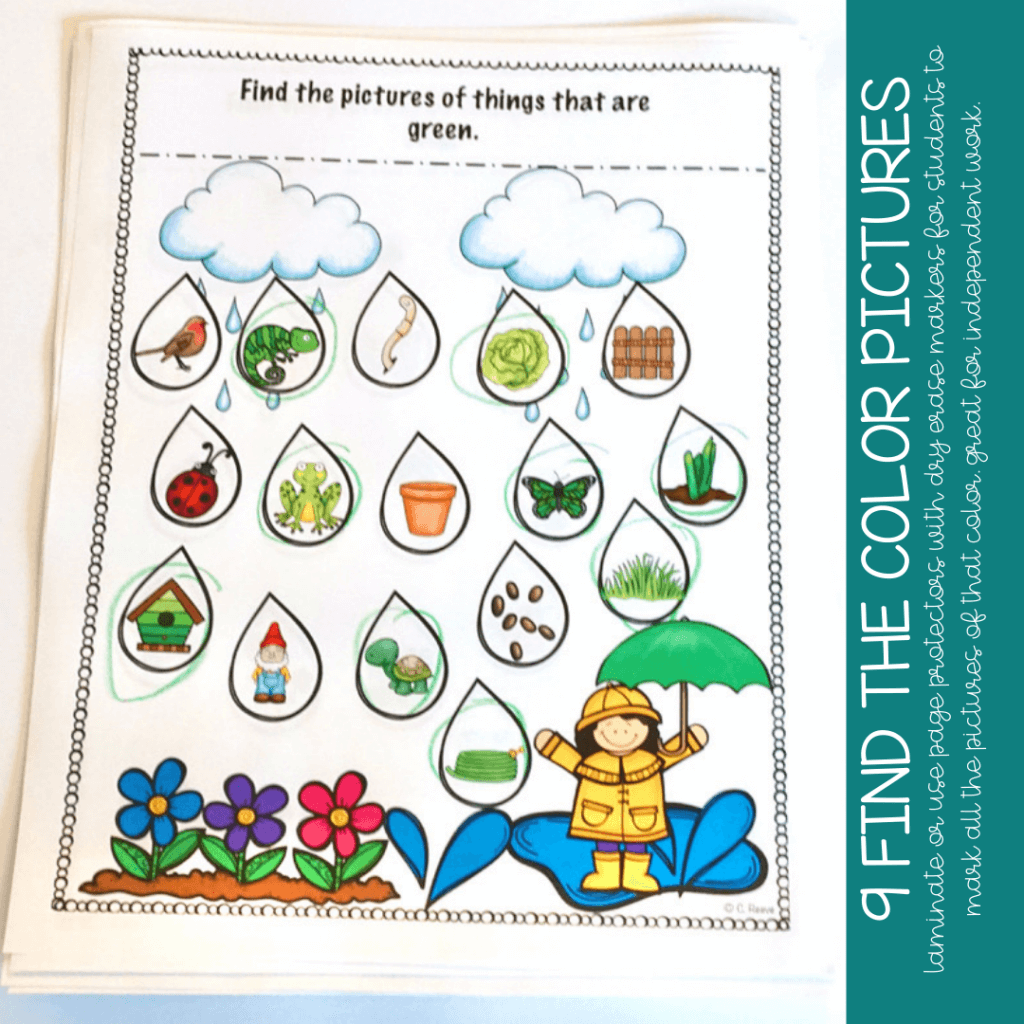 Color Sorting Books or Trays for Early Childhood Activities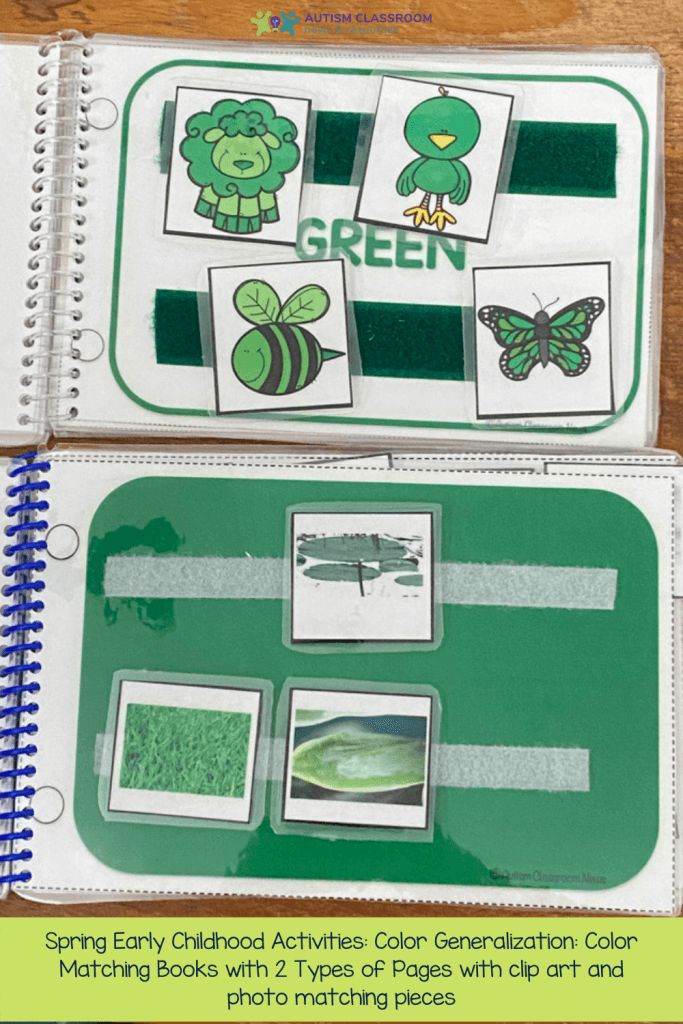 There are 2 types of color sorting books or trays. One is clip art (simpler). The other is photo based (a bit more complex). You can set them up as an interactive book with a page for each color. Or you could set them up on cookie trays with magnets. Or as file folders. And I'm sure that's not the end of ways to use them. I like them for their flexibility (obviously!).
Secret Pro Tip: Because these are easy to break down, they are perfect for individualize to just the colors the students have learned. Looking for an easy errorless task for a student in independent work? Give him 1 color and just the pieces of that color like the picture below. He can't get it wrong (unless he just doesn't do the task). Have a student who only knows 3 colors? make a book with 3 colors for him to practice. So many options with this spring special education activity to improve language development in early childhood.
4 Early Childhood Color Matching File Folders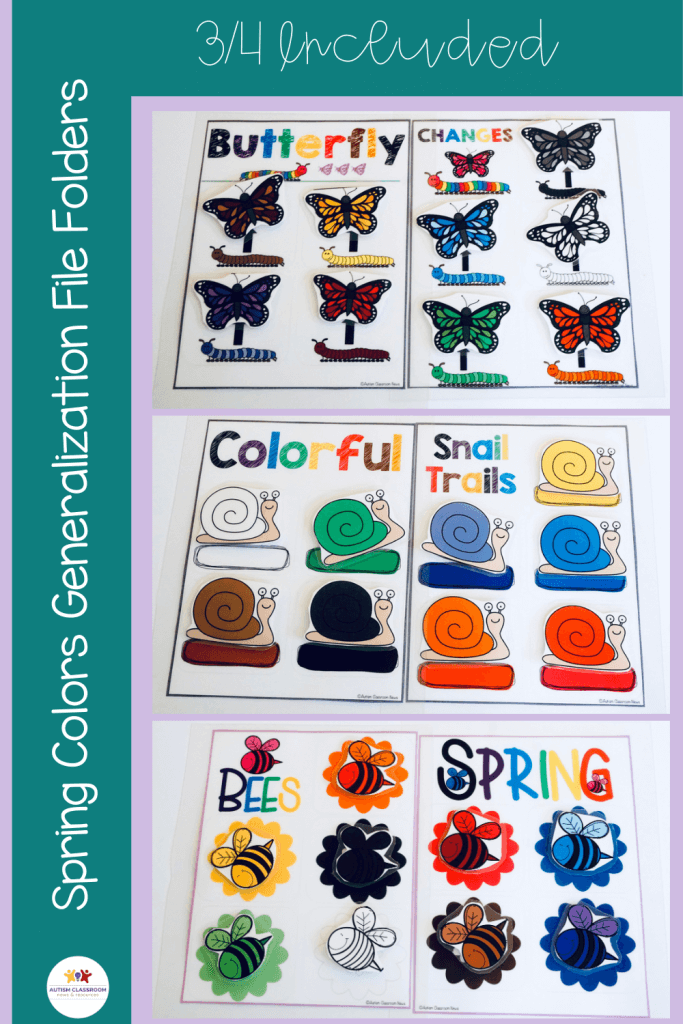 Finally, there are color matching activities in the form of file folders. In the simplest, the students match simple color blocks to photos. In another they match color snails to trails. Then they match bees to flowers and caterpillars to butterflies. So all the same colors with all spring themes. Laminate them and they will last forever.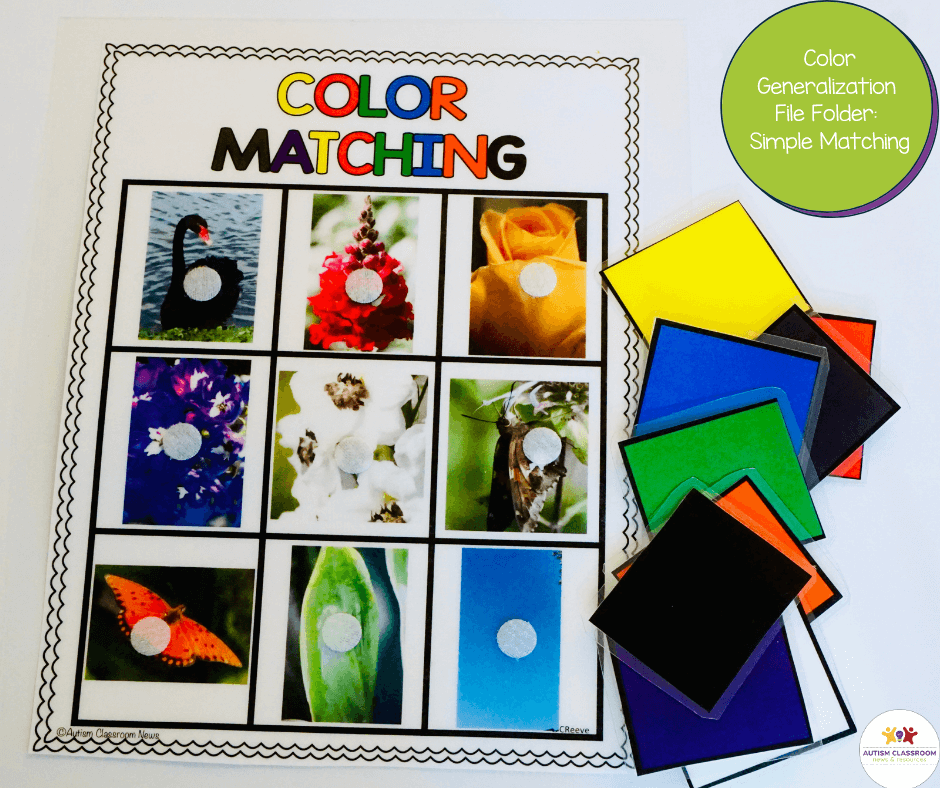 And if you are looking for even more ways to use these color activities in the classroom, I have more ideas in this post.
Special Education Activities for Basic Skills: Jump Into Spring File Folders
These file folders have a special place in my heart because I used to work with a student who would read my name on the front of them and get so excited because he knew me. It makes me smile just to think of him. And he loved them because they were something he knew he could do. They were a little easy for him as he got older, but they were a great activity for him to have when he was having a hard day.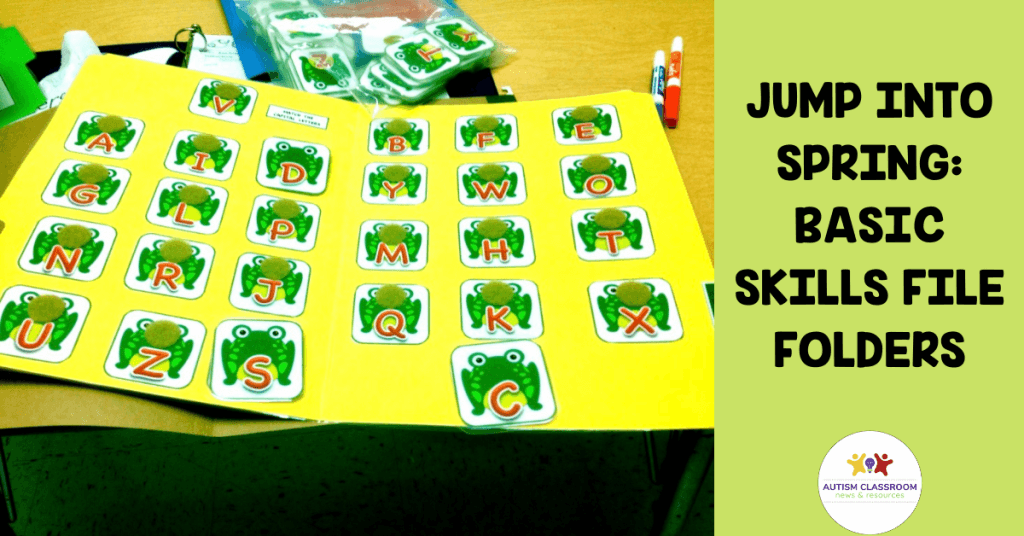 What Skills Are Included In Special Education Activities for Basic Skills: Jump Into Spring?
For your early learners, they are great for practicing basic skills. Because they are all file folders, they could be used for direct instruction for students to name or point to the items. If used by the student independently, they focus on matching each of the following.
Six colors
Colors to color words
Capital letters to capital letters
Capital letters to lowercase letters
Lowercase letters to lowercase letters
Numbers to numerals (1-20)
Sets (1-20) to numerals
Numbers to number words (1-20)
They are aligned to common core standards for counting and recognizing and naming letters.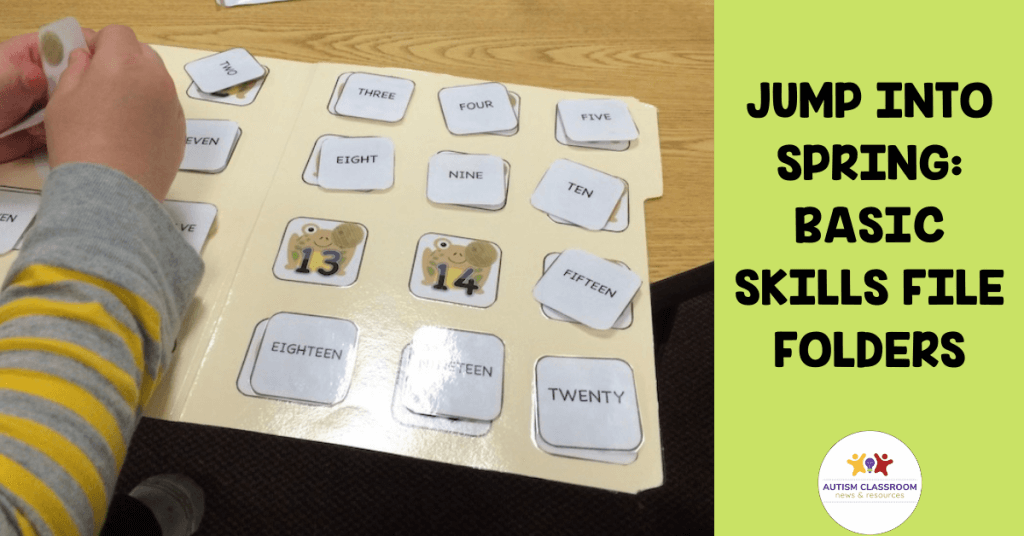 What's Included in the Early Childhood Activities for Basic Skills: Jump Into Spring?
The set of file folders includes all the materials to make 11 file folders. You could also use them to make 8 depending on how you combine them. They are designed specifically to assure that the student is learning the skill targeted in each set. For instance, all the numbers are on the same color items so that the student doesn't learn to match the colors instead of the numbers. All the file folders feature frogs of different colors and types.
Spring Special Education Activities for Basic Skills: Flower File Folders
These file folders, like the frog one above, are designed to target early literacy and math skills. They are also perfectly designed for use in independent work systems and instruction for students with autism and other early learners in special education. Like those above they are aligned with the common core standards for basic letter and number identification.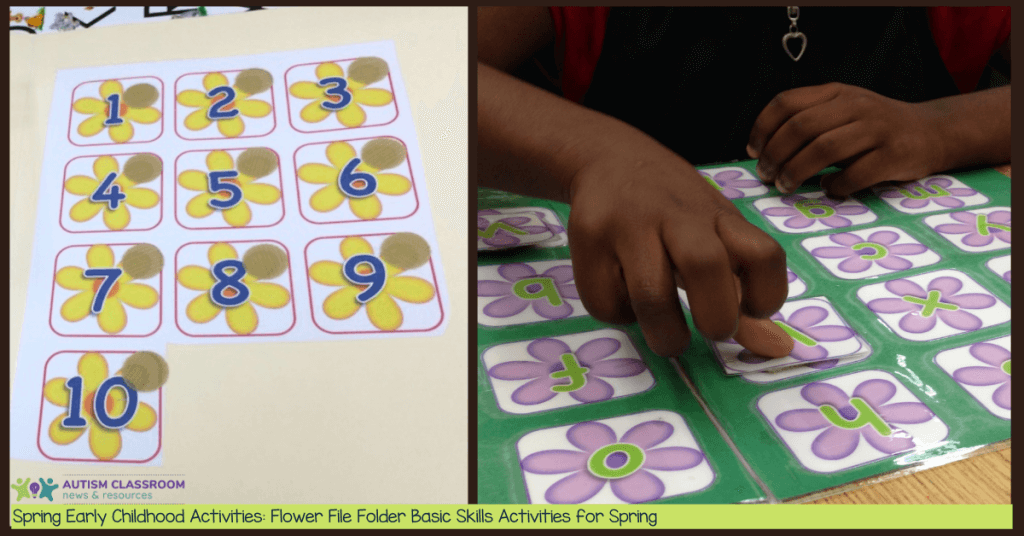 What's Included in the Early Childhood Activities for Basic Skills: Flower File Folders?
These file folders are a bit simpler than the frogs above. There are materials for 6 file folders for matching letters and numbers in this set along with the labels for each folder. Within this set students can work on matching the following:
6 colors
capital to capital letters
capital to lowercase letters
lowercase to lowercase letters
numbers 1-10 to numbers
and numbers to sets (1-10)
Each file folder is set up to assure that what the student is learning is the skill targeted. In other words, other cues don't interfere with the learning. For instance, all the letters are the same color flower within a file folder so that the student doesn't learn to match the colors instead of the letters.
Both sets of file folders are perfect companions to early childhood discrete trial ABA programs for generalization and will fit well with generalization and maintenance programs into independent work systems.
Free Basketball Letter Matching File Folder Activity
I know this one doesn't really "look" like spring, but the big basketball tournament does happen in March… so to ME, it's part of spring! Go Duke! This is a straightforward alphabet matching file folder. Students match the pictures of items to the letter the item begins with. You can put the letters in alphabetical order on the file folder, or switch them up. It's free in the Free Resource Library.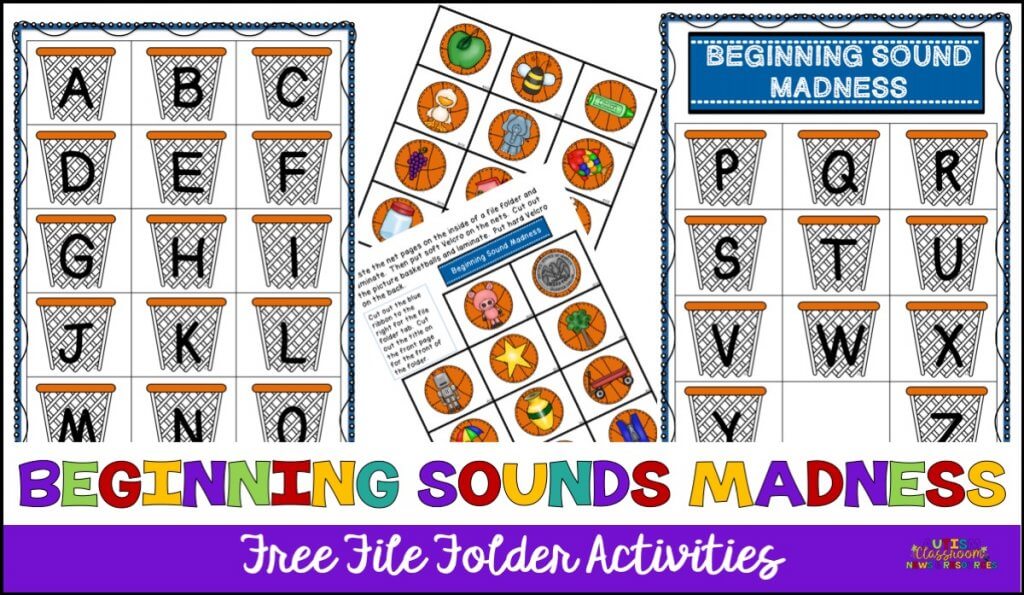 Secret Pro Tip: Use classroom hack #4 from this post to mix it up if you have students who tend to memorize your file folders. You know that kid who can put the file folder together without looking at it after the first time.
Free Rainbow of Cupcakes File Folder Activity
This is a file folder for matching colors of cupcakes (and who doesn't like cupcakes!). It's easy to make and simple for students to use. Great for practicing in para-run centers or independent work as a spring special education activity.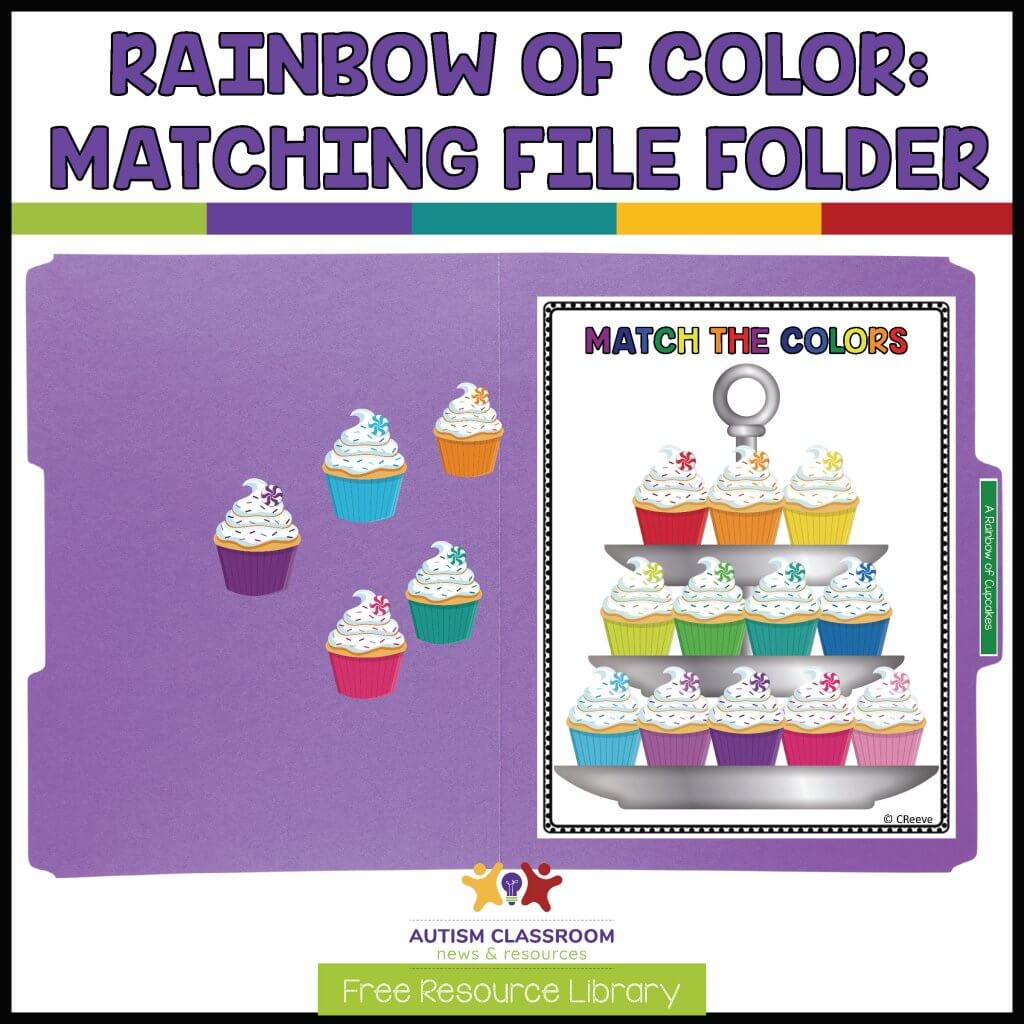 sign up for free tips each week in your inbox and grab your free file folders from the resource library