Holiday Put-In Task Box: Independent Work Inspiration
Structured Work Systems | April 7, 2021
Put-in task boxes are a great and easy task to set up for learners who are just learning how to work independently. You can use generic boxes or grab holiday boxes like the ones I've used in this post. I grabbed boxes from the Dollar Tree from the gift wrapping section. They are sturdy and hold up well for a good period of time.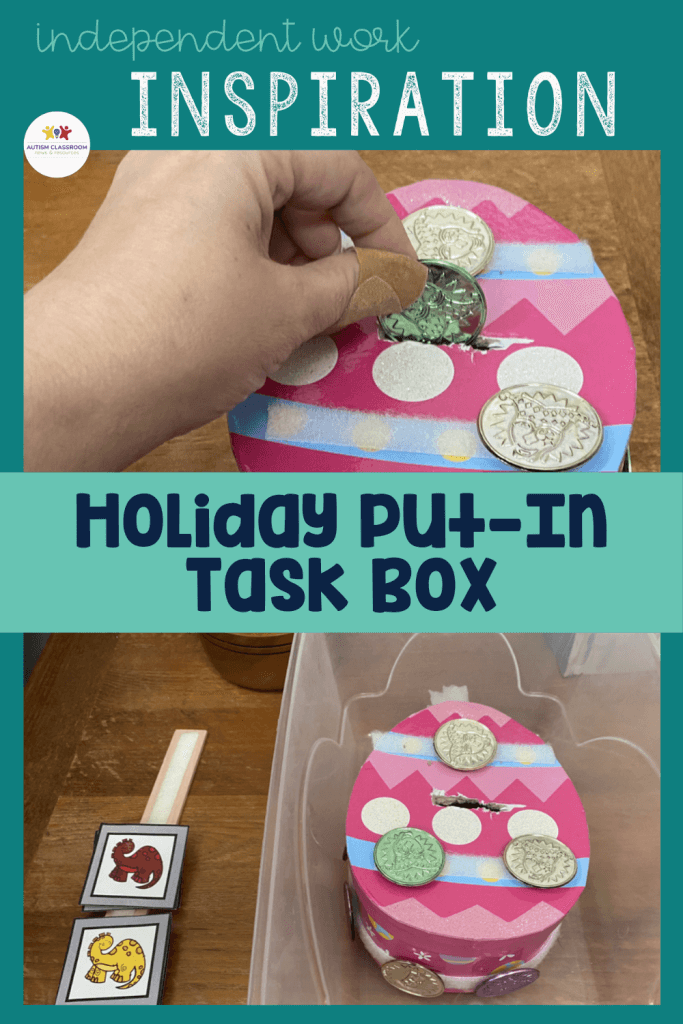 Put-In Task Boxes: Who Are They For?
These put-in task boxes are great for any age of student that is working on just learning to do any work independently. The focus is on learning to do a task you know the student can easily complete. As you will see in this post, you can make this task self-contained as well so that students don't have to organize materials. This makes it ideal for students just starting out in independent work.
Holiday Put-In Task Box Video Tutorial
Tips for Holiday Put-In Task Box
You can set up this task to be self-contained with Velcro around the box as you see in the video. But you could also set it up with the manipulatives in a separate container. If your manipulatives are heavy, you might want to use that, as it gets harder for the Velcro to hold them on to the box. You'll see an example with the Valentine box in the picture below with the pennies. Make the task simpler by putting the bin with the pennies and the put-in box next to each other in the task box. And you can make them with generic boxes obviously as well. (Yes, every box that comes into my house gets eyed for this type of treatment!)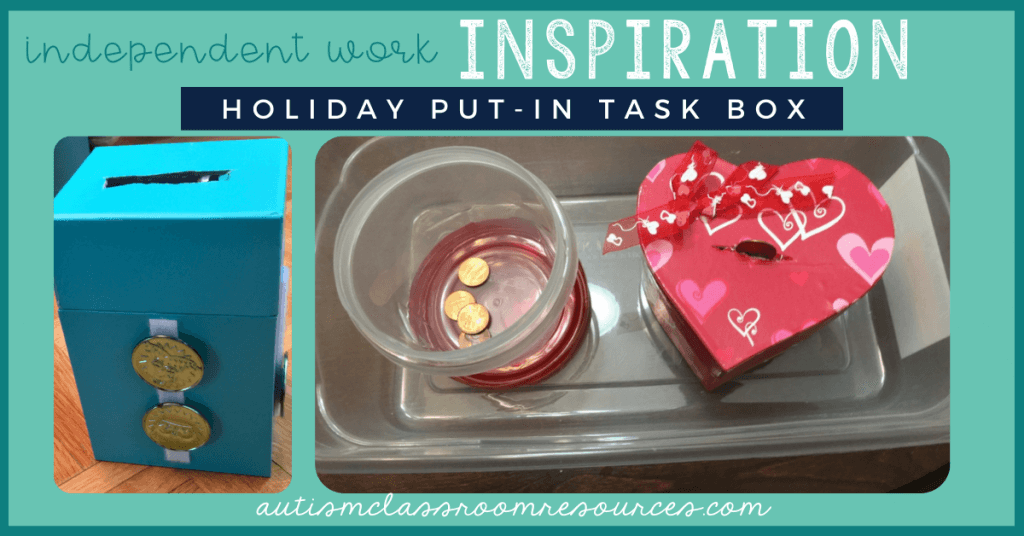 You can adapt this task by just changing out how large the manipulatives are. You can also change the number of items that have to be put into the container. And finally, you could change how hard they have to work to put the item into the slot or the hole into the container. Just make the slit / hole bigger or smaller.
Need more ideas for task boxes? Check out the resources below.
More Workbasket Resources
GET ALL THE VISUALS AND ORGANIZATIONAL TOOLS YOU NEED to start independent work in your classroom.
These kits include an e-book with directions on setting up independent work systems and using the materials included, data sheets for tracking progress, visuals for the bins and schedules, what's next visuals, and mastery sheets to keep track of which students have mastered which task.
Looking for more ideas for creating independent work systems in your classroom?
Check out the FREE webinar below...click the image to find out more and watch as soon as you register!