Why I Don't Like Drawer Carts for Independent Work Systems
Structured Work Systems | August 26, 2018
Sometimes I think that teachers think my ideas about what we should and should not do with independent work systems are just because I'm picky. I promise that's not it! I've written before about how everything in independent work systems has a reason. Those are the reasons I push teachers to make sure they include finished baskets or areas and use a schedule, among other things.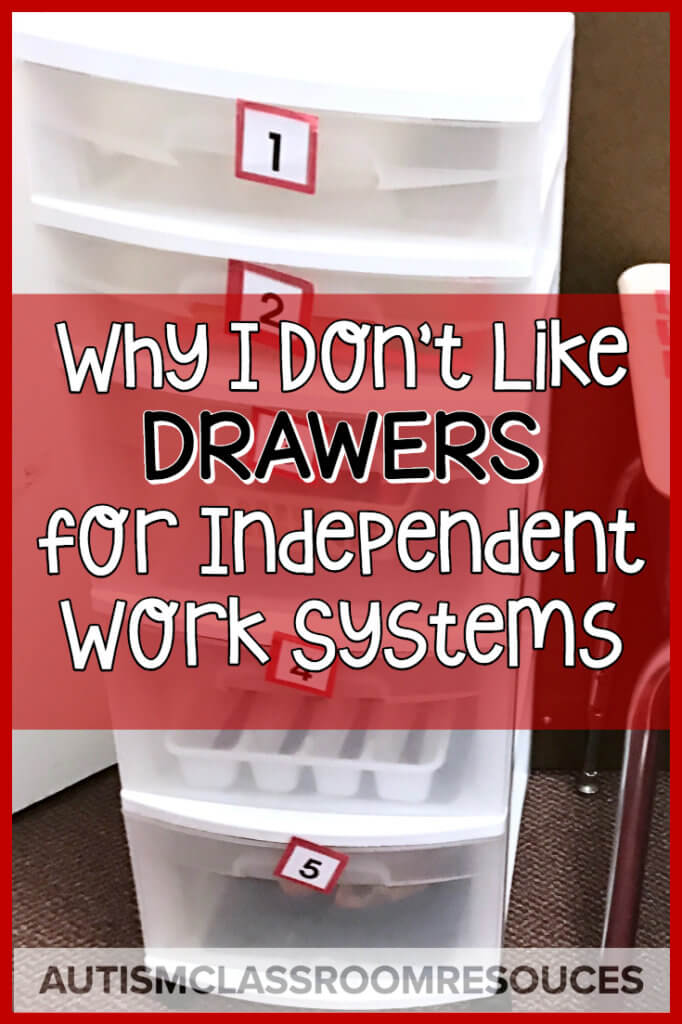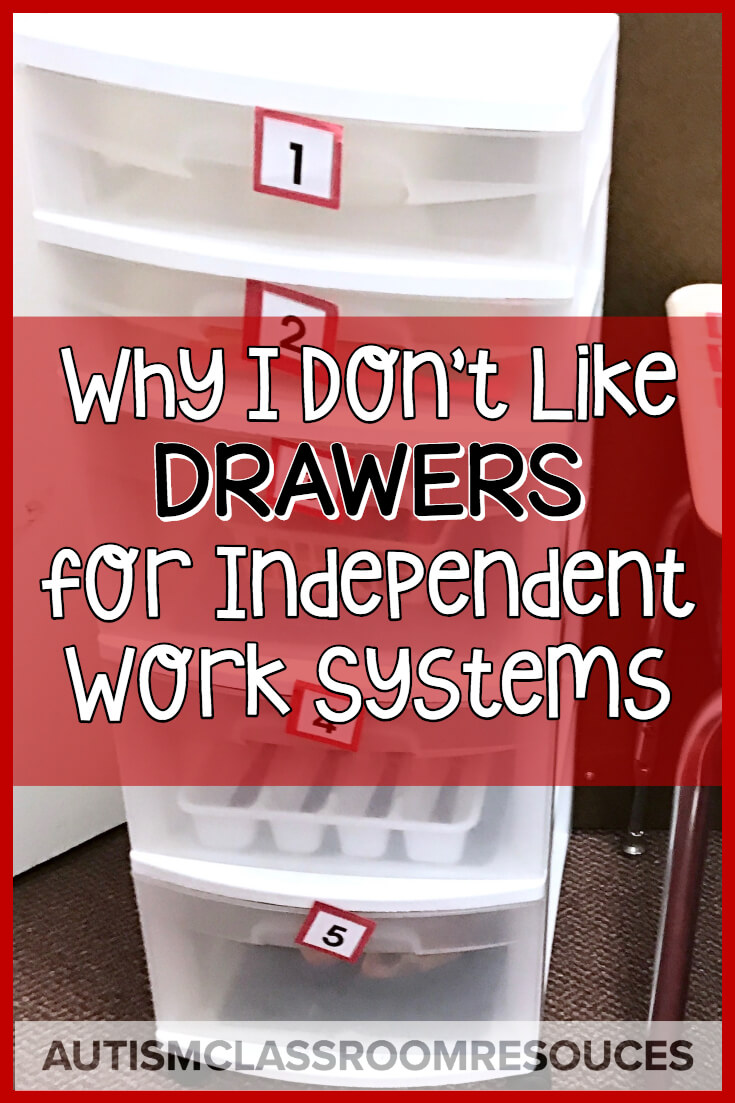 So one of the things I see frequently (and have done myself at times) is using 3 (or 4 or 5) drawer carts to structure the work system. Sometimes this works OK. However, if it's the only way you use work systems, you are missing out on some of the most important elements of them.
To preface the reasons, let me explain what I mean. The drawer carts I mean are often the plastic carts we use with 3, 4 or 5 drawers to store classroom materials. They look like the one in the picture here. Typically when we use them for work systems, the students work from top to bottom to complete a task from each drawer in order. It works because the students are working from top to bottom and they can see what is expected.
So why wouldn't I like it? Well for certain situations they may work fine, but the question is whether you can move the student forward. So here are some reasons why they aren't ideal.
1. Increasing or Decreasing Tasks in Work Systems
One of the biggest issues is that you are somewhat restricted to the number of drawers for the number of tasks that students complete independently. If you have a student who needs just 1 task, the other tasks might be misleading and frustrating to a student who expects to complete each drawer. On the flip side, with 3 drawers, you can't give more tasks than the number of drawers. So it's hard to expand the system to increase the difficulty or length of independent working time.
2. Using the Schedule to Increase Difficulty
As I have said before, every element of a system has a purpose. The schedule isn't just an add-on. It's there so that you can start to increase the difficulty and independence for your students as they progress. The schedule eventually morphs into a to-do list.
Our ultimate goal is to have the student travel to pick up his materials, complete the work and then put it away. For some students we may want to fade the system out completely. But with most students we want to be able to change it as the student becomes more independent.
For instance, if you have a student who is going into general education and you want him to work independently in morning meeting, you want to be able to change his system to accommodate. If he doesn't need bins, he could use a folder or just a folder holder on his desk. Or he could use just the schedule to get out his materials and complete each task.
In another example, if you have a student who is going on to a job site, you want to be able to give him or her a job task list and have him get the materials and complete the work. If he learned to do a work system only in a drawer system, then you have to set his work up for him in order to make use of the system.
In addition, you can add a schedule, as you see in the picture above. However, the schedule is rarely going to change to match to different tasks other than drawer 1, 2, 3 etc. So it is still limiting to some degree.
3. Limits Tasks in Work Systems
This issue is less significant, but still a consideration. If you are using drawers you are limited by what completed product will fit in the drawer when it is closed. For instance, if I complete a puzzle and put it away completed, it would fit in the drawer. But if I completed an assembly task that resulted in a larger finished product than would fit in the drawer, it would be hard to put the task back assembled. And not taking the task apart is critical when teaching job skills.
There are some times that drawer systems for independent work might make sense. For instance, if you are just starting out with a student and he or she is not yet ready for a schedule. However, in all of those times, you want to make sure you don't get "stuck" in the drawer system and keep the student from moving to more independence.
Have questions about independent work?? Check out my free webinar
Looking for more ideas for creating independent work systems in your classroom?
Check out the FREE webinar below…click the image to find out more and watch as soon as you register!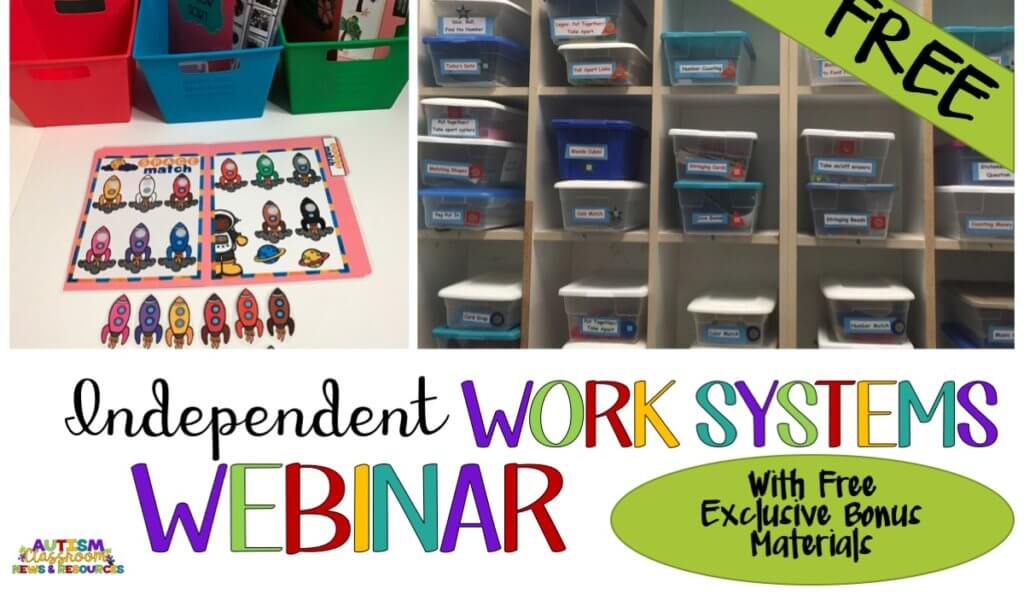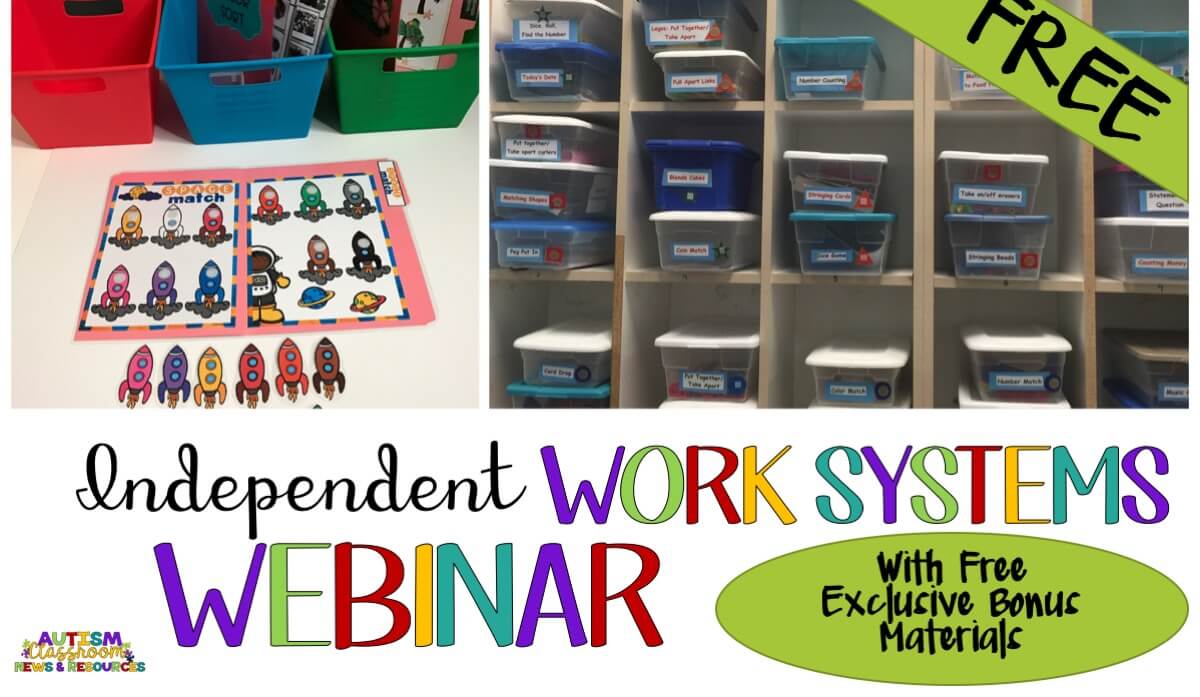 Looking for more ideas for creating independent work systems in your classroom?
Check out the FREE webinar below...click the image to find out more and watch as soon as you register!