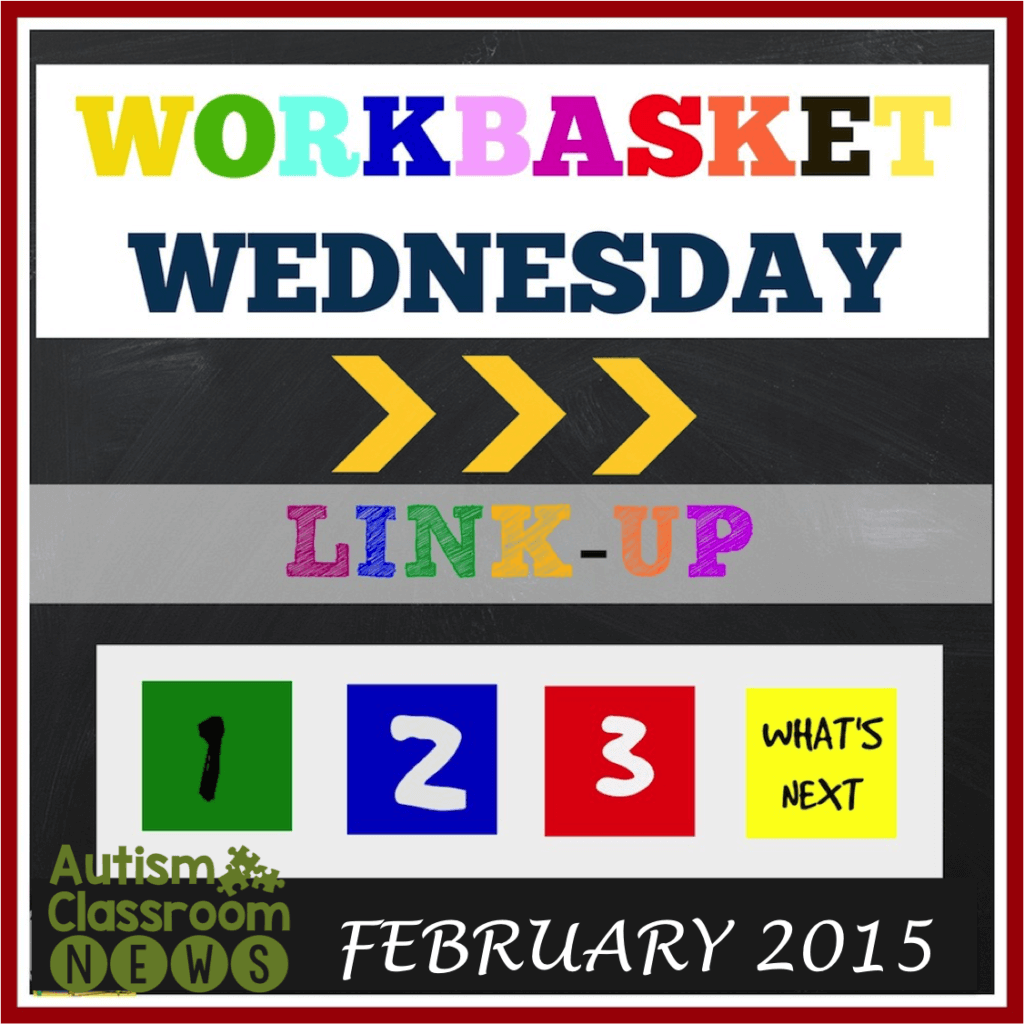 I feel like I say it every month, but I can't believe it's the first Wednesday of February! But it is and that means it's time for the monthly Workbasket Wednesday Linkup. I realized I really need to change this icon to match the new blog design, but that isn't going to happen tonight. If you are looking for Valentine's related tasks, check out last month's post in which I used lots of Valentine's materials from the dollar store. This month I have some quick and simple tasks. So, if you are a blogger, get your post ready to link up below. If you aren't a blogger, check out this post and the links below to check out the tasks. I'm adding a new feature this time as well…if you have workbaskets you want to share, take a picture and share them on Instagram. Use the hashtag #workbasketwednesday to tag it so we can all see them.
This month I'm doing quick and easy…and somewhat classic.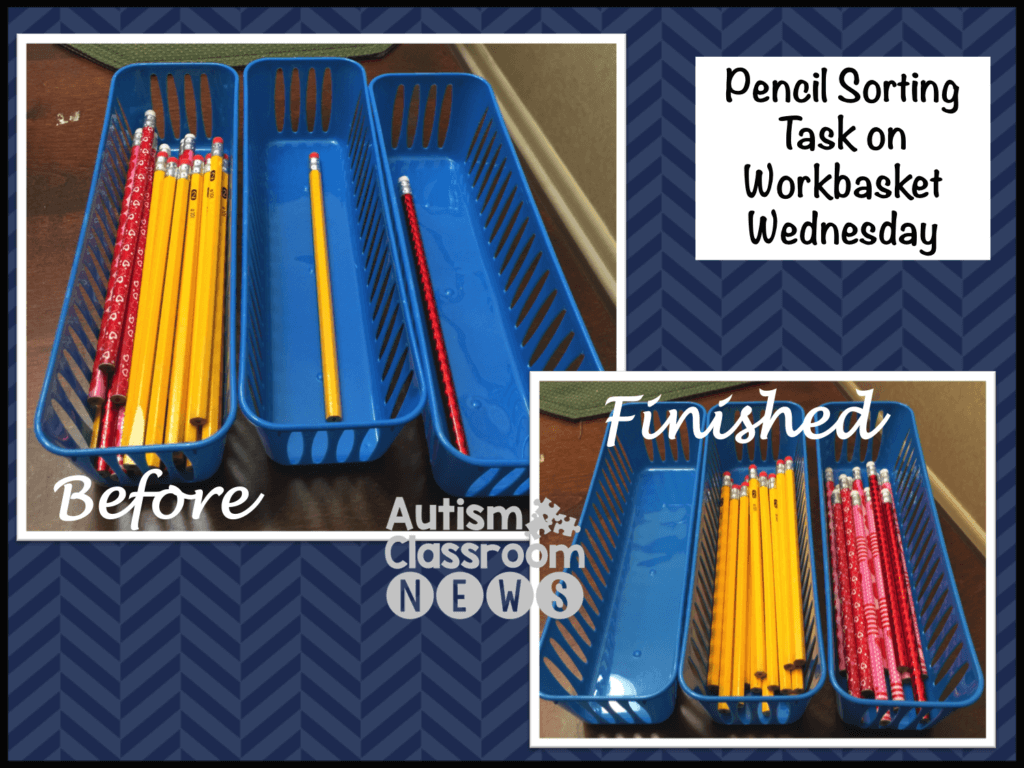 In this one the students sort regular pencils from Valentine's pencils but you could use any kind. I also often use sorting pencils from pens. The longer silverware storage baskets you find at the dollar store or any kitchen store work well for this.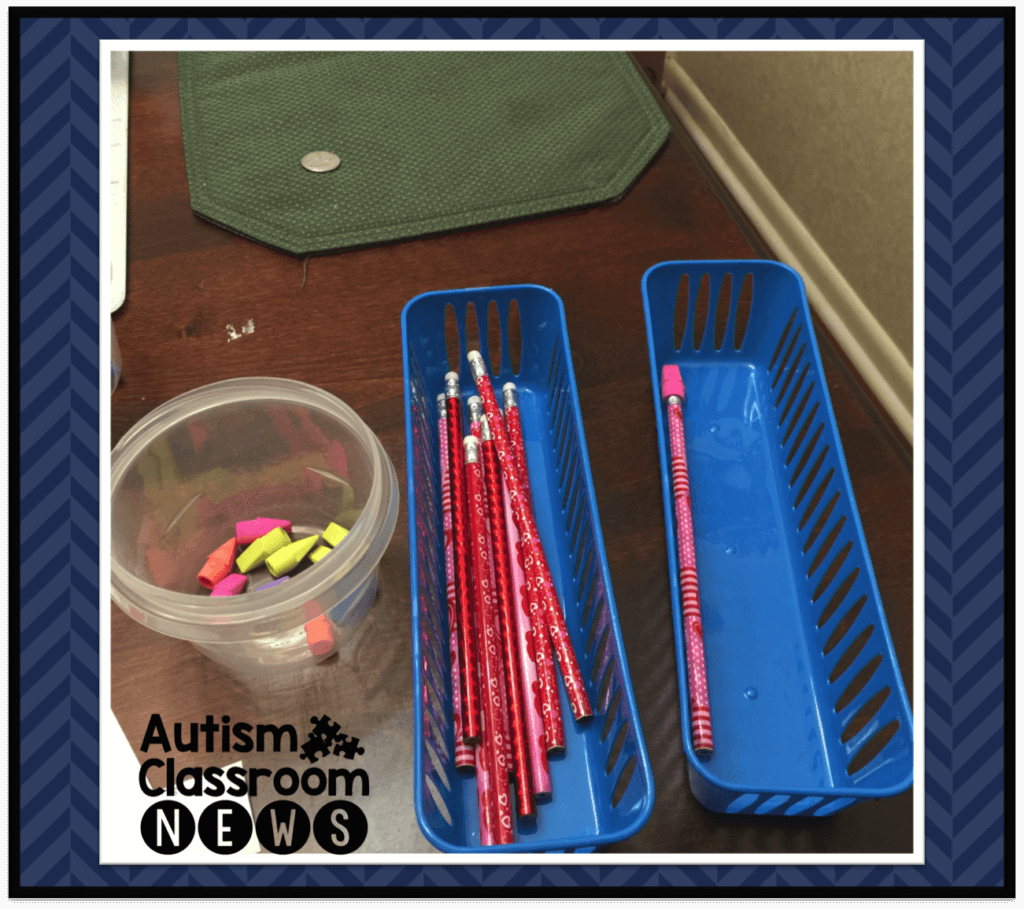 This is another classic but it's getting harder to find the erasers. The students put the erasers on top of the pencils. It works for fine motor skills and organization. You'll see that the erasers and pencils are arranged in their own containers with an empty container for the finished one to help the students effectively organize their materials.
So, those are my tasks for the month. Let's see yours. Share them on Instagram with the #workbasketwednesday hashtag. And I would love for you to copy me @autismclassroomnews on the photo so I'll be sure to see it. If you are a blogger, the directions and linkup are below.
Also, don't forget about the blog hop going on all month–check the calendar at the top of my blog everyday for a treat from another blogger. Some only last for that day, so don't miss out. And if you missed my freebie, it's a forever freebie–check out the post HERE.
Bloggers, want to link up and share your work tasks? Please share them by following the directions below and I will share them on all my social media to get those ideas out there!





So, do you have workbaskets to share? Just write a blog post with the guidelines below and link up below.
1. Write a blog post with pictures of workbaskets (no store links)
2. Grab the button above and put it in your post to link back to this post
3. Add your post to the linky below.
4. Check out the other posts linked up and leave comments if you like them.