It's been an amazing year with lots of changes.  I launched a new website / blog design in the summer bringing much of my professional activities together from consultation and professional development to blogging and TPT.  I've been really happy with how it turned out and I hope you are as well.  I made the change because I have some big plans for the future and this platform gives me a better place to launch them from.
One of the disadvantages, though,  is that it is difficult for me to tell which were the most popular or "best" posts of the year.  So instead, here are some of the highlights that this year brought:
5 Steps to Meaningful Behavioral Support
In January, I finished up the series on 5 Steps to Meaningful Support for Challenging Behaviors .  I covered everything from defining what Positive Behavioral Support is to how to implement it.  We talked about identifying the problem, assessing the function, practical aspects of data collection and gathering information to complete a functional assessment, designing behavior support plans that match the functions and monitoring and generalizing the effects.  You can find a list of all the posts on this extensive series in this post.
We Teach SPED Blog Hops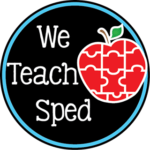 In summer of 2014, I met up with a larger group of bloggers who make up #WeTeachSPED.  We are a collective of special education bloggers, mostly working with students of all ages who have severe disabilities.  Through this tremendous network, this year we hosted several blog hops with freebies and tips including the one for Valentine's Day and Back to School.
ABA Series
Starting in April and throughout most of the rest of the year, I wrote the series on Applied Behavior Analysis (ABA) with a focus on skill acquisition.  It included lots of discussion of discrete trials including a free sample of my new line of discrete trial sets that are all set up for staff to implement them with consistency, including data collection.  More of these will be available in the future.
One of the most popular posts in the ABA series was about prompting and included an infographic about prompting.  In this part of the series, I explored all different aspects of prompts from initial considerations to ways of fading them out.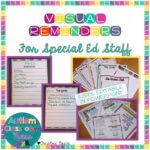 Visual Supports and Hacks for Adults
Next up I focused on how we can use visuals to support adults' actions in the classroom.  This included some freebies and ideas for the process of discrete trials, for ABA instruction, and for organization and reminders in the classroom.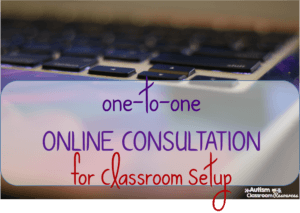 The beginning of the school year brought a new product line available in my TPT store of providing 1-1 online consultation to teachers for setting up their classrooms.  I really enjoyed working with the teachers through video chat to figure out the best way to set up their classrooms.
Naturalistic Instruction
I did some posts of ideas for keeping students engaged in groups like morning meeting for younger students and older students.  I also did a post on strategies for keeping students engaged in groups in the general education classroom for students who are included.  Part of this series also included creating naturalistic learning opportunities across different parts of the day, that was summarized in a post with a free download of visual reminders.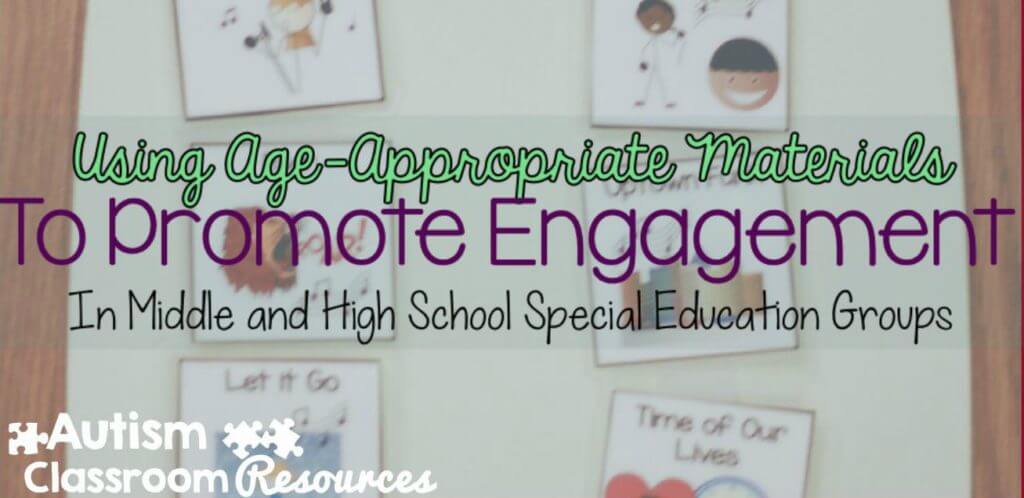 I teamed up with Adventures in the ATC for a series on curricula in the classroom from functional curriculum to ABA curriculum to the Unique Learning System.
Taming the Data Monster
And finally, last month we launched the Taming the Data Monster book along with upcoming online book clubs.  I'm excited about the book clubs to have the opportunity to meet all of you in a smaller setting as well as to begin working on some technology to launch some other new initiatives in the new year.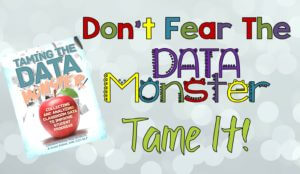 In addition to all of these, there was a Workbasket Wednesday every month, posts on reading, and lots more.  I find the best way to find posts by sight are either to search the blog or go to my Blog Pinterest board and you can see them all there and link back.
So look forward to some new product lines, new initiatives and just new ideas in the coming year.  In the meantime, don't forget that you need to take a break and not feel guilty.
What was your favorite post of this year? I'd love to hear about it?