Special Ed Classroom Design of the Classroom & Distance Learning
Organizing & Setting Up Classrooms | August 2, 2020
As the next step of our Setting up Classroom Series, this episode focuses on special ed classroom design. I recorded this in summer, 2020 when we were getting ready to go back to school during the Coronavirus pandemic.
Some teachers are going back to school in their classroom. Many schools will have policies requiring social distancing of 3 or 6 feet between students. So clearly, that will have a huge impact on the classroom design.
In some schools, students will be required to stay in their own area. While in others they will just be staying with their own classmates. And many teachers headed back don't know yet what will be required.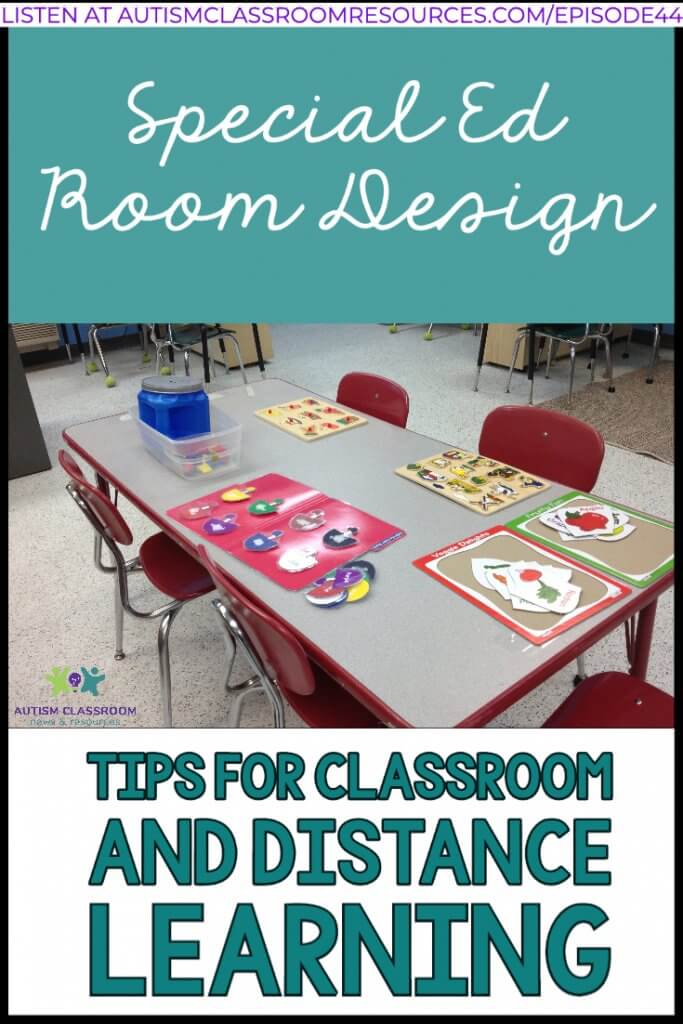 Distance Learning Tips Too
Those educators not returning back to their buildings will be teaching at a distance again, as we did in the spring. I've mentioned before that I think we are going to need to focus on helping families structure learning at home more in the fall. I think it's going to involve more collaboration and more support to establish learning practices at home. Because the students are used to instruction happening at school.
This year's special ed classroom design is going to be so different. But I've got you covered with tips for setting up your classroom with mitigation or doing distance learning.
Given all of these variables, I've included 7 principles of special ed classroom design. But these will work for any classroom. So, I've also offered tips for classrooms with mitigation strategies like social distancing. And there are tips for both virtual, web-conferencing instruction as well as ways to help families set up their learning environments for their children.
Floor Plans and Pictures and More
The posts below have tons of pictures and floor plans for all different ages. Make sure to grab them for more ideas for special ed classroom design.
ELEMENTARY FUNCTIONAL CLASSROOM
ULTIMATE GUIDE TO CLASSROOM DESIGN
CLASSROOM DESIGN TO PREVENT BEHAVIOR
Come join our community for training and ideas you can use and connection with other special educators who get it.