Now is the time in the classroom setup process when we need to talk about creating the staff schedule with a classroom zoning plan. In the course of this Setting Up Classrooms series, I have talked about getting to know the students, built our classroom schedule around their needs, and organized the furniture and classroom environment. And I've talked about how to do it all with this strange upcoming fall of 2020 in mind.
Managing Classroom Staff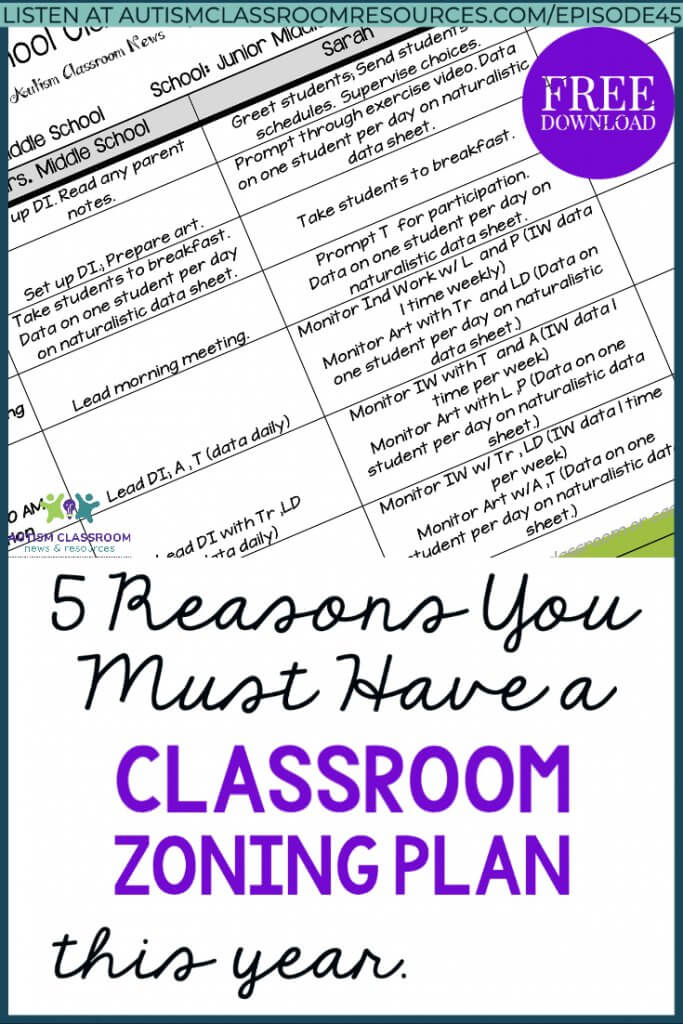 Much of what we need to do in creating the classroom team, though, is communicating expectations and assigning responsibilities collaboratively. And that's where the staff schedule or classroom zoning plan comes in.
What Is a Classroom Zoning Plan?
Put simply, a zoning plan is a schedule for the staff. But it is detailed enough to tell the staff what they need to be doing. It doesn't replace a lesson plan for daily activities that change. But it gives direction to everyone in the classroom or educational environment.
A well-designed zoning plan should tell classroom staff:
Who they are responsible for
Where they should be
What type of activity they should be doing
What you expect them to do (e.g., taking data)
Here's an example of a staff zoning plan.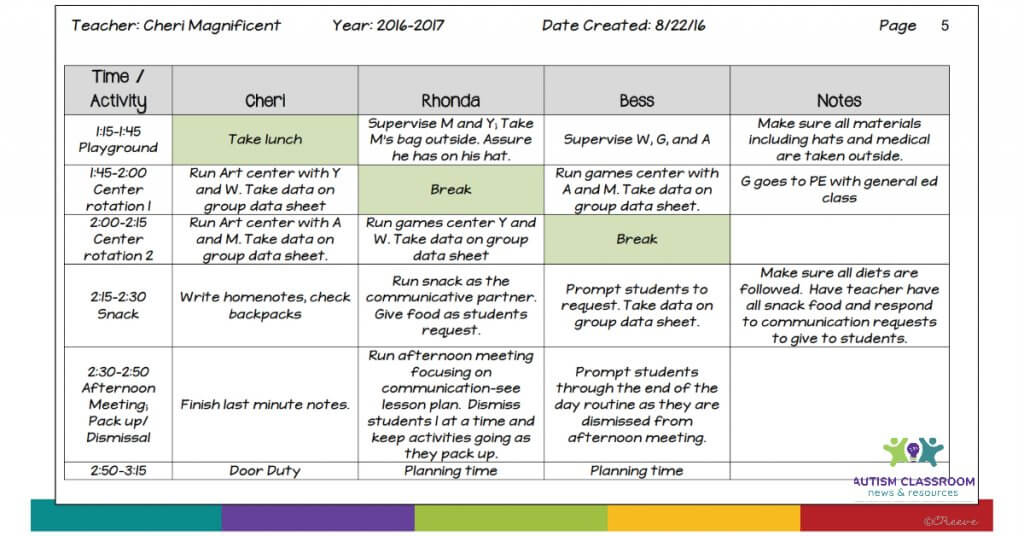 Highlights of Episode 45
What is a zoning plan and why do we call it that?
5 reasons why a staff schedule is important, particularly this year
Ways to use a staff zoning plan to schedule and organize staff in distance learning
Methods for zoning for distance learning
Why a staff zoning plan is going to be even more important with virus mitigation measures in the classroom
More Resources and Examples of Zoning Plans
I've got tons of examples of zoning plans. I've rounded up many of my posts in the Staff Management: Ultimate Setting Up Classroom series with examples.
And, I have a free zoning plan for you in the Resource Library. And if you want more help with writing a zoning plan, with lots of examples and checklists, I have a Toolkit in my store that can help. Or join the Special Educator Academy where we have that toolkit and a whole course on Setting Up Classrooms that includes building classroom teams.