We talk a lot in the field of autism about the importance of visual schedules, but we don't talk often enough about how to improve visual schedule use by our students. I've talked in the past about tips for teaching students to use visual schedules, even just using first-then schedules. And I've talked about the critical nature of elements of visual supports to use them, like check-in stations. But we tend to think of them as a one and done kind of thing. But they aren't. Students could get better and more fluent at learning to use them.
**This post includes affiliate links. That just means that I make a small commission but I only recommend products I would use myself.**
Why Would You Want This Task in Independent Work?
So, that opens the door to this very simple to make task. It will help you with students who need to practice practicing matching their schedule icons in order to use their schedule initially. Of course, for those students, it wouldn't be put in their independent work system, because it wouldn't be mastered. However, once they learn it, it is a great task for them to practice because when they can match their icons more quickly, that means transitions go faster. And the day runs more smoothly.
Visual Schedule Icon Match: Material List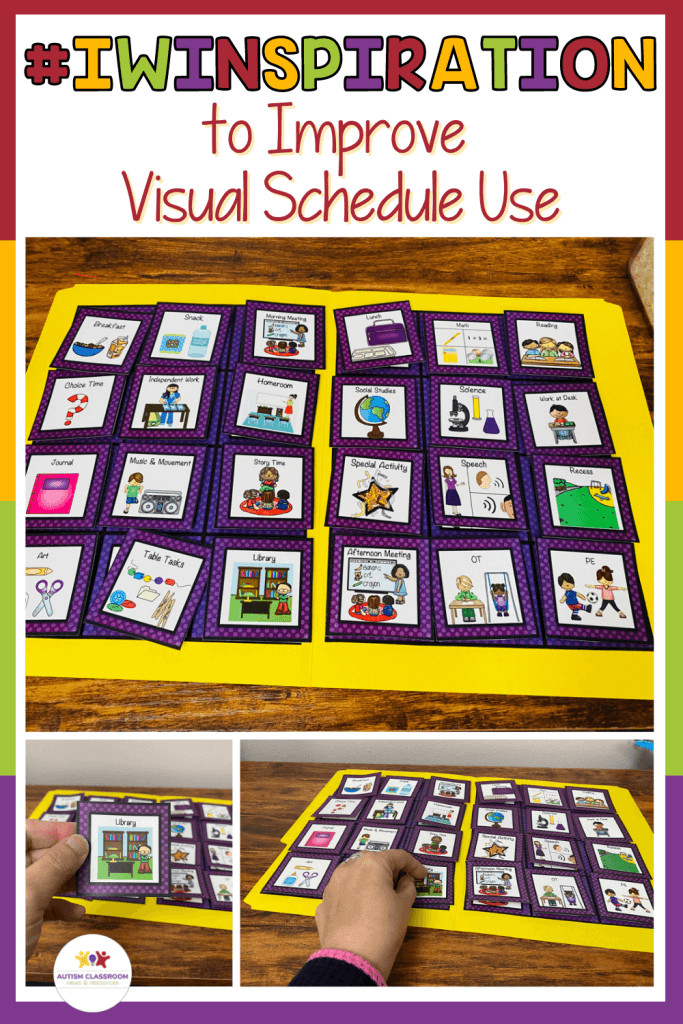 The student's visual schedule icons. Simply make 2 extra copies of the icons of the student's visual schedule. Glue one ot the folder and laminate one. Add Velcro and Voila, a matching file folder.

File folders: Any file folders will do. I of course prefer colored ones here as well.
Who Can Improve Visual Schedule Use With This Task?
This task can be used with any age, as long as the student is using a schedule. It could even be used with students who are using mini schedules or task analysis schedules. Perhaps those schedules are newer to them, and they are less fluent with them than they are with their daily schedule.
The key element to note in improving visual schedule use is that the student can only work on this task in the independent work system if he or she can already match the schedule icons. If he or she cannot yet do the matching independently, then you could practice it in table tasks or teach it in direct instruction until they get it. Once it is mastered, then they can practice it on their own in the independent work system to improve their fluency and maintain their skills.
Visual Schedule Icon Match Video Tutorial
Tips for Improving Visual Schedule Use with Independent Work
Sometimes students with autism who struggle with fluency with their schedule won't show it much until the schedule changes. Usually this is because they are bumping along memorizing the order of the daily routine. Then suddenly there is a change and they aren't actually able to use the schedule to tell them what to do. That's a good indicator that they still need the schedule. But it's also a good indicator that we need to practice it a bit more. That's a good candidate for a student to improve visual schedule use with independent work.
Also, you should note that using this activity to improve visual schedule use will rely on using check-in systems with matching pictures. Without them, the schedule really isn't that informative to a student unless they truly have good symbolic understanding of the pictures. And many of our students struggle with that if they are at the stage of using picture schedules to begin with. The check in systems are important because they tell them where they are going from the schedule.
Matching the pictures will make no difference in schedule use if there is nothing in the natural environment to match the pictures to. But if students have the opportunity to practice and become fluent with their schedule, they will be more independent at using their schedule through their regular day. And can be better prepared for schedule changes as well.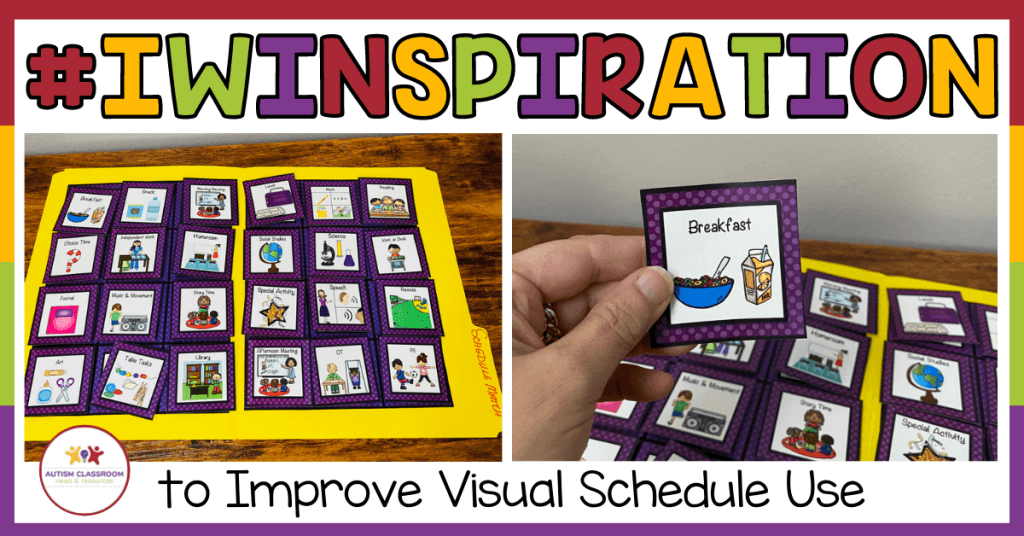 Need more ideas for task boxes? Check out the resources below.
More Workbasket Wednesday Resources
Looking for more ideas on special education work boxes or work systems and how they can be used? Check out the links in Resources below for more posts. And, I wrote about a book about them! Click on the book to the left for an Amazon Affiliate link (see my disclosure policy for more information about affiliate links).
GET ALL THE VISUALS AND ORGANIZATIONAL TOOLS YOU NEED to start independent work in your classroom.
These kits include an e-book with directions on setting up independent work systems and using the materials included, data sheets for tracking progress, visuals for the special education work boxes and schedules, what's next visuals, and mastery sheets to keep track of which students have mastered which task.